Concert Photography: How to Get the Perfect Exposure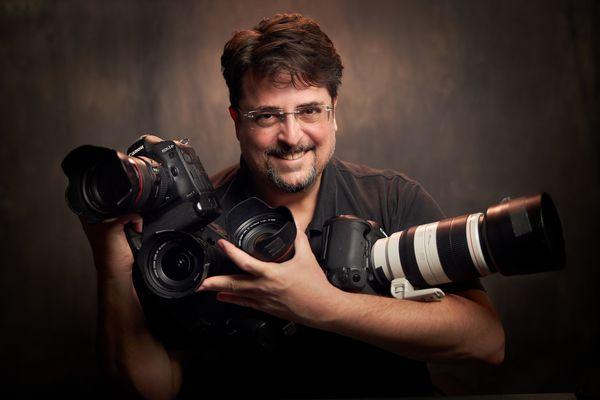 (Editor's Note: Exploring Light is a monthly Shutterbug column featuring tips, tricks, and photo advice from professional photographers in the Canon Explorers of Light education program. This month's column is by David Bergman with tips on concert photography).
If you love photography and music, there is nothing more exciting than photographing a real, live concert. Capturing high-energy images of bands, sometimes right up front near the stage, is an exhilarating experience that's doesn't come along too often.
I'm fortunate to have photographed more than 1,000 concerts around the world during my 30 years as a professional photographer. I'm currently on the road as the tour photographer for Luke Combs, and even host a series of live concert photography workshops where I get to see first-hand how much fun people have when they shoot a big, arena concert.
Through my years of teaching so many photographers, I've found that one of the most common problems when shooting a concert is getting the right exposure. It doesn't matter if you're in a club with 20 fans watching the show, or at a stadium in front of 50,000 people. The lighting changes quickly, and it is a challenge knowing which parts of the exposure triangle—ISO, aperture, and shutter speed—to adjust.
It's all About Eliminating Variables
The key to making great concert images (and really any images) is to get your head out of the camera. There are so many things to think about when you're shooting—exposure, focus, composition, and dozens of other settings. Every second looking at the camera, or even thinking about your settings, takes away time from watching what's happening in front of you so you can react quickly when the best photographic moments happen.
Your camera's auto exposure modes (program, aperture or shutter priority, and even auto ISO) have the camera determining what your exposure should be. But at a concert, the meter can be easily fooled. Lead singers may be lit by a very bright spotlight, but they're surrounded by dark backgrounds. If your camera averages out that scene to calculate exposure, it might brighten up the singer too much to compensate for the dark background.
You also might have spotlights or other stage lighting hitting directly into your camera lens. It might be so bright that it makes your camera darken the exposure too much, making your lead singer too dark.
These lighting scenarios are very common in concert photography and can wreak havoc on auto exposure because the camera doesn't know what you want to expose for (hint: usually the lead singer's face).
Shooting in Manual Mode
I always recommend shooting in manual mode to take back control of your exposure so you can decide how bright or dark you want your photos to be. Even in manual mode, the light is still changing all the time and you have to account for that. To make it easier to deal with, you should try to eliminate as many variables of the exposure triangle as you can. You want to "set it and forget it."
Start by determining which setting(s) you can lock down so you don't have to think about them again.
For concerts, unless you're outside in daylight, you're probably going to want to use a high ISO. How high depends on your camera. Shoot some test images at different ISO's in your free time and look at them on your computer. At very high ISO's like 3200, 6400, or 12800, you might start to see some digital noise in the darker areas. Noise isn't necessarily a bad thing, especially if your photos are only going to be shown at a relatively small size on social media.
From those tests, determine the highest ISO that you're comfortable shooting. Set your ISO to that number and leave it. That's one less variable to think about.
Use a Wide Aperture
You'll also want to shoot with your aperture as wide open as your lens will allow. An exception would be if you're using a lens that goes lower than f/2.8, like a 50mm f/1.8. It might be too difficult to get the proper focus with such a shallow depth of field at f/1.8. But otherwise, shooting wide open lets as much light as possible go through the lens and hit your sensor. Having more light allows you to speed up your shutter speed, which is how you freeze the action.
Set your lens to its lowest aperture and don't think about it for the rest of the show. Now you have two parts of the exposure triangle locked down.
That leaves shutter speed. Since you only have one variable left, your shutter speed is the only factor that will affect your exposure. Think of it as a brightness dial. Speed up your shutter (larger numbers like 250, 500, 1000) and your image gets darker. Slow it down (125, 60, 30), and your image gets brighter. Simple.
During the show, you should occasionally check your exposure by looking at an image on the back screen. If you need to make an exposure adjustment based on what you're seeing, you can do it simply and quickly using only the shutter speed dial on your camera.
By eliminating variables that aren't going to change during the show, it's easier to make exposure adjustments. That allows you to get your head out of the camera and concentrate on what's happening in front of your lens. By doing so, it will help you to make great concert images.
My "Shoot From the Pit" concert photography workshops are coming to 25 cities around the U.S. this fall. You'll learn everything I know about shooting concerts including etiquette in the pit, camera settings, remote cameras, and the photo business. Then you get to shoot a big concert from all around the arena, including inside the photo pit right in front of the stage. Only five photographers per show and many dates are already sold out. More info and signup today here.
Bio
Canon Explorer of Light David Bergman is a New York based commercial photographer and photo educator who specializes in portraiture, music, and action. As the official tour photographer for Bon Jovi and Luke Combs, he has documented bands on stage and on the road in more than 30 countries and shares his experience with photographers of all skill levels at his unique "Shoot From The Pit" live concert photography workshops. In addition to his many celebrity clients, Bergman has 13 Sports Illustrated covers to his credit and has photographed numerous Olympics, World Series, Super Bowls, NBA, and NCAA Championships.
Noted as a pioneer with the GigaPan, Bergman's multi-shot, high resolution panorama of President Obama's first inaugural speech was viewed by over 30 million people. Bergman is an engaging and passionate public speaker and hosts the weekly web series, "Ask David Bergman" on the Adorama YouTube channel. Before moving to New York City in 2001, Bergman was a photojournalist on staff at The Miami Herald and covered news and sporting events around the world.
You can see more of Bergman's work at the links below.
www.usa.canon.com/internet/portal/us/home/explore/explorers-of-light/explorer-david-bergman
Instagram: @davidbergman
Twitter: @davidbergman

FEATURED VIDEO