Tips for Long-Term Documentary Photography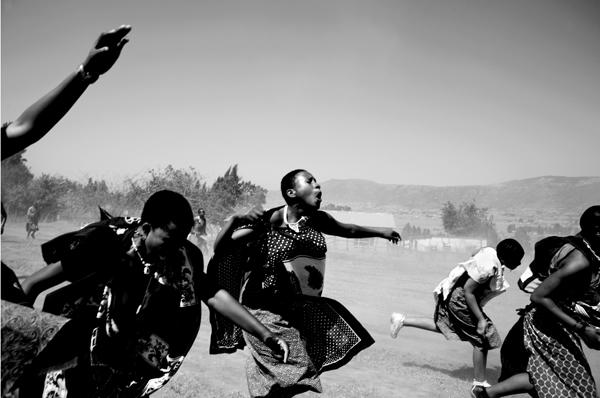 (Editor's Note: Exploring Light is a monthly Shutterbug column featuring tips, tricks, and photo advice from professional photographers in Canon Explorers of Light education program. This month's column is by Krisanne Johnson with tips on documentary photography).
I've been documenting communities at home and worldwide over the past 20 years. Long-term work requires various building blocks and patience. Here are a few tips to help navigate the process of documentary storytelling and I will use my work documenting a community in the Kingdom of eSwatini in Southern Africa.
Perfect Your Pitch
It's not just about the photos. Writing skills play a crucial part in clearly defining your topic. If you apply for a grant or pitch your story to an editor, you must be able to explain why your story needs to be told and why now. This is often called the elevator pitch. One tip I've learned over the years is to sit down with a friend or colleague to talk out your project. It's helpful to hear yourself out loud and you'll soon see where you stumble to express your idea or concept. I always have an "ah ha" moment where I realize the end of my explanation is usually the first sentence to start my pitch.
The photo above documents young women as they run and dance during the annual Umhlanga Dance in eSwatini, a right of passage into womanhood. It's from my series I Love You Real Fast which documents young women coming of age amid the HIV/AIDS epidemic in the Kingdom of eSwatini. I often use this image to open the pitch to this story as it captures the spirit and energy of youth as they come of age.
How to Gain Access
I often get asked how I gain access to intimate moments. Number one, it's important to be a good human. Be honest and transparent. You get one first chance to make an impression. I've had to cold knock on doors or approach people on the street and if you are going to ask people to let you into their lives they need to know why. When working on a new story I often reach out to a community leader or youth leader to request a meeting. This lets you introduce yourself, hear about community issues and allows the leader to connect you with anyone they think might be interested.
In this photo, young men talk with teenage girls at a local swimming pool in eSwatini. The local swimming pool in any community is often the local hangout for teens in the summer. This photo begins to build my narrative looking at youth rituals and coming of age.
The photo above shows a young woman working at a garment factory in the industrial city of Matsapha in eSwatini. She moved from her rural home in search of work and in hope of supporting her family at home. For access, I reached out to local factories and then sought permission from the owner and employees to spend a day photographing. This photo helps show the progression from teenage life to adulthood and looking for work.
Return, Return, Return
For myself, the magic of long-term work is to keep visiting the community over the years. It builds trust and shows your commitment to the issue. It's important to be patient and respect that people are opening up their lives to you. I might always have my camera out but I'll wait weeks sometimes before I take a photo.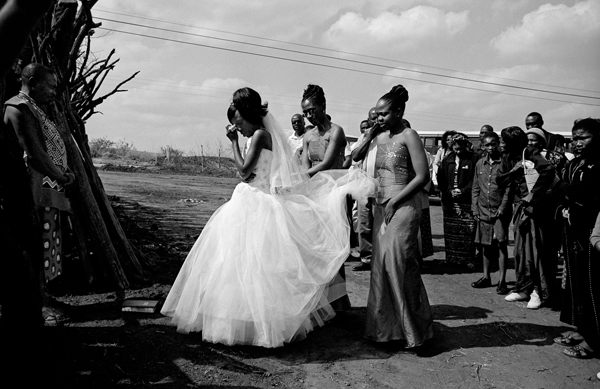 Here, a young woman begins to cry before entering her new husband's homestead as she symbolically leaves her family behind in rural eSwatini. By spending time with this family photographing their celebration I was then invited to the traditional ceremony. This photo builds a transition in my narrative to show women entering into marriage and also highlights traditional culture.
In this second photo, an HIV positive woman, 20, grieves the loss of her one-year-old son due to AIDS in eSwatini. I was able to take this photo after spending years returning to this family and building trust with them.
Stay True to Your Vision
Long-term work allows me to explore and define a creative vision and voice. You are your own producer. And if you are going to invest years of your life and money make sure you have the passion to be brave and push yourself. This will be the work editors will want to see and will showcase how you approach photography. I've had editors tell me to start projects over and switch to color after spending years on the work. I've had other editors push me to keep going with my own vision. Listen and reflect but stay true to yourself. I always edit my own work and share larger selects with a few people I trust to get additional feedback.
In my edit for this story, I wanted to make sure I balanced documenting the importance of traditional eSwatini youth culture to their modern youth culture. I felt this photo of cheerleaders helped the narrative by highlighting a universal dance/sports theme that most youth share. Here, high school students compete at a cheerleading competition between various local schools in eSwatini.
A Fresh Approach
Make sure to do your research. Look at how your topic has been covered over the years. Important stories need to be continuously told but we have an obligation to keep it fresh. Always question your approach and how you can add to the narrative and not repeat it. How do we keep engaging an audience? How do we keep the conversation moving? Make sure to keep looking for inspiration outside of photography too. Anything that helps feed creativity whether it's daily walks, books, or music.
I was trying to find a fresh approach to a portrait that felt youthful and reflective. In this photo, a young HIV positive woman, 19, swims at the natural hot springs swimming pool in eSwatini.
Bio
Based in Brooklyn, New York, Krisanne Johnson is best known for her black and white photographs examining the intimate, daily life moments and complexities of youth culture. From the underground NYC Vogue/Kiki scene to young women coming of age amid the HIV/AIDS epidemic in both the US and southern Africa to post-apartheid youth, her work looks to document the nuances of their multifaceted, shifting lives.
Johnson's work has been awarded by World Press Photo, Pictures of the Year International, and the Best of Photojournalism. She has received the W. Eugene Smith Grant in Humanistic Photography, two Getty Images Grants for Editorial Photography, support from the Magnum Foundation Emergency Fund as well as a New York Foundation for the Arts Fellowship. Krisanne's work has been exhibited internationally and has appeared in various magazines and newspapers, including The New Yorker, TIME, The New York Times, and The FADER. Her affiliations include Prospekt Photographers and Women Photograph.
You can find more of Johnson's work at the links below.
Website: www.krisannejohnson.com
Instagram: www.instagram.com/krisannejohnson
Twitter: www.twitter.com/krisannejohnson

FEATURED VIDEO