Image Stabilization Tips: SHARP Photos of Wildlife & Birds in Flight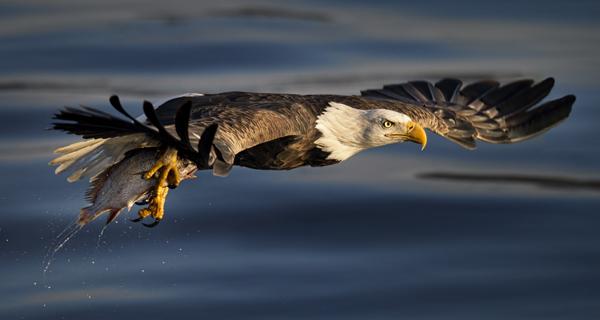 (Editor's Note: Exploring Light is a monthly Shutterbug column featuring tips, tricks, and photo advice from professional photographers in Canon Explorers of Light education program. This month's column is by Bob Davis, with great tips for shooting sharp photos of wildlife and birds in flight.
Nature and wildlife are my Zen and escaping life's daily routine and responsibilities to soak up the abundance of nature restores my creative spirit. My wife and partner Dawn and I run a successful event, portrait, and wedding photography business. To keep me "sharp," I immerse myself in wildlife photography. Weddings can get wild, and wildlife is unpredictable, so the two genres really complement each other.
I want to share a few tips that have increased my success with birds in flight and other wildlife using super-telephoto lenses and Image Stabilization (IS).
I personally use Canon lenses, so let's examine and understand the Canon Image Stabilization system. Many of Canon's lenses feature IS, and now many camera bodies feature In-Body Image Stabilization (IBIS) too. Both forms of Image Stabilization work hand-in-hand to assist with capturing the sharpest photographs possible. Let's review the three modes of IS built into telephoto and super telephoto lenses: Mode 1, Mode 2, and Mode 3.
Mode 1 is used for general all-around image stabilization, assisting you in capturing a sharp photograph in most situations. The IS is always active, and the floating IS lens elements work to counteract any motion you introduce while moving or framing the subject. Specs indicate that Image Stabilization provides up to four stability stops, which means you can capture a sharp image while handholding the camera.
Mode 2 is used for panning with the subject, allowing you to capture steady photographs while moving with the subject. Think of using a slower shutter speed while moving with a bird in flight to convey flight motion. The background is blurred, but the bird is tack sharp. The IS counteracts any upward or downward movement while panning left or right. This also works if you're panning from top to bottom.
Mode 3 activates Image Stabilization when you press the shutter to capture the photo. This mode is excellent for saving on battery life while working in harsh conditions.
The conventional rule of thumb is that 1/over the lens' focal length is the slowest shutter speed to use without IS. If your lens is the RF100-500mm lens and you're at 500mm, the slowest shutter speed you could use without creating motion blur is 1/500. When using IS, however, you may be able to handhold the 500mm lens at four stops lower; one stop is 1/250, two stops is 1/125, three stops is 1/60, and four stops is 1/30.
Keep in mind you need to be very steady and squeeze the shutter button; otherwise, all the IS in the world will not help! In my experience, today's cameras have such excellent resolution that they magnify any imperfections in the image. Either be remarkably steady or use a support such as a monopod or a tripod.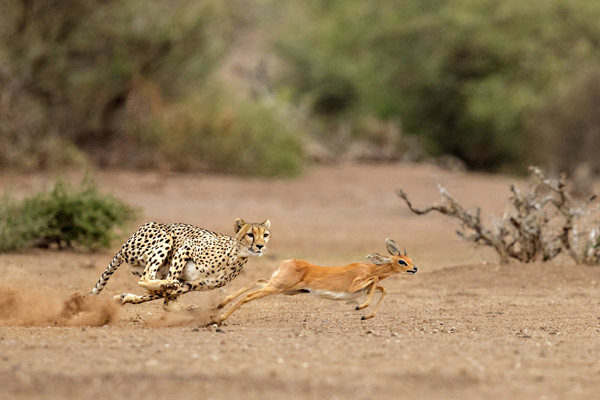 I want to share a story about a photo safari we led in Mashatu Game Reserve in Botswana, Africa. I love cheetahs; they remind me of big house cats; playful, curious, attracted to motion, and super-fast! We arrived to watch a group just after dawn and we were blessed to witness the hunt! The mother cheetah sat up tall, eyes wide, ears scanning left and right independently; she began to crouch down low and move among the scrub brush with her belly scraping the gravel.
Our guide started the vehicle, and the cheetah sprinted towards us, then veered left and was running full-out parallel to us. Cheetahs expend a tremendous amount of energy; if she's not successful, that could mean starvation. Always respect nature and wildlife above all else! Because I was using a 600mm lens handheld in a moving vehicle I couldn't have kept the cheetah framed, let alone captured this photograph, were it not for IS and a fast shutter speed. This image was captured at ISO 3200, f/5, 1/3200. We were both successful in our quest that day.
I'm a massive fan of learning and using technology to the fullest. I recently led a workshop in the Northern Woods of Minnesota to photograph black bears and their spring cubs. Handheld is the only way to go in these situations. Image Stabilization and the power to use whatever ISO settings I need to make the picture are crucial. One of my favorite photographs is of a mother bear sending her cubs up a tree to avoid an approaching large male bear. Cubs are taught early to climb trees for safety; they can hurry up and down trees faster than any cat I've seen.
If you want to learn first-hand about using IS and other camera settings, join me on my workshop to Bosque del Apache, New Mexico to experience the great migration of sandhill cranes and snow geese. Witness thousands of birds leaving at once, flying skyward in search of food. The dates are November 27th to December 1st, 2022, and you can learn more here.
Bio
Cameras have always been my passport, providing me with a front seat to history. While at the Chicago Sun-Times newspaper for 14 years, I covered countless historic events, such as presidential elections, Michael Jordan's entire career with the Chicago Bulls, many faiths, celebrations, and rituals. I've traveled around the world for weddings and human-interest stories for nonprofit organizations.

I have since moved on from the newspaper industry. Now I partner with my wife, Dawn Davis, in Bob & Dawn Davis Photography & Design. Our client list reads like a "Who's Who" of entertainment's elite. We've had the honor of photographing "A" list weddings such as Eva Longoria & Tony Parker's wedding in Paris, Salma Hayek & François-Henri Pinault's wedding in Italy, La La Vazquez & Carmelo Anthony's TV wedding in New York, Tracey Edmonds & Eddie Murphy's wedding in Bora Bora, ABC's TV show The Bachelorette Ashley's wedding to J.P. in California, along with many other fabulous events with Oprah Winfrey.
I was also commissioned to work on the book America 24/7 that was featured on the Oprah Winfrey show and was a New York Times Best Seller. I'm honored to be a member of Canon Explorers of Light, Westcott Top Pro Elite, SanDisk Extreme Team, and a ProMedia Gear Influencer. Dawn and I are the authors of two books, Lights Camera Capture, and We're Engaged!
Links
Canon EOL: https://www.usa.canon.com/internet/portal/us/home/explore/explorers-of-light/explorer-bob-davis
Instagram: https://www.instagram.com/bobanddawn_inthewild/
Facebook: https://www.facebook.com/1BobDavis
Website wildlife: https://bobanddawndavis.com/wildlife
Website: https://bobanddawndavis.com
YouTube: https://www.youtube.com/c/bobanddawndavis/videos
Fine Art Prints: https://store.bobanddawndavis.com

FEATURED VIDEO