A Bag Full of Stories and Original Danish School Bag Review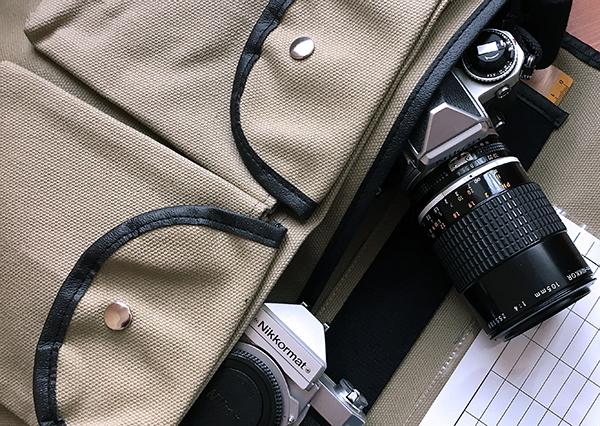 More than 327,000 Danish School Bags have been sold since their 1968 introduction to the US by importer/entrepreneur John Reynolds, and each has a story. The bag is awesome, the stories are incredible and the combination makes for an intriguing tale. So order up a cup of kaffe med maelk, sit back and enjoy.
According to legend, when hostile armies were forced out of Denmark at the end of WW2 they left behind all sorts of gear, including huge quantities of a serviceable shoulder bag. One enterprising Dane quickly recognized a civilian application for such a bag, and marketed them—with significant success—as school bags. Imitation always follows success closely, and the design was appropriated by manufacturers who produced similar bags in bright, attractive colors. Over time more enhancements were added, including a slot to hold a school ruler inside the spine on top and a window on the inside of the flap to display a weekly class schedule.
Fast forward to 1968 and we find John Reynolds being intrigued by a magazine photograph of a shoulder bag carried by blues singer Steve Miller. An importer of Japanese oil paper umbrellas at the time, Mr. Reynolds had a keen eye for the unique and a desire to import products that had the potential to touch peoples' lives. John asked friends in Denmark to send him a few bags and the stage was set.
At first John Reynolds was unimpressed. He used them as carryalls and gave them away casually to friends who visited him in Manhattan. His friends, however, became instantly enamored of the bags, so John realized that he had something of a tiger by the tail. An encounter with Anna Youree, proprietor of the tres chic children's shop The Chocolate Soup, set the play in motion. As the story goes, she bought three bags from John and sold them in one afternoon. He imported more, she sold more, and so the process progressed until the Danish School Bag became the total rage of Manhattan society and the must-have fashion accessory for every student at the prestigious Spence School, an all-girls private school in New York City. (According to their website, current tuition for all grades at Spence School is $54,650, but that includes lunch. PTA dues are $35 additional.)
More than 327,000 bags later, John Reynolds has refined the bag here and there and still presents it with the same vigor and enthusiasm that he did more than 50 years ago. Production has moved to Spain where they are manufactured with care and precision by a firm that does OEM work for other high-end brands like Gucci and Chanel. The authentic bag, in Beige or Blue, can be ordered directly from danishsouperbag.com for $225. (Yes, the "soup" in "souper" is a tribute to The Chocolate Soup which is no longer with us.)
Over the years, the Danish School Bag has amassed an enormous following and has gained near-cult status in the same way as Moleskine notebooks, alleged to have been the favorite of Hemingway, Kerouac and other famous writers (plus hacks like me). I had the delightful opportunity to talk to John Reynolds about the legendary bag and he provided dozens and dozens of stories and innuendo, many backed up by photocopies of printed articles and other documents including post cards and photographs, as well as a sample of the bag to evaluate.
It's impossible to retell all of the tales here. But here is a taste of the fascinating stories John told me.
At one time or another Tom Waits bought and/or carried the bag, as did Steve McQueen, Tom Brokaw, Howl poet Allen Ginsberg, Lead Belly's niece, guitarist Jimmy Page, Gwyneth Paltrow, world-renowned photographer Diane Arbus, the Dalai Lama's brother, Maryknoll nuns, famous book publisher Gerhard Steidl, Caroline Kennedy, Carole King, Mrs. Leonard Bernstein and hundreds (if not thousands) other celebs and diverse personalities.
John claims that J. D. Salinger broke his literary silence when he wrote to order two bags. This story was suspect, so allegedly none other than George Plimpton challenged—and then confirmed—its accuracy.
The band U2 is said to have used Danish School Bags to deliver their The Joshua Tree album individually to the movers and shakers in the music industry. John told me that the band knew that albums delivered in a paper envelope could easily be set aside by a radio station programming director, but there is no living soul who could resist opening their own Danish School Bag.
The Danish School Bag can be seen in many movies, including The World According to Garp, Ghostbusters, Manhattan, Close Encounters of the Third Kind and School of Rock.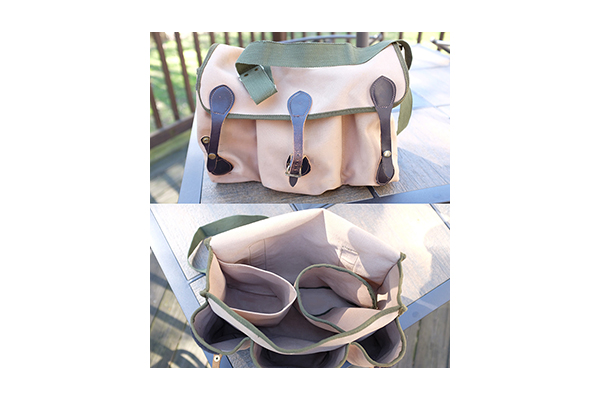 Review
The Danish School Bag is the archetype of the iconic messenger bag. It measures about 16 by 12 inches (my actual measurements) and is 4 inches thick but expands to 8 inches when the wraparound zipper is undone. In the expanded mode it will hold more than you will ever want to carry.
There are two full-size inside compartments and an equally large pouch on the back. The front flap contains a zippered pouch that's easily accessible when the bag is shoulder mounted. Inside that pouch is a tiny pouch, not quite large enough for an iPhone 6. Lift the flap and you find two very large pockets with flaps and snap closures.
On the hidden side of the front flap resides a stamp-size Danish flag, small window for a name tag and a large plastic-covered window that holds your school schedule—or lacking that, a photo, train timetable or political slogan. Along the spine of the front flap there is a slot that contains a ruler marked in metric.
If you wish to secure the front flap, two tethering straps can be threaded through the metal buckles on the bottom of the bag. Photographers might improvise and convert those two buckles into a tripod sling. The heavy-duty adjustable shoulder strap is sewn on one side and looped through an amazingly sturdy D-ring on the other. Always the marketer, John Reynolds explained to me that the shoulder strap is the same material used by furniture movers in Denmark (i.e., it's super strong).
Overall construction is impeccable. The seams are double stitched and edges and trimmed in leather. All metal hardware is absolutely first class. The solitary zipper is YKK (the best brand) and the fabric used outside and in is durable water-resistant canvas that is at once strong and also comfortable to the touch.
There are no dividers and no padding or protection of any kind for camera gear, so you must take a step back if your intention is to bang this thing around. Despite that, I use it for photo equipment without hesitation for several reasons. It's really covert and under the radar—doesn't look like a camera (or laptop bag) at all. It's spacious—easily swallows my Fujifilm X-H1 with 50-140mm (75-210 equivalent) f/2.8 lens attached and belches for more. The third reason: I routinely carry shoulder bags that have little or no padding every day without (knock wood) mishap.
Knockoffs
Imitation is a sincere form of flattery—and in many cases, thinly veiled larceny. There are many imitators. I pictured some of them in a story back in 2018, "The Prevaricator's History of Camera Bags — and How to Choose a Bag that Best Suits Your Needs." BTW, prevaricator is a polite way of saying liar. Can you imagine saying, "Pardon me pal, but I think you're prevaricating."
I bought a knockoff. It weighs the same (2.2 pounds according to my ballanzza digital luggage scale) but the canvas used in the gypsy brand is coarse and natty, with a surface that grabs lint like black pants in a pillow fight. Comparing the genuine Danish School Bag to the best imitation is somewhat like comparing a diamond set in platinum to a paste stone set in plastic; the design is similar and the shape is basically the same, but they are totally different animals.
Nonetheless, the imitation bags cost substantially less and are the better choice for some unfussy users. They are available on Amazon and elsewhere at prices usually below $50.
Conclusion
Not cheap, but quality seldom is. When you buy the bag, you're buying the cachet. If a shoulder bag could ever be a family heirloom, this is the one to do it. There's no doubt that a Danish School Bag can outlast its owner and prove serviceable for generations. That may sound like an exaggeration, or even prevarication, but I've seen a bag or two in my life. This one is a keeper.
—Jon Sienkiewicz
(As an Amazon Associate, Shutterbug earns from qualifying purchases linked in this story.)

FEATURED VIDEO