The Prevaricator's History of Camera Bags — and How to Choose a Bag that Best Suits Your Needs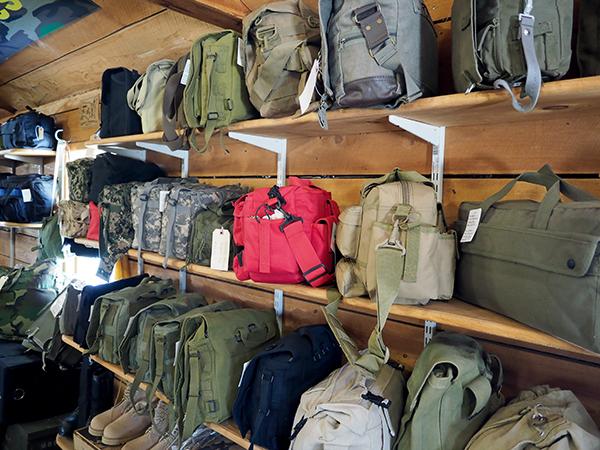 Things were tough during the Stone Age. No camera bags; no photo backpacks, either. Some citizens were so starved for visual stimulation that they resorted to painting stick figures on the walls inside their caves. Others just bided their time, waiting to evolve.
In prehistoric times, cave people carried their cameras in animal skins—which got them into tons of trouble with PETA, truth be told. Australopithecus afarensis, who typically shot a lot of video, used mainly mastodon trunks to tote the 8mm film cassettes. (This was before Super 8.) As humankind evolved they recognized the need for a better way to transport and protect delicate photo equipment. And some say overhunting played a role, too. In any case, shortly after the appearance of Pithecanthropus, the gadget bag industry was born.
Before long, Homo erectus discovered fire and invented the tool that has been a boon to mankind the world over. I'm referring to the YKK self-healing zipper, without which we'd have to button our gadget bags shut.
Neanderthals (Homo neanderthalensis) quite frankly did not contribute much to the party. Their brains were large enough—about the same as contemporaneous humanoids—but anthropologists believe that their vision was inferior, and therefore the selective breeding instinct of finding an attractive mate was severely impaired. So much so, in fact, that they had the reputation of sharing their cave with anyone who could make a stone spear point.
Telephoto lenses became popular around 1,000,000 years ago. While they made it much safer to photograph saber-toothed tigers, they spawned the necessity for larger camera bags. Sadly, Kodachrome hadn't been invented yet, so we do not know what color the big cats were; however, we can assume they were digital urban camo because they were so hard to see.
Julius Caesar created the first Photographer's Vest. It was called the toga which is Latin for toga. It was made of Kevlar and 100% bulletproof. Alas, it was not knife-proof. It wasn't even knife-resistant.
The Vikings are generally given credit for inventing the photo backpack, which they called the Plünder Sak. Early models had special straps that attached to the horns on their helmets. Later they developed a compact bag that could be worn comfortably whilst yielding a battle axe or rowing.
Around 1455, Johann Gutenberg perfected the printing press with moveable type and the Gadget Bag Owner's Manual was introduced into the marketplace. The fad quickly died because few people bothered to read OMs. Gutenberg transitioned his business into the manufacture of lens cleaning tissue and printing breakfast cereal boxes, and thereby became an enduring success story.
By 1615, William Shakespeare had launched a line of sling packs on Kickstarter. There were several models, including the Hamlet, the Othello and the Macbeth. Billy was considered a pioneer because he also produced a bag targeted toward the female audience. Called the Lady Macbeth, it was stain resistant. Out, damned spot! Out, I say! This product line remained popular but controversial for three centuries because many scholars believed the bags had deceptively been designed by Sir Francis Bacon, and others contested that it was Christopher Marlowe. Oh well; what's in a name?
When the New World was discovered, explorers found immense fields of tomatoes and hundreds of jars of marinara sauce. Which makes me wonder how Italy gets away with taking credit for spaghetti and pizza? Were there tomato-less versions up until then? And don't get me started on the Brits' claim to Fish and Chips; the humble potato was first grown in Peru. Sorry London. Double sorry Idaho.
Anyway, America was colonized and the hunt for wild nauga ensued. Within months, nauga hide became the de rigueur of camera bag makers across Europe.
That's about all the history I know, except for the parts I left out. In case you're confused, the remainder of this article is free of alternate facts. More-or-less.
Fast forward, then, to the modern era, also known as the Kodak Epoch.
The gadget bags our grandparents used were of the rigid hatbox-style that held a camera, bulb flashgun and little else. They were protective, to be sure, but heavy, awkward to carry and looked really crappy. Many were covered with leatherette (which molded) or imitation leatherette (which peeled to reveal cardboard beneath). Sad.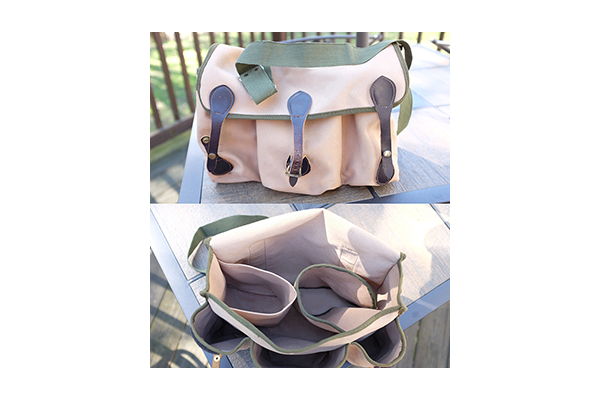 In the early 1970s the first Leica Bag appeared. Made of canvas, it provided minimal protection but afforded photographers easy and immediate access to their gear—and that made them very popular. It had three deep pouch-pockets in the front and rather resembled a thin and anemic Billingham.
Keep in mind that as the 35mm SLR became the dominant choice even for casual hobbyists, most cameras were purchased with a Never-Ready Case, a two-piece hard leather shell that was literally bolted to the bottom of the camera and snap-attached to the top.
As available resources, including ballistic nylon, waterproof coatings and injection-molded plastic evolved, the game changed. The new materials, combined with excellent designs and cheap foreign labor, accelerated the growth of the camera bag industry and now there are zillions of styles, models and brands.
Today you'll find traditional padded soft bags, backpacks, waist packs, belt cases, sling bags and conventional shoulder bags. They are made from canvas, nylon, cow leather and some space age materials. Many accommodate laptop computers. Regardless of the style or design, there are marks of quality that can guide you toward a smart purchase.
What to Look For
If the strap is removable, check the snap fasteners—plastic is okay, as long as it's sturdy. Or so I've been told. I have had plastic break, but I have never had a metal fastener break, knock wood. If the strap is not removable, check the areas where it is secured. In any case, be sure that the shoulder pad is comfortable and does not allow the bag to slip from your shoulder.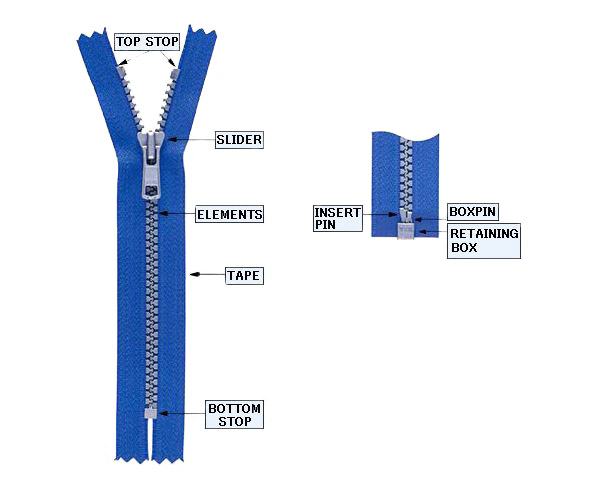 Zippers that are self-healing are a must, and two-way zippers are more convenient than single. There may be other good brands, but I have never seen a zipper better than YKK. Clips and closures should snap tightly but easily. Ample use of hook-and-loop fasteners is good, as long as it serves as a back-up to a clip or other fastener, and not as the only means of securing the bag. I tend to avoid bags with magnetic closures unless there is another way to seal the contents.
Raised rubber feet keep the bottom of a bag clean and dry. A plastic reinforced bottom keeps the contents dry. Staying out of the rain keeps everything dry.
If the bag is designed to hold more than one item it should have moveable inserts. Some manufacturers offer additional inserts as accessories so you can further customize the bag 'till your heart's content. Unfortunately, rearranging most bag dividers—ripping out the Velcro-like sections and putting them back in the wrong place over and over—is about as easy as changing the sparkplugs on a 1956 Volvo P1900 from underneath the motor while wearing a blindfold. Needless to say, make sure that the interior padding is adequate. It should compress when pinched but not go flat.
Because different styles provide different levels of protection, no generalizations can be made. If it's a padded, protective bag you're after, look for closed-cell foam and rigid exterior panels. Check the bottom of the inside for padding, too. The walls of exterior and end pockets may be thin—that's usually okay, just be careful what you pack in them. Tip: polyethylene foam in large sheets 3/8-inch thick is inexpensive and can be cut to shape and used to bolster padding. Do not use the open-cell, sponge-like foam because it can deteriorate and stick to metal and plastic lens barrels.
Alternatives
Some folks prefer to carry bags that look as un-photographic as possible for security reasons. In addition to the many outstanding camera bags that have covert designs that fly under pickpocket radar, there are a couple other choices.
Diaper bags have always made good camera bags, and are much less likely to be stolen from your shoulder. The interior pouches, designed for baby bottles, hold lenses and other small items. Be careful, though—the straps were designed to support much less weight than you might be tempted to pack, so use common sense and check the construction. Also, a diaper bag is probably the wrong accessory to take on a blind date. PS: if you have a baby, make sure you don't pick up the wrong bag at changing time.
I used an Igloo brand 6-pack cooler snuggled against the firewall of my Jeep for years until I sold the Jeep. I used it to prevent my camera from bouncing around while I drove.
Soft fishing tackle bags are adaptable, too. Check out Bass Pro, one of the largest fishing tackle retailers in the world. Prices are generally good, compared to photo bags, and on the front there's often an embroidered jumping fish instead of a camera logo to confuse would-be thieves. Unless, of course, they're mackerel-snapping vegetarians.
Finally, the tried-and-true military surplus bag can be pressed into service. Or perhaps back into service, as it were. Two strong caveats here. First, the genuine US Government Issue bags and packs are generally high quality if they're new. But if they've been used, examine them very closely for weakened stitches, stubborn zippers and the like. Second, many military-style bags available online and even at surplus stores are cheap imitations that are manufactured outside the US and of questionable quality. Always check country of origin.
The photo at the top of this column was taken at Fatigues Army Navy in Hawley, PA. Owned and operated by Pat and Carol Chierichella, this image shows just a few of the many army surplus and military-style bags they have in stock and on display. ©Jon Sienkiewicz
—Jon Sienkiewicz

FEATURED VIDEO