Life's Most Treasured Moments; Sharing Family Portraits
I thought that I knew what family portraiture was all about. You know what? I didn't have a clue. I discovered this not too long ago when doctors told me that I had cancer with possibly only 6-12 months to live. A statement like that puts an altogether different perspective on things.

So, my family joined me for a weekend, more or less a love-in. A highlight of our get-together was the joy that we all felt as we poured through my old photo albums--pictures of me growing up, my family growing up, and photographs highlighting my career. I loved seeing the interest they all had in our family history. Especially of interest to me was the fact that everyone wanted to know more and more about their late relatives, in particular details about my parents, grandparents, etc.

We ended the morning by going outside and taking a few new family snapshots. No one was "dressed" for portraits, and you know what? It didn't matter to me in the least. Certainly, had everyone dressed to blend their bodies together for pictures, the portraits may have looked a little more organized. Still, when I now look at these pictures all I can see are the bonds that exist among us.

The pictures began when I captured my great granddaughter's fascination with our canary. There was enough light coming in from the window behind her to shoot at ISO 1600. I set the focus to manual to avoid the cage and concentrated on her eyes. I was amazed when my 24-105mm lens on my Canon EOS 5D camera caught the canary with just enough detail to complete the story.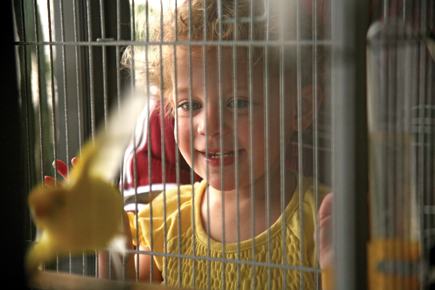 All Photos © 2007, Monte Zucker, All Rights Reserved

We then went outside where we had more room to take family groups. As usual, I looked for a location where I could have cover from overhead and a background with depth. I chose a pass-through from overhead trellises to the open pool area. Soft light was coming from both the left and the right, with a little stronger light coming in from my right. After finding a location with the correct lighting I then planned how to arrange everyone, which means immediately looking for armchairs. I brought my family group together using three standard outdoor patio chairs, which I have found to be indispensable when photographing groups outdoors.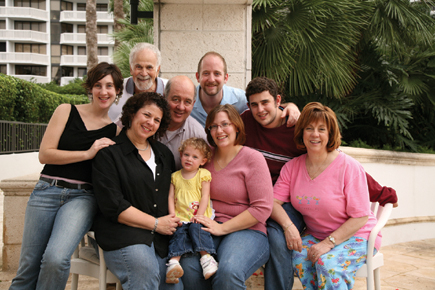 I took the photograph, and when I was reviewing it later in the day I was so pleased with how everyone was smiling so nicely I decided to take my picture from another photograph and insert myself into this one. To add myself to the group I first sized my face to match the others, selected my head and shoulders using the magnetic wand and moved it over onto the group photograph. To help position myself I dropped the opacity of the layer with my face on it to around 20 percent, so that I could see exactly where I wanted my face to be. Then, I erased the edges softly to sort of blend myself in with the environment.

FEATURED VIDEO