What's the Best Way to Get Better Color Photos? Don't Just Use Color—Think Color!
Color control of our photographs is at our fingertips. It's there, in the camera, all those choices about how we're going to make the most of color, to modify, intensify, or otherwise change it. We have picture controls, scene modes, special effects, exposure compensation, and white balance just waiting to help us make the most colorful photographs ever, right?
Well, yes...and no. As with most things in photography, it's in the way you use them. Actually, it's the way you think about using them, and how you add your own creative touches to the process.
Here are some of the things I keep in mind to make my color photos even more colorful, creative, and attention-getting.
Adding It Up
Color may be the most important element in the photo—it could be the subject of the photo—but by itself it may not be enough for me. I start by considering my composition so I can set up the color to do its best work.
After that, I think about adding other techniques, like long exposures or multiple exposures; making white balance (color temperature) changes; or perhaps shooting with a filter or a prism. I use those tools because I want the best and richest colors in my shots.
White balance will influence the mood and often the drama of the shot. If I'm shooting fall foliage on an overcast day. I'm going to set my white balance to the Cloudy setting to make the colors a little bit richer, a little bit warmer.
I might also set Cloudy for a sunrise just to emphasize the warm tones of the scene. A neutral density filter will help balance the light in a scene and often emphasize color. Long exposures and multiple exposures can capture the changes in light and color as time passes.
Speaking of time, photographing at the blue hour is almost always going to result in rich, deep colors—which isn't always enough for me. I'll sometimes add to a blue hour photo the result of a color temperature adjustment to change the dynamics of the shot.
Temperatures around 4000 to 5000 Kelvin tend to cool off the tones in a photograph. At different times of day, I might experiment with the general white balance controls like Cloudy, Natural Light, and Sunny.
Observe and Experiment
Color will always catch my eye, grab my attention and immediately set the mood of the photograph. Often it easily conveys the spontaneity of the moment, the fun being in that place at that time.
But for me the reality of the scene, what the color might suggest, is just the start. Even when there's not a lot of decision-making to be done—maybe the subject of the photo is color, pure and simple—I still like to try adding some extra touches to what's already there.
And I like to experiment. I know that not everything is going to work, but I believe that experimentation is the key to creativity.
Sometimes I look at the situation and try to imagine what's going to happen. The photo at the top of this story of a purple sky is a perfect example of that. I looked at the scene, wondered what it would look like if it were captured in multiple exposures and then made that happen simply because I wanted to see what it would look like. Sometimes there's success, sometimes failure, but the idea is to try.
If you work this way you have to start by trusting your instincts and staying true to what you like and want to see. You can decide to use color deliberately to affect others, and you can look for it, compose for it, even make changes to it for that purpose.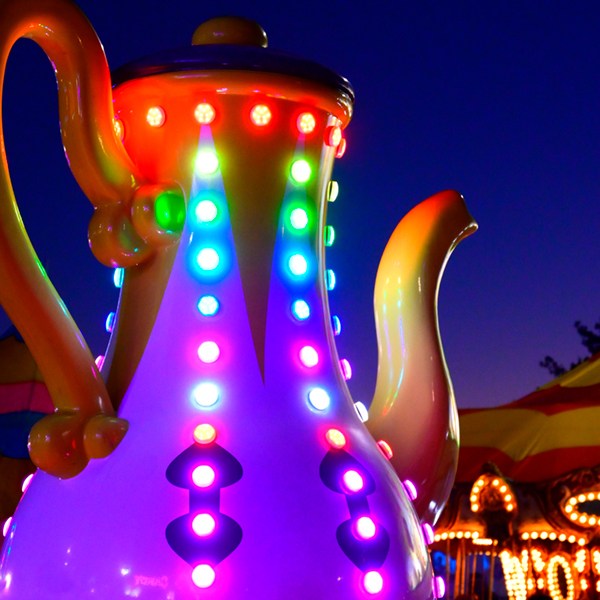 There's nothing wrong with that, but it's not the way I work or why I use color the way I do. What I do is ask myself: what do I want to see? And everything I do in a particular situation comes from the answer to that question. I never think, Oh, I have to get people's attention; I want to get my attention.
I think you'll find as I did, that with color, motion, dynamic composition, and trust in your instincts, the results will give your image the best opportunity to engage others.
Deborah Sandidge's website, deborahsandidge.com, offers a collection of her photographs as well as photo tips and a schedule of upcoming workshops, photo tours, and seminars.