From Wedding Photographer to Photojournalist: 5 Concepts to Elevate Your Images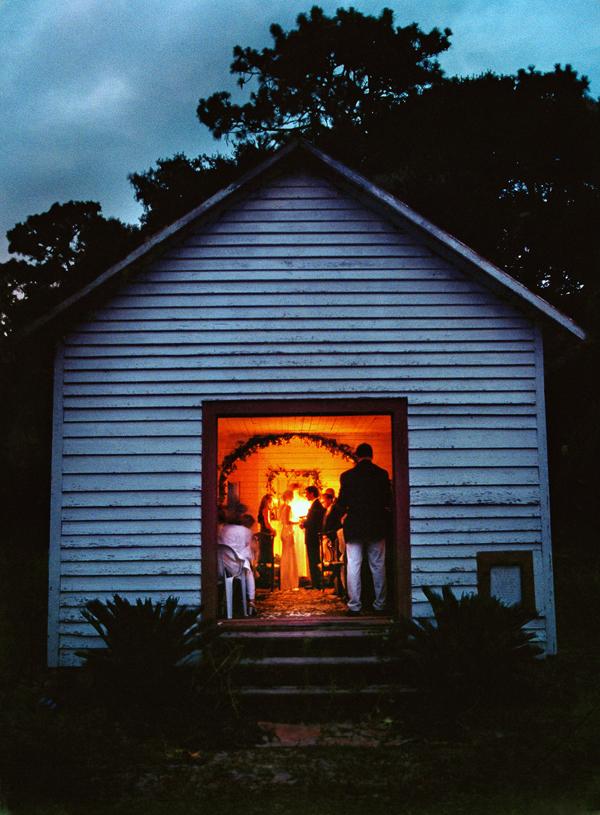 (Editor's Note: Exploring Light is a monthly Shutterbug column featuring tips, tricks, and photo advice from professional photographers in the Canon Explorers of Light and Canon Legends education program. This month's column is by Denis Reggie with tips on how to successfully capture weddings like a news event.
I've always preferred the look of unaware subjects in my photos. There's more genuine emotion. You can actually capture someone as they are. The responsibility is on the photographer (or photojournalist) to anticipate interesting moments and capture them, not create them.
Even as a yearbook photographer in high school, way before I chose my career in weddings, I noticed how people couldn't help but react when they saw the camera. The "look here, say cheese" that we're all taught as children kicks in automatically and poof—the natural expressions and authentic moments vanish.
And today, in the age of Instagram poses and TikTok dances, it's become even harder to capture events and interactions as they truly are, making it that much more important to start thinking like a photojournalist rather than a photographer.
After well over 1,000 wedding assignments, here are five concepts to help elevate your wedding photos and start shooting like a photojournalist.
1. Become Invisible
Over the years, I found my most effective way to find and capture people at their natural best is to somehow just disappear.
To do this, I forced an important mindset shift: assume the role of a witness and historian rather than director. Instead of guiding the couple and guests, my method is to watch, sense, and anticipate, then instantly react to interesting moments just as they unfold. This makes for far more accurate and timeless imagery of subjects with believable, relaxed expressions. My style of photography is particularly well suited for those who do not need or want direction from a photographer—and that often includes slightly more mature couples.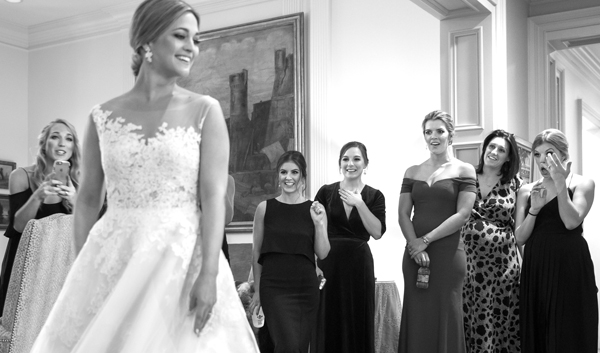 For example, in the photograph above I chose to focus on the faces of the bride's best friends to capture their natural reactions to seeing her for the first time on wedding day. And in the opening image, captured during the secret wedding ceremony between John Kennedy Jr. and Carolyn Bessette 25 years ago this week, I am merely a witness with a camera. The moment is real.
To capture this next photo, I stood quietly away from the action, positioned to see the bride's reflection and the tearful moment when her dad first saw her in her gown.
I find that dressing the part of a wedding guest helps me disappear and presents a more professional look. I roam around cocktail hour and the reception with my camera held down. I avoid close-up coverage of subjects who are eating (and use that time instead for photographing outdoor scenes of the venue, for example).
My most frequently used lenses nowadays are the Canon RF 28-70mm f/2.0L and RF 70-200mm f/2.8L IS zoom lenses. I also bring along a Canon RF 15-35 f/2.8L zoom for those rare times when I need more width than 28mm and amazing prime lenses like the RF 50mm f/1.2L and the RF 85mm f/1.2L. I do find that zooms seem better suited for unexpected and fast action moments.
Wedding Photojournalist Denis Reggie - Romantic on a Mission from Denis Reggie on Vimeo.
2. Use Available Light Whenever Possible
As you may know, many photojournalists like myself live for natural, available light. I often use higher ISO settings and wide-open apertures, especially in darker venues, so I can achieve higher shutter speeds that are especially beneficial when using a high megapixel camera.
A lot of wedding subjects are in motion so using a camera like the Canon EOS R5 with IBIS (in-body Image Stabilization) and superb autofocus features like face and eye tracking is helpful in achieving a high success rate for perfectly sharp images. If there is supplemental lighting, say from a videographer, I might use that as my main light instead of using flash for coverage like the cake cutting or speeches made at a microphone.
To document the moment above, I dressed in a tuxedo to blend into this formal New York wedding reception. I also chose to use existing spotlights aimed for the cake cutting to light this heartfelt scene, making my presence less noticeable.
3. Bounce Your Flash to Create More Natural-Looking Light
When you need to use a flash—in a dimly lit reception hall, for example—consider aiming your flash toward a wall to bounce light rather than aiming directly at a subject. By using a relatively high ISO, often 4000 or even higher, along with a nearly or fully wide-open aperture, the flash output becomes so low that it's nearly unperceivable (and therefore not as distracting to the subject as it might be with typical direct flash techniques). Wall bouncing also adds a three-dimensional quality by creating a highlight side to the face, somewhat like window light, which I find creates a more natural look than two-dimensional, flat lighting created by aiming directly toward a subject.
By aiming my Speedlite with attached CTO orange filter toward the wall (image below), I was able to emulate window lighting as evidenced by soft shadows that add to the three-dimensional presence in the photograph.
4. Use an Off-Camera Umbrella When Lighting Portraits
For those times when I need to be more visible as a photographer, like during group portraits, I use a camera-mounted Canon ST-E3-RT transmitter to signal one or two Canon EL-1 Speedlites aimed into a soft white umbrella on a light stand as the off-camera main lighting. I often snap on a CTO orange filter to the flash head to better match the warm ambient lighting in many venues to provide even color of lighting, especially on the subjects' faces.
For formal group photographs like this one taken in Martha's Vineyard, Massachusetts (above), I bounce my Speedlite into an umbrella as the main light and trigger the flash using a transmitter mounted to my camera's hot shoe.
5. Include Black-and-White Images in Your Albums
Almost every wedding album I produce has some portion presented in black-and-white. I find that this helps convey a timeless feel and even gives a nod to history. I adore the look of a finely matted album (like the Queensberry Duo from New Zealand) with both mediums intertwined to visually enhance the couple's love story.
Some of my clients request all black-and-white coverage (celebrity clients like singer-songwriter James Taylor and Eagles co-founder Don Henley come to mind) as a matter of personal preference, particularly fitting for magazine-like documentary photos. This black-and-white photograph of a runaway flower girl at recent wedding assignment in Newport, Rhode Island presents a sense of timeliness.
I shoot my assignments with Canon R5 cameras set to concurrently create C-RAW files on each of the two cards to safeguard against an unlikely card issue. Having the entire color spectrum captured and retained in our (smaller size but virtually equivalent) RAW files, means that I can elect to post-produce a presentation of my work in either medium or a mix to enhance creative freedom.
Bio
An original Explorer of Light and now Canon Legend, Denis Reggie is widely regarded as the most recognized and celebrated wedding photographer in the world. He pioneered the quiet documentary approach focused on authentic moments favored by so many brides and grooms today and dubbed it wedding photojournalism. His client roster includes the Kennedy family for two dozen wedding assignments, designer Vera Wang, Oprah Winfrey, Paul Newman, Mariah Carey, and rapper Jeezy for his 2021 wedding.
Reggie's unprompted images have adorned the covers of LIFE, People, Professional Photographer, and Elle France magazines and featured among Photographs of the Year by People, LIFE, Time, and Newsweek. He's been interviewed on Entertainment Tonight, Inside Edition, VH-1, NBC's Today show, Oprah!, and featured in The New York Times, The Wall Street Journal, Vogue and Town and Country. A selection of his work is now part of the permanent collection at the Smithsonian in Washington. He is based in Atlanta and accepts 30 wedding assignments each year worldwide.
You can see more of Reggie's work at the links below:
www.facebook.com/DenisReggiePhotographers/
www.instagram.com/denisreggie/