WD Passport Portable USB Drives

In Brief
WD Passport Portable USB Drives
by George Schaub
It's clear that having a backup strategy when on the road can often make the difference in image insurance. While downloading to your laptop to clear your memory cards is now standard operating procedure, you should also consider burning to a CD or DVD as the way to go. But what happens when you have more images than those media can hold, or simply don't have the time to burn disks? That's when the new generation of portable hard drives comes into play.
A new name to us in this field is Western Digital Corp. We first met them at this year's PMA show, where they showed us their new WD Passport Portable USB Drives, which are now available with 120 GB capacity. The wallet-size drive is a simple plug and ply device, which means that all you need do is attach them via USB to your laptop and drag files and folders for quick copying and backup.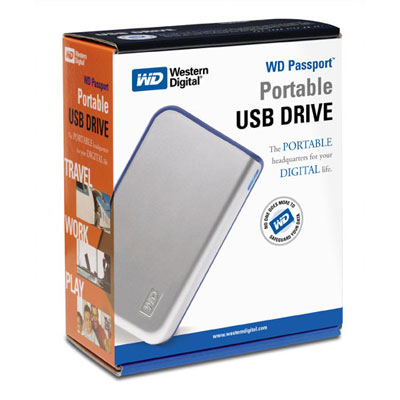 The company spokesperson pointed out that their WD Passport Portable USB Drives are outfitted with high-performance, low power-consuming, cool and quiet-running WD Scorpio 2.5 inch EIDE hard drives, as well as Data Lifeguard protection, which they claim provides maximum safeguard from data loss. While we worked with the 120GB version, they also have drives in capacities of 40, 60, 80, and 100GB as well. Their optional WD Passport carrying case seemed like a good idea for extra protection when on the road.

We tested the Passport with a number of laptops to see how well it performed, being forewarned by the company that Macs would not have enough power in their USB ports to mount the drive onto the desktop. It worked flawlessly with our Dell Latitude laptop, and actually mounted on our tiny G3 iBook and the new Mac Universal, but oddly enough it did not mount on our Mac G4 PowerBook. Our suggestion is that if you have a PC laptop you should be fine, but test it on your Mac laptop before final purchase. Why it should work with two Mac laptops, one fairly "old" and one brand new, and not the G4, is a mystery. It worked just fine, as we thought it would, on our Mac G5 tower unit. Once you connect it the Passport shows up as a drive on your desktop, and all you need do is drag and drop files, folders etc. to it. For us, it's a great companion for digital photographers on the go who want extra backup insurance, as well as an unobtrusive backup drive for your home setup.
WD Passport Portable USB Drives and WD Passport carrying cases are available at retail stores and online retailers, as well as via the company's online store (www.westerndigital.com). The price of the 120 GB drive is $199; the WD Passport carrying case is $24.99 USD.
--George Schaub

LATEST VIDEO