Vanguard VEO 3T 265HCBP Carbon Fiber Travel Tripod: Everything You Want & More!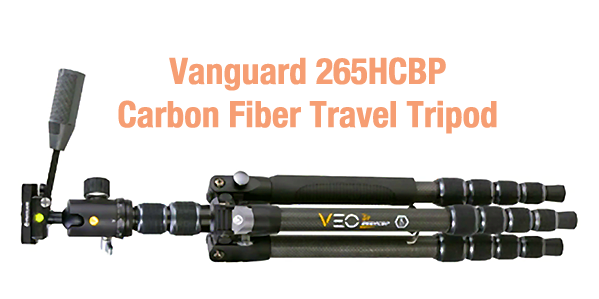 Easy-to-carry travel tripods are more popular than ever, as photographers have turned to mirrorless cameras and correspondingly small lenses to lighten their load. The challenge is finding an appropriately robust model that doesn't sacrifice stability, quality and features—just to be small.
We regularly advise carrying a tripod into the field for achieving optimum sharpness and compositional accuracy, especially when shooing with long lenses or in low light. The problem is that some travel tripods are so light and wispy that they impart a false sense of security and sloppy technique—which can be worse that no tripod at all.

Enter the premium Vanguard VEO 3T, model 265HCBP. This carbon fiber tripod features a unique design, with the precision, quality, and stability of much larger tripods. It's a travel-friendly model that's ideal for landscape photography, but includes several unique features that also make it a great choice for vloggers, videographers streamers and other content creators.
The VEO 265HCBP is the tallest and most secure of the VEO 3T series, while compact enough for photography on the go. The legs fold up and in for maximum portability when not in use. Upon deploying the legs there's a choice of three angles (2°, 50° and 80°), for shooting low-level images, at full height, or in between.
The tripod includes a precision ball head, an Arca-Swiss platform, and quick release plate. Like the canopy of the tripod, these components are constructed of aircraft-grade aluminum. The canopy features two 3/8-in bushings to accommodate accessories. What's cool about VEO's 2 BP-120T ball head is that the quick-release plate works like others, but also flips up to use as a phone holder for mobile photography.
If that's not enough, the VEO 3T 265HCBP has an invertible center column for low-angle shots, and it can be converted into a monopod in three easy steps. Included in the kit are a Bluetooth remote, low-angle adapter, and the quick-shoe with built-in universal smartphone adapter. There's also a really nice carrying bag.

The Vanguard VEO 3T 265HCBP can be purchased at the special price of $319.99 (a 13% discount) on Vanguard's website where you'll find complete details on all their gear.