Really Right Stuff Full Gimbal Head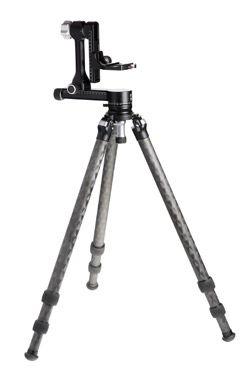 It was with considerable dismay that I discovered, after my story on gimbal mounts appeared in a recent issue of Shutterbug, that Really Right Stuff (RRS) manufactures a gimbal mount as well; in fact, some might argue it is one of the best conventional gimbal mounts currently being offered among top-tier gimbal mount manufacturers.
Built primarily of CNC-machined black anodized aircraft-grade aluminum stock, RRS's gimbal is one tough mount. And it's also beautiful, to boot. Manufacturing quality is as good as it gets—and the postproduction finish and fit are impeccable. The custom knurled pitch lock knob for the articulated arm is solid aluminum. The custom pan knob is solid aluminum as well, but additionally has a rubber grip to facilitate rotation. Importantly, both knobs are located on the same side of the gimbal, thus facilitating access and allowing the user to release or tighten both with just one hand.
Movement is as smooth as butter, thanks to the use of finely machined Timken needle bearings. The patented RRS lever-release clamp (quick release)—based on the world-class QR system that RRS has been manufacturing for years—accommodates all standard Arca-Swiss plates and should last several lifetimes if treated with even the most minimal of respect.
Both the pan and tilt axes are laser engraved in 2.5˚ increments from zero to 360˚, making the gimbal ideal for shooting panoramas. The tripod mount is stainless steel with standard 3/8"-16 dimensions. The panning base has a diameter of 2.75" at the mounting end. There is also a 12mm bull's-eye level integral with the horizontal bar along with lateral scale laser engraving (zero point is the middle of the panning base with laser engraving from 40mm to 180mm on both sides).
Importantly, the RRS gimbal is the first of its kind to offer lateral adjustability. The vertical support arm (PG-02 VA) can be moved the length of the horizontal bar, thus allowing the user to position a camera or lens directly over the gimbal's rotational center. This is particularly important for pano work.
In a very unusual offering, RRS has added five mounting sockets to the head of the vertical arm. These allow for the mounting of optional accessories such as a second camera or a microphone when shooting video. The centered socket is threaded 3/8"-16, the two X-axis sockets are threaded 1/4"-20, and the two Y-axis sockets are 1/4"-20. In addition, the tilt axis arm has one 1/4"-20 centered socket with anti-twist tabs and a total of four other M5 sockets.
The RRS gimbal head is designed to be fully disassembled for transportation. The quick releases for this are finely machined screw-type clamp assemblies that take about half a turn to loosen. Breaking the gimbal into its four primary parts allows it to be packed into just about any available space in either a camera bag or carry-on.
The RRS's gimbal is a US-manufactured mount that any pro or serious photographer could use for a lifetime and never be disappointed with at any level. Weight is 57.9 oz.; height is approx. 9.6"; depth is approx. 2.75"; tilt range is +/- 90˚ (depending on lens attached). Max. loading is 50 lbs. Retail is $800.
For more information, visit Really Right Stuff at: www.reallyrightstuff.com.

FEATURED VIDEO