Remember This Blast from the Past? "Testing" the World's 1st Color Digital Camera Under $500 (VIDEO)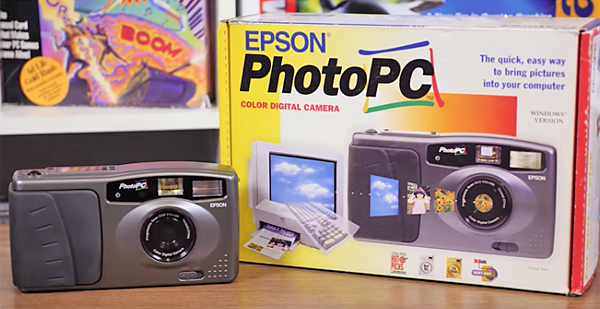 Here's a blast from the past: A new video from the LGR YouTube channel with the unboxing and "testing" of a 1995 Epson PhotoPC 0.3-megapixel dinosaur recently found at a thrift shop. The PhotoPC was not only Epson's first foray into the digital camera business, but it was also the first-ever color digital camera on the consumer market for less than $500.
Developed and licensed by Sanyo, the Epson PhotoPC was introduced in 1995 and sold through 1996. The $499 camera captured images with 640x480 resolution that were saved to internal flash memory. Alas for Mac users, this technological wonder was only compatible with Windows computers.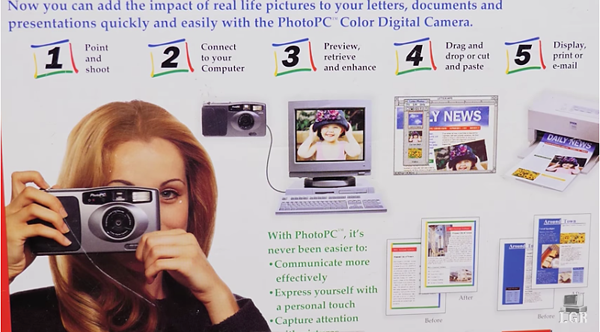 The video below is quite humorous, given Epson's marketing approach and the company's suggestions for using the camera. Billed as "The quick, easy way to bring pictures into your computer," the PhotoPC was said to be "as easy as "1, 2, 3, 4, 5." The back of the packaging listed numerous ways to put the camera to use "for work or play"—including everything from flyers, reports and proposals, to desktop and Internet publishing.
You'll have to watch this video to see how the camera performs, but let's just say that if you love noisy, low-res, washed-out photos, we expect you'll be hitting the thrift shops shortly. As for how far we've come since 1995, you may want to look at last week's story with the unveiling of Hasselblad's new mega monster 400MP H6D-400c MS medium format digital camera.

FEATURED VIDEO