Stocking Stuffers; What You Want And What You Need Page 2
Protection For Lens & Camera
Nature shooters have long been enamored of LensCoat (www.lenscoat.com) products, but their products are not just for photographing reindeer; they're also helpful if you're photographing Santa and his elves. LensCoat's neoprene covers for camera lenses, tripods, lens hoods, and other accessories are not only useful for camouflage but provide an added level of protection for your gear. The BodyGuard Pro camera body cover is made from shock-absorbing neoprene, protecting your camera from nicks, dings, and scratches while the lens is attached. It keeps the camera body free from dust and dirt and protects my Canon EOS-1D Mark II N when I toss it onto the back seat of my Infiniti QX4. I keep my IR-converted EOS Rebel XTi in a BodyBag Pro because it seems to spend most of its time not in a camera bag and I like the added protection afforded by the soft cover that keeps the body free from grit and grime as well as protecting it from the elements.

LensCoat Lens Covers protect your equipment from scrapes and bumps and visually break up the shape of your lens, making it less noticeable to wildlife. That's not usually an issue for me but I select different colors and patterns to help me identify specific gear at a glance. LensCoat Hoodies complement their Lens Covers and protect the front element of your lens from muck, mire, moisture, and impact and feature a reinforced removable front element protection disc that's made from rigid plastic and foam. It's also great for travel and when storing your lenses.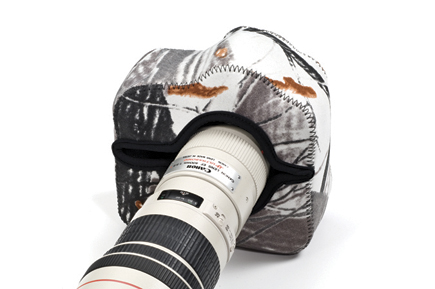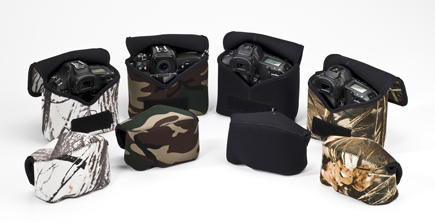 Flash Of Inspiration
The LumiQuest (www.lumiquest.com) FXtra is a compact gel holder that lets you install and use colored gels on your shoe-mount electronic flash. The FXtra comes with eight Rosco gels, including CTO, 1⁄2 CTO, 1⁄4 CTO, Plus Green, 1⁄2 Plus Green, Sky Blue, Canary Yellow, and Fire Red. LumiQuest's chairman and product designer Quest Couch told me that this particular filter selection was made because it's "a starter set of the most popular Rosco gels used in photography." The design of the FXtra includes a storage pouch that accommodates the eight Rosco gels and additional Rosco and Lee gels that you might already have. In addition, any LumiQuest accessory can be attached while the FXtra is in place, allowing you to colorize the light while using a variety of light modifiers. The FXtra is made in the U.S.A. from recycled and recyclable materials, fits most popular flashes, and costs $19.95. Get one for yourself or your favorite photographer.
Leave Your Laptop Home
As reported in a recent Washington Post article, the Department of Homeland Security recently announced that as part of border search policies federal agents could take a traveler's laptop computer to an off-site location for an unspecified period of time without any suspicion of wrongdoing. If like me you're already tired of schlepping a laptop around, it's time to take a look at Epson's (www.epson.com) Multimedia Photo Viewers for your travels. The 80GB P-6000 ($599.99) and 160GB P-7000 ($799.99) feature a 4" LCD that displays more than 16.7 million colors, encompassing 94 percent of Adobe's RGB color space for color accuracy. The Photo Viewers can store and display raw and JPEG files and have built-in CompactFlash and Secure Digital memory card slots, with other cards supported via a third-party adapter. Epson claims a download speed that's "up to 35 percent faster than previous models." Each Photo Viewer is compatible with high-speed UDMA CompactFlash cards and use a lithium ion battery that lasts up to three hours. The Photo Viewers feature a jog dial that lets you quickly scroll through images and you can view, sort, and delete files as well as create customized slide shows to amuse and astound the locals. A built-in USB 2.0 interface allows you to sync up with your computer system when you return from your travels.

LATEST VIDEO