Stocking Stuffers; What You Want And What You Need
"At Christmas play and make good cheer, for Christmas comes but once a year."—Thomas Tusser
Submitted for your approval: Here's a list of gizmos, gadgets, and gear for the digitally-minded who may have already believed they had everything they wanted but didn't know they really needed lots more stuff in order to produce the ultimate image. Feel free to use this month's column as a shopping list for your favorite photographer or just grab a Sharpie and, borrowing an idea from Richard Griot (www.griotsgarage.com), circle all of the goodies you like and causally lay this magazine near where your spouse eats his or her morning Wheaties. Hey, it's worked for me.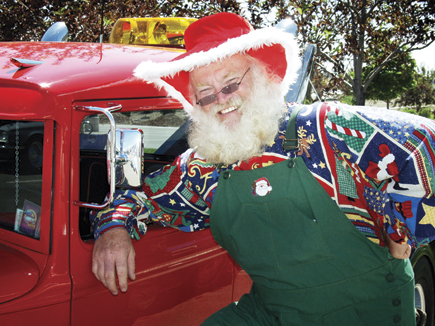 © 2006, Mary Farace, All Rights Reserved
Optical Storage
Back in the March 2008 issue, I wrote about Lite-On's (http://us.liteonit.com) internal Blu-ray drive for your Windows computer and recommended it to anyone wanting to store 25GB on a CD-sized disc. In reality you only get about 23.8GB but that isn't bad for a single disc and the Lite-On drive supports writing and reading CDs and DVDs in all their variations. Instead of storing images on multiple CDs or DVDs, all of my images from a big shoot now fit comfortably on a single Blu-ray disc. When I moved to an all-Apple hardware situation (I'm running Windows Vista on an iMac, see the September 2008 issue), I needed a place to reinstall the Blu-ray drive. A Vantec (www.vantecusa.com) NexStar housing with the appropriate SATA (Serial ATA) interface was just what I needed. What was once a Windows-only solution is working perfectly on my Apple Mac Pro and I'm burning Blu-ray discs using Roxio's (www.roxio.com) Toast software with their optional Blu-ray plug-in.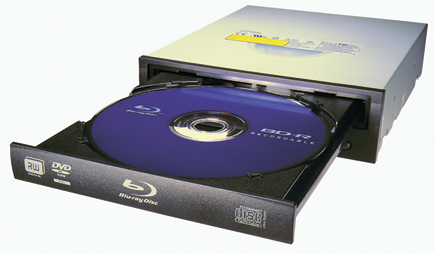 Magnetic Storage
Avastor's (www.avastor.com) line of SDX portable hard disk drives is targeted at pro and aspiring professional photographers. All SDX units are equipped with 7200rpm SATA II (Serial Advanced Technology Attachment) internal drives and have a DC power supply that auto senses 90-240v, giving it worldwide compatibility. Every SDX drive offers 3GB/second performance for data-intensive applications like digital photography or high-speed data back up, has a quiet cooling fan for maximum heat dissipation, and power and activity lights to let you know it's working. The drives are mounted in anodized aluminum cases that use an IEC (International Electrotechnical Commission) power cord as well as a heavy-duty connector with oversized pins. High-quality data cables are included for connection to your system. The SDX series includes three models based on the type of connectivity: SDX 200 (USB 2.0), SDX 400 (FireWire 400/USB 2.0), and SDX 1000 (FireWire 400/800/eSATA/USB 2.0) and each is available in 80GB, 160GB, 250GB, 500GB, 750GB, or 1TB capacities and start at $135. Every SDX hard disk drive is given a sustained speed test, is Mac HFS+ formatted before being shipped, and is backed by a two-year warranty.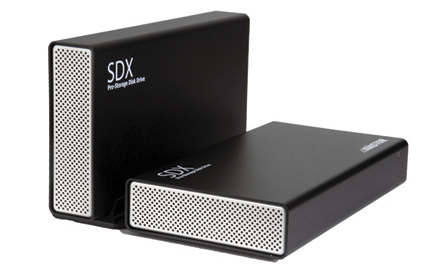 Monochrome Plug-Ins
Nik Software's (www.niksoftware.com) Silver Efex Pro plug-in can be used with Adobe's Photoshop or Apple's Aperture and is a collection of 18 black and white film effects along with a grain engine that mimics the silver halide process. Silver Efex Pro uses Nik's patented U Point technology, providing easy-to-use tools for on-image control of tonality, contrast, and structure that targets specific areas without having to create selections or layer masks. Silver Efex Pro starts with a neutral conversion of a color image to black and white and lets you choose from more than 20 one-click adjustments ranging from historic processes, such as ambrotype and tintype, to high contrast, soft focus, or grainy images that emulate popular film types or shooting styles.

This initial set of options can be used as is or as a starting point to create and share your own customized black and white styles. In addition, color filters, vignettes, and toning controls—including sepia, selenium, split toning, and user-defined—add to stylistic choices. Additional sliders allow for tweaking global brightness, contrast, and structure, as well as Smart Filter compatibility within Photoshop and multi-image support in Aperture. Silver Efex Pro costs $199.95, and is available for Windows and Mac OS operating systems, including Vista and Leopard.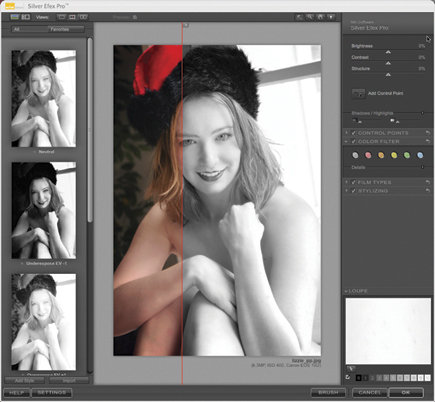 LATEST VIDEO

SPONSORED VIDEO
Testing Tamron's SP 150-60mm G2 lens while capturing birds and alligators in Apalachicola, Florida.