Sony Unveils New Pocket Rocket: 42.4MP Full Frame RX1R II Compact Camera
Sony just unveiled a compact camera it hopes will put the power of a full-frame DSLR in the palm of your hand. Called the Sony RX1R II (full model name is the DSC-RX1RM2), the pocket-sized camera squeezes a 42.4-megapixel, back-illuminated full-frame sensor into a compact black camera body.
The Sony RX1R II pairs that 42.4MP full frame sensor with a premium, 35mm fixed focal length Zeiss Sonnar T* F2 lens.
The new Sony RX1R II is the follow-up to the RX1 & RX1R from 2013. And like those luxury compact cameras, the new RX1R II will not be cheap. It goes on sale in November 2015 for $3,300.
Sony is claiming that the new RX1R II features 30% faster autofocus speeds compared to the original RX1R. It's also equipped with "the world's first optical variable low pass filter that can be set to 'off,' 'standard' or 'high' based on user preference, with low pass filter bracketing available," according to Sony.
The Sony RX1R has a retractable XGA OLED viewfinder for eye-level shooting. The new viewfinder has been implemented with minimal change in overall body size from its predecessors, Sony said.
The Sony RX1R is powered by the Bionz X processing engine and can shoot at ISO 100-25,600 (expandable to 50 – 102,4002) with a reportedly wide dynamic range. "The sensor's back-illuminated structure, with an expanded circuit scale and copper wiring design, enables faster transmission speed and outputs data approximately 3.5x faster than the original RX1R, ensuring high-speed performance," Sony said in a press announcement.
The new Sony RX1R II can record uncompressed 14-bit RAW image capture along with other compressed image formats. The RX1R II is the first in Sony's RX line of compact cameras to feature Fast Hybrid AF capabilities. The camera's sensor offers 399 focal-plane phase-detection AF points that cover about 45% of the image area – "the world's widest AF coverage on a full-frame sensor"– that work together with 25 contrast AF points to achieve focus response that is about 30% faster than the original model, Sony said.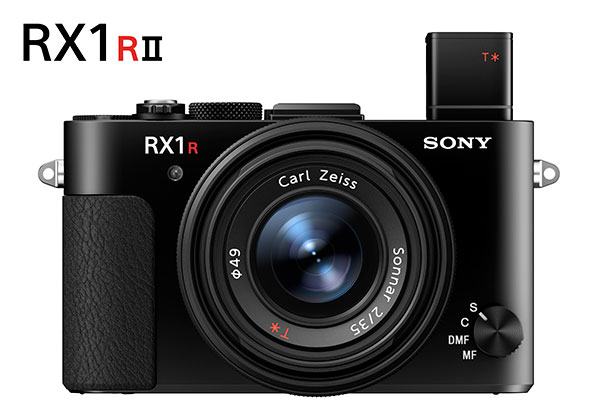 The camera has also added an advanced motion-detection algorithm that offers better tracking performance of moving subjects and allows for the addition of AF-C mode that tracks a subject after focusing. It also can shoot at up to 5fps continuous shooting with AF tracking.
Here are a few more features of the new RX1R II, according to Sony's press annoucement this morning.
• New for the RX1 series, the RX1R II has a built-in retractable 2.4 million dot XGA OLED Tru-Finder that pops up and down with a one-push operation. '
• The viewfinder features ZEISS T* Coating and four glass elements including two aspherical lenses that work together to deliver a magnification of 0.74x and clear corner-to-corner visibility with minimal distortion.
• The new camera also has a 3.0 type WhiteMagic 1.2 million dot LCD display that can tilt upwards up to 109 degrees and downwards up to 41 degrees, allowing for a greater range of shooting angles and positions.
• On the video side, the camera's advanced sensor and processor are deliver exceptionally detailed movies with low levels of noise. It shoots full HD 1920x1080 video recording at frame rates of 60p, 30p or 24p through use of the XAVC S movie recording format.
• The new RX1R II camera is also Wi-Fi and NFC compatible
More details on the new Sony RX1R II compact camera here.

FEATURED VIDEO