Shutterbug's Exclusive photokina Coverage; Studio Lighting—Pro & Semipro: Monolights, Flashes, And Strobes
Studio lighting comes in all shapes and sizes, and the lights that are new to photokina certainly support that contention. Our primary focus here is on strobe lighting, but that includes a mix of monolights and power packs (generators), and select flash heads that attach to these generators. If we can see any trend in studio strobes it is the increasing reliance on electronic components and digital control. But we also came upon an unusual light: an LED bank with both strobe and continuous light functions. Something new to flavor the photo studio is always welcome. But we begin with a light tent that adds a twist to a familiar theme.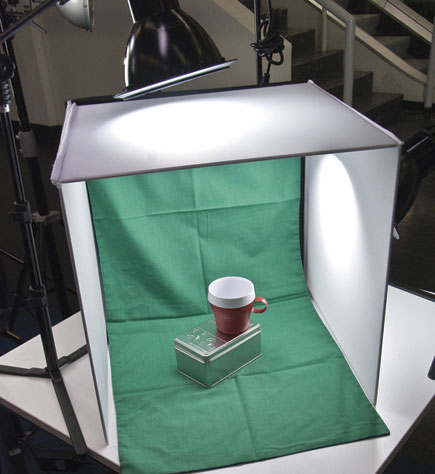 APV/Tristar Folding Cube 2 Light Kit
Cube-shaped, collapsible light tents are nothing new, so APV/Tristar decided to give us one that's just different enough to be worthy of notice. The Folding Cube 2 Light Kit is easily portable, as we'd expect, but what sets it apart are the two digital lights included. Designed for small-product photography, the two 28w, 5200K fluorescent fixtures can be set at practically any angle to the white fabric surfaces for a soft light free of harsh, glaring hot spots. The included backdrops come in five flavors: green, blue, black, white, and gray. The tent itself measures 16" on each side.
Aurora Lite Bank introduced what now bears the moniker Digis, with a name to be finalized for the US market. This digitally-controlled monolight can be used as a fully functioning strobe and continuous light at the same time (say, when you want to capture motion blur and freeze movement simultaneously). The modeling light can also be set to track flash output. Available in 400, 600, and 800 ws models, output is variable in 1⁄2- or 1⁄10-step increments over seven f/stops. Remote triggering via radio, infrared, photocell, or sync cord. This product will be part of the Uni-Lever PRO line when it hits North America (available through Booth Photographic).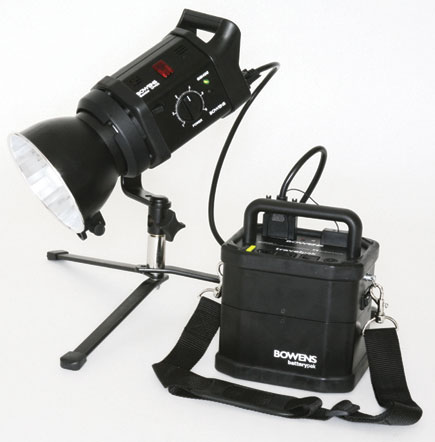 Bowens Gemini GM400 and Travelpak
Bowens displayed their new Professional Gemini series. These monolights are compatible with the new Travelpak battery and feature 1⁄10-stop precision on twin-dial controls (full and tenth stops), a plug-in radio trigger module option, ergonomically restyled heads in capacities from 250-1500 ws over a five-stop range, with auto dumping of excess charge when powering down to a lower output. There is also a much more basic entry-level Gemini in 200 and 400 ws configurations, with five-stop output control, proportional modeling, Travelpak compatibility, and auto dumping. Designed to be modular (separate housing and battery), the new Travelpak itself lets you hot-swap a second battery on the fly (with a choice of a large or small battery) and can power up to two Gemini monolights.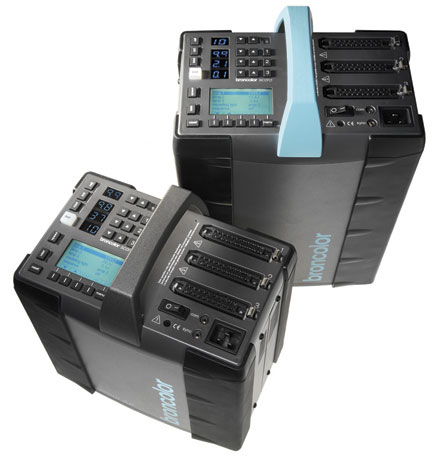 Broncolor, long a standard in lighting among top advertising photographers, may have topped even themselves with the new Scoro A-series power packs, with the auto-switching 100-240v Scoro A2S (1600 ws) and A4S (3200 ws) being most suitable for the North American market. These generators feature an 11-stop output control in 1⁄10 and whole f/stop intervals, flash durations down to 1/12,000 sec, and individual control over the three lamp outlets. Enhanced Color Temperature Control maintains correct color balance over the entire output range on each head. Depending on the unit, recycling can be as low as 0.02 seconds on minimum power and 0.8 seconds on full power, with even faster charging in "Speed" mode. With built-in radio remote support, every power pack function can be controlled from the computer using radio signals, and flashes can be triggered at distances of up to almost 12,000 ft. What's more, these packs sport a user-friendly interface with bright digital displays and illuminated soft-touch keypads.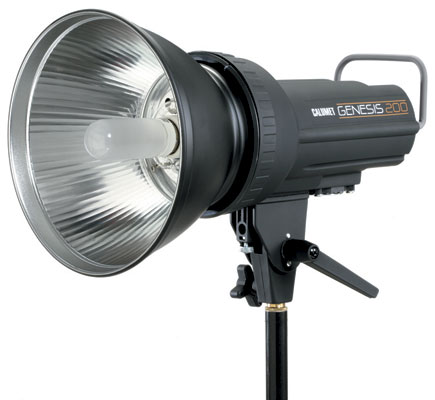 Calumet Photographic recently introduced the Genesis monolights in 200 and 400 ws versions. They now bring you these lights in various kit forms. Kits begin with one 200 ws head, light stand, and white umbrella for $169, and for $319 you can double that in a two-light kit. The Genesis 400 two-light kit comes with the same accessories for $569. Each Genesis monolight features a safe 5v sync voltage; digital control; variable flash output over a five-stop range; full and proportional modeling (150w); and built-in infrared slave cell with sensitivity settings to meet environmental needs. The 200 ws model weighs just 4.2 lbs.

Elinchrom beefed up their studiostrobe line-up with two monolights and a portable power pack. The BXRi compactmonolights come in 250 and 500 ws models, with output control over a five-stop range. Recycling for the smaller unit is 0.27 (min.) to 1.02 seconds (max. output), and color temperature is 5500K on each. Flash duration on the 250 ws unit is 1/2762, operating at 5v, safe for digital cameras. Other features on both units: microprocessor-controlled fan, plus thermal cutout, integrated EL-Skyport radio transceiver, soft-touch controls, and digital display. The Ranger Quanta Asymmetric is a rechargeable power pack with auto shutoff; redeye pre-flash auto-detect; programmable and preset Effect modes; two outlets for asymmetric operation; a single high-power channel; single super-fast flash channel; and EL-Skyport support. Operating at 5560K, it can deliver 110 flashes in fast cycle, 150 in slow cycle. Flash duration can be as short as 1/6000 sec. Weight is under 7 lbs.
While the changes are not dramatic enough to make you want to toss out your original Starlite, Gossen has slightly revamped this model, calling it Starlite 2. Although the modifications may appear largely cosmetic, the meter has been made more user-friendly by a simple change in the button designations. The meter boasts a splashproof housing, incident (raised or lowered dome) and reflectance (1? or 5? spot) readings for ambient light and flash, with a rotating turret. Additional features include contrast measurement, analyze function, memory for multiple readings that the meter averages, and Zone System readings, with Shutter-Priority, Aperture-Priority, and EV-based displays. The LCD panel (with automatic backlight) is of course digital, with an analog read-out as well. Its predecessor carried a hefty price tag, so expect the same here.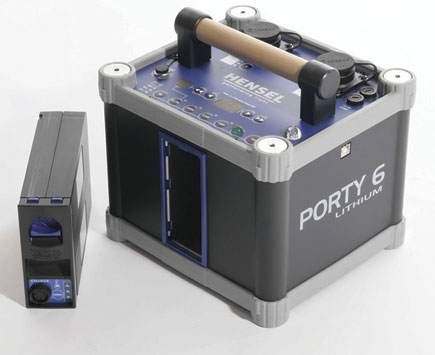 Hensel has expanded the popular Porty line-up with the Porty 6 Lithium (600 ws/$3672) and Porty 12 Lithium (1200 ws/$4265) battery packs, each being a lighter (12 and 13 lbs, respectively) and faster-charging alternative to the Porty Premium Plus. Features on the smaller unit include recycle time from 0.03 up to 0.95 seconds; up to 450 flashes at full power or up to 30,000 flashes at the lowest output; 50-minute charging time for 80 percent capacity; asymmetrical power distribution; seven f/stop range, in 1⁄10- and full-stop increments; flash durations with the new EH Pro Mini 1200 P Speed Head ($496) up to 1/8100 sec; and radio control over flash release, flash power, and modeling light. Also new is the LightStick ($783), designed to let you stick a strobe head in tight spaces where an ordinary flash head won't fit.
Hensel EH Pro Mini 1200 P Speed Head

FEATURED VIDEO