Shutterbug's Exclusive photokina Coverage; Studio Lighting—Pro & Semipro: Monolights, Flashes, And Strobes Page 2
JTL showcased the most innovative and unusual light I have seen to date: the Coolite LED Light, which can operate continuously or—get this—stroboscopically as a flash (one set of lights remains on as a modeling light). This light consists of a matrix of LEDs, each tiny LED being user-replaceable, operating in user-definable banks. Output at ISO 100 is given as f/5.6 at 10 ft, 1/125 sec, with maximum strobe output at a very usable 300 ws—at a 5500K color temperature, with a 4v sync voltage. The light also has manual and infrared control, a digital display and control panel, and power settings from 1⁄8 to full in 1⁄10-step increments. And it's more energy efficient than hot lights over the 100,000-hour working life of the system. Remote control included. Could this light herald a new trend? Stay tuned. It's certainly a promising technology, one that we can't wait to sink our teeth into. JTL also showed the new focusable, 250w JTL HMI, with a 5500K color temperature, and output roughly equivalent to a 1000w halogen-quartz light. The bulb has an 800-hour working life.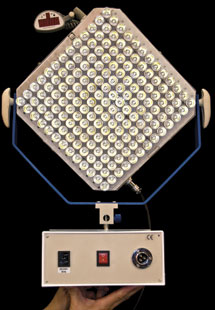 Lastolite is known for lighting accessories, so we should not be surprised to see some innovative new products. The MegaLite is a 6x4-foot collapsible and portable softbox (similar to the backdrop previously introduced, except that this has a silver reflective panel). It can be used as a floor-standing unit or in conjunction with the roller stand, which can raise the softbox several feet above the floor and be angled for better lighting. The MegaLite can work with one strobe head from each side and each flash head can be attached to the rolling stand for convenience. Softbox ($400) and stand (under $500) are sold separately. Also new is the UpLite 4:1 (around $275), which gives you a choice of four reflectors that can be set at an angle to the subject from a floor position.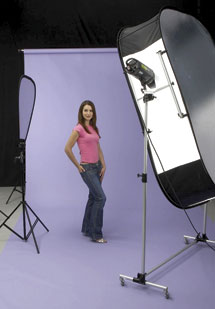 Lumedyne now has a new International Charger ($70) for their portable battery systems. The charger is smaller and faster than previous quick chargers from this company, and it comes with a set of four plug adapters to fit practically any AC outlet worldwide, with a switch-mode power supply that makes it safer for the battery while preventing overheating. Lumedyne batteries are used to power Lumedyne's own portable strobes as well as shoe-mount and handle-mount strobes from major manufacturers.
Lumedyne International Charger
The new Profilux Plus System from Multiblitz moves this company a step forward in lighting technology. These compact monolights come in 200, 400, and 600 ws versions, but more importantly, they can be operated by AC mains current in the studio (with automatic voltage selection) or by the optional Propac-1 or Propac-2 battery packs on location. The monolights offer variable flash control over five f/stops (four stops on the smallest unit), flash duration down to 1/3000 sec, with recycling as low as 0.3 seconds, and proportional modeling. Wireless triggering can be achieved via photocell or infrared, or safely by sync cord at the 5v sync voltage. Also new is the Compact Plus, a 200 ws monolight offering simplified operation for those of you just getting into studio lighting.
| | |
| --- | --- |
| | |
| Multiblitz Profilux Plus System | |
Photoflex formally debuted the StarFlash 150 monolight ($244 street), which offers a simple solution for the beginning portrait photographer, especially when ordered in kit form ($929 MSRP for two-light umbrella kit). The flash has an extruded aluminum housing with rubberized finish; variable output over a five f/stop range; high-quality German flash tube for durability; and proportional modeling.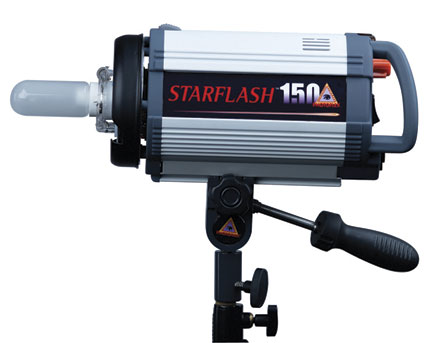 Profoto has designed the Pro-8a digital flash generator for the rental market, so if you didn't think you could afford one, no need to worry—just rent it. First and foremost is a short recycle time: 0.9 seconds at 2400 ws, delivering 20 flashes per second at lower outputs and up to 1000 full power flashes per hour, and the pack boasts a super-short flash duration of 1/12,000 sec for motion stopping. The newly developed Pre ignition Plasma Establishing (PiPE) technology results in output accuracy of +/-1⁄50 f/stop and totally consistent color temperature over a 10-stop range. The pack also comes with the new Profoto Air Remote receiver for wireless power control and triggering of Profoto strobes equipped with the new system. The Profoto Air Sync is for wireless triggering of any brand of flash, and the Profoto Air USB transceiver connects your flash units to the Profoto Studio Air software running on PC or Mac, giving you full wireless control of your studio flash system from your computer.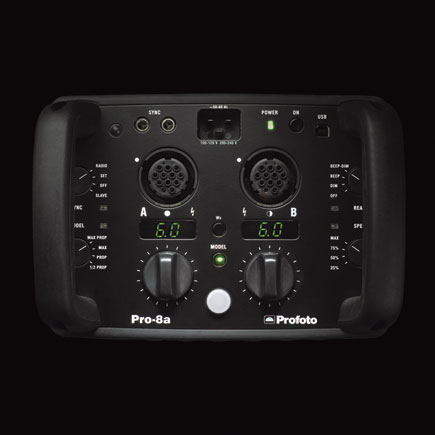 Sekonic, who previously introduced us to the L-758DR DIGITALMASTER, the handheld flash/ambi meter for the digital age, now brings us the color meter for the digital age: the PRODIGI COLOR C-500/500R (respectively, $999 and $1099; the "R" model incorporates PocketWizard wireless triggering capability with compatible lighting systems). Why do you need a handheld color meter with digital? It's especially important when you work with mixed lighting indoors or out, and getting the color right from the get-go is less time-consuming than tweaking it in post. And it makes clients happy. This color meter measures and displays color temperature and compensation values in LB/CC index or filter numbers for both digital and film cameras. In Digital mode, the color temperature and compensation readings are based on human visual response, using a dedicated red sensor, with a separate red sensor for film, plus green and blue sensors (addressing both digital and film). Other functions include flash color measurement for simultaneous color readings of flash and ambient light in Non-Cord, Cord, and Wireless modes at various sync speeds, and 19 presets that let you compensate for differences in film type, light source, digital sensor, or personal preference.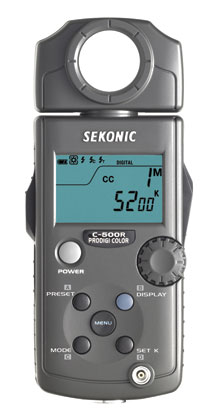 Sekonic PRODIGI COLOR C-500R
Visatec has a powerful battery pack, the Bron Powerbox 900, for the location photographer. More correctly, a sine wave inverter-based battery, this allows you to plug in any single strobe up to 900 ws. Or with a standard power strip, you can plug in any number of strobes that add up to 900 ws, such as three Visatec Solo 800Bs (300 ws each). With a 300 ws strobe you can expect approximately 210 flashes at full power and over 800 flashes at minimum. At the maximum 900 ws output for all three strobes you can expect approximately 100 flashes at full power. When working with the modeling light, the amount of flashes is reduced accordingly. Approximate charge time is three hours. The pack measures 8.8x8.2x5.5" and weighs just over 14 lbs.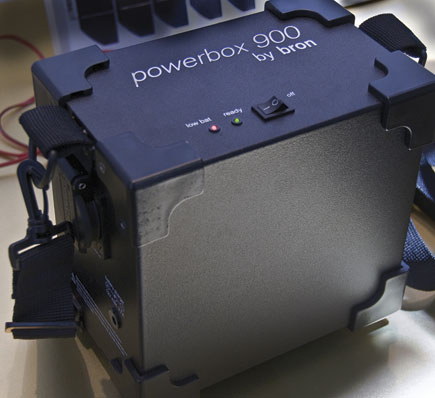 Visatec Bron Powerbox 900

FEATURED VIDEO