Shutterbug's Exclusive photokina Coverage; Film, Chemicals, Paper, Darkroom, And More: Not Quite Dead Yet
At two very well-attended open forums, Kodak asked the all-important question: "What's film got to do with it?" The answer, given by four top professionals (Amy Postle, Pep Bonet, Det Kempe, and Eddie Soloway), cheered on by large audiences, turned out to be "A lot more than you might think."

I forget which of them first said, "I use digital when I have 'deadline' tattooed across my forehead," but they all agreed with him. Or as Amy Postle put it, "When I look at the clients and art directors, all staring intently at their computers, I ask myself: am I a photographer or am I just a technician?"

Of course they all use digital—when they have to. And of course they are all technicians: a successful photographer has to be. But there is more to photography than that. All four agreed that they prefer using film whenever possible. They preferred the look; the rhythm of working; the equipment; just about everything, really.

Which is why Kodak continues to produce film. They have updated Portra at least once since last photokina; there was also a major update to T-Max 400 (TMY) in the summer of 2007; and now they have introduced a new Ektar film, which we shall be reviewing as soon as possible (we've already shot our first roll).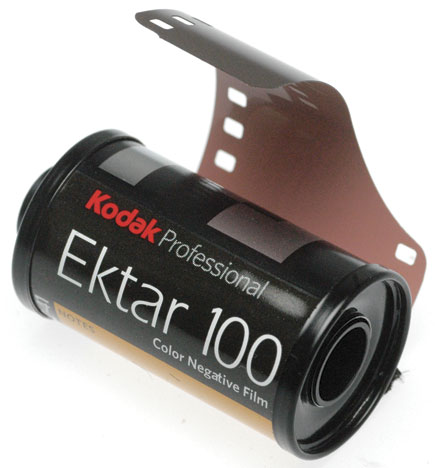 The new Ektar is not just an update of the old Kodak Ektar 25, which was famously sharp but also famously unforgiving. No: this is an ISO 100 film. Using new technology, they have been able to make a faster film, with more latitude (they reckon -1 stop, +2) and with sharpness and grain structure that is comparable with, or maybe even better than, the original.

Like its predecessor, though, it's not a universal film. Colors are vivid and saturated, ideal for travel and nature, but not necessarily for portraiture unless you're using a soft-focus lens (or a cheap zoom—often the same thing). As my contact at Kodak said: "If you want the best film for rendering skin tones go for Portra. Ektar handles skin tones well enough but that isn't its primary function." We've just bought a Thambar soft-focus lens and received a Subjectiv soft-focus lens for test… For further information, go to www.kodak.com/go/ektar.

Although it sometimes seems as if film is becoming a thing of the past, just about everyone is reporting a resurgence of interest. It is true that there are fewer and fewer manufacturers and distributors, but those who are still in business are not standing still, and most report that they are doing very nicely, thank you.

The Rollei brand is a good example: Rollei announced no fewer than four new films. Advanced Technical Pan ATP 1.1 ISO 32 is a slow, ultra-fine-grained, ultra-sharp film which does however require special treatment during development in order to avoid excessive contrast; Maco's RLC Low Contrast developer is ideal. Alternatively, you can develop it for very high contrast: its microfilm ancestry is soon revealed. Borrowing the "Technical Pan" name from the discontinued Kodak material was a bit naughty—the films have very little in common apart from the name—but for many of the old Technical Pan applications, Rollei's new film may prove an acceptable substitute.

For high contrast, though, most people might prefer Advanced Technical Ortho Supergraphic ATO 2.1: more or less the same thing, but ortho sensitized (no red sensitivity) instead of panchromatic.

Then there's Superpan 200, which Rollei/Maco describe as their "Spitzenprodukt"—"flagship"—for professional use, and Slide Direct RSD coated on a transparent polyester base (no anti-halation gray) for making black and white slides. And there's a color reversal (slide) film on the way! For more information about Rollei/Maco, as it becomes available, go to www.mahn.net or to www.fsdistribution.biz.

Although Fuji didn't show anything new, they are one of those companies that incorporate small improvements to their films without any fanfare. The real news is in their peel-apart instant picture materials. They were once Polaroid's competitor, and now provide the sole choice—but they are also talking seriously about increasing production and conceivably even introducing/reintroducing other films. They admitted that they were themselves surprised at the size of the market for these films.
Speaking of reintroductions, the new Adox Pan 25 from FotoImpex is reputedly very like the old Agfapan 25, and again, there is the promise of more Adox introductions in the future. Adox is distributed in the US by Freestyle.

FEATURED VIDEO