Rothco Canvas Bag Looks Great, Priced Right ($25) Affordable Photo & Video Messenger Bag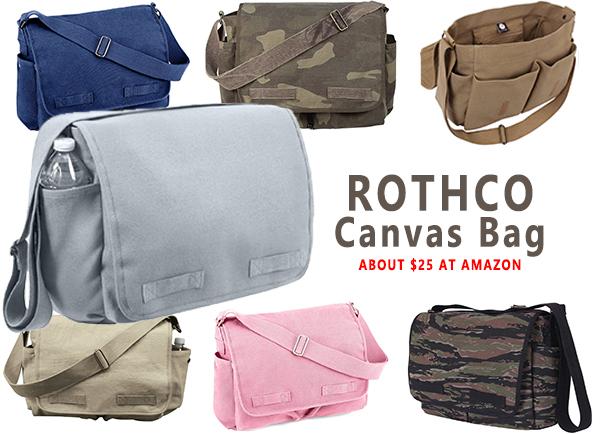 This might be the camera bag bargain of the year, but don't let my innate frugal nature and appreciation for military-style canvas bags unduly influence you. Here are the pros and cons, objectively stated, so you can decide for yourself.
According to the specifications, the Rothco Canvas Bag measures 15 x 11 x 6 inches, but that's conservative. My quick take with the tape pegs it at about 17 x 12 x 6 empty. It is a big bag. If you weigh less than 125 pounds you might be able to use it for windsurfing. As the sail. My West Highland White Terrier fits inside my bag, so judge accordingly.
Be aware that there are other brands of messenger bags that have nearly identical design. And there are counterfeits. Everything written here applies to Rothco only. Rothco has been manufacturing and distributing military gear for nearly 70 years. They sell kickass M65 Field Jackets, tactical shemaghs, camping and survival supplies and many, many sizes and styles of bags. Here's a link to the Rothco 2021 digital catalog. See them on Facebook.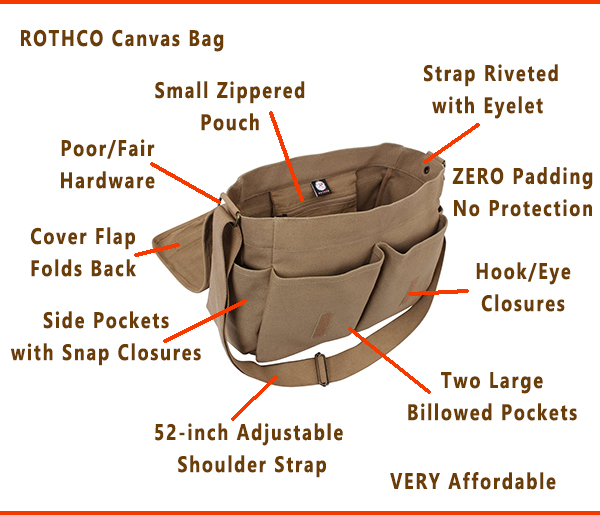 Here are the Positives and Negatives. Importantly, what's a Negative for me might be ho-hum to you, and vice versa. I tried to list every characteristic about which a reader might say, "You didn't mention that it is…" So I am clearly mentioning that it offers no impact protection, is not waterproof and the hardware is one step above awful.
You can add a third-party camera-cradle type insert, spray it with 3M Scotchgard or have your dry cleaners waterproof it, and even replace the hardware (if you can't handle it, any shoe repair shop can). Or you can ignore what I perceive as flaws and enjoy your $25 bag.
The Rothco Canvas bag comes in several colors, including black, near-denim blue, brown, gray, khaki, "mocha" which is more like coyote brown, olive drab, tiger stripe camo and a "woodland" camo that's good but isn't like any woodland camo pattern I've ever seen. When I ordered, this bag was also available in Pepto Bismol Pink, which would certainly stand out in a crowd if that's your end game.
I ordered the gray version ($24.99). The color in the listing is nothing like the color I received, but I'll live with it. I never expect advertised colors to match reality 100%, but frankly speaking, this isn't even close. So when I say they currently list 10 colors, I do so with a warning.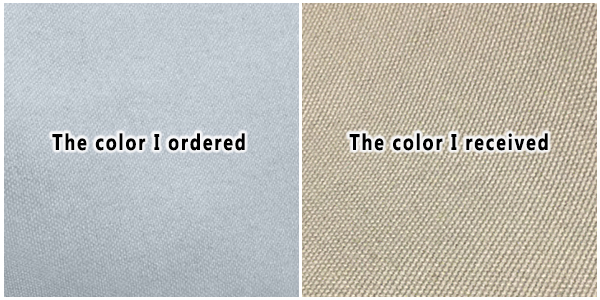 You can order your Rothco Canvas messenger bag from Amazon. Visit the Rothco Store or zero in on the color you want. Available from Amazon, prices starting at $24.99.
—Jon Sienkiewicz
(As an Amazon Associate, Shutterbug earns from qualifying purchases linked in this story.)

FEATURED VIDEO