Ricoh's New WG-50 Underwater "Tough" Camera Is Designed to Help Capture Your Summer Adventures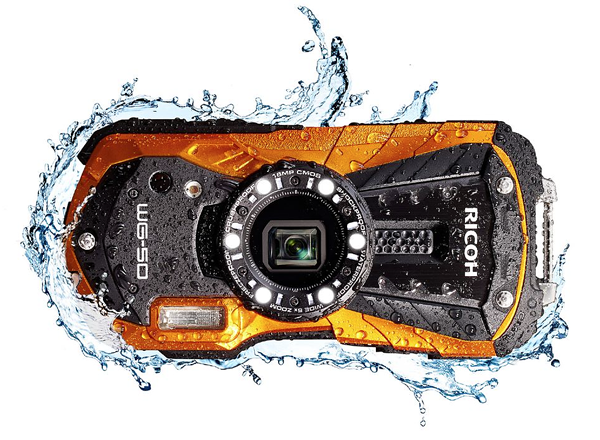 Ruggedized, submergible digicams are popular among travel and adventure photographers who want a compact camera they can use underwater or in wet, dusty conditions. The Ricoh WG-50 is a versatile new model that's designed to help capture your summer adventures from the mountains and desert to the sea.
Ricoh's new WG-50 is the company's most rugged compact yet, with underwater capability to 46 feet—a significant jump over other models. It's also more shockproof and is built to withstand a drop of 5.25 feet.
Of course durability is a moot point unless a camera delivers great photographs, and the 16-megapixel WG-50 is designed with image quality in mind. It features a 28-140mm equivalent zoom lens that's ideal for shooting everything from expansive vistas and portraits to tight shots of more distant subjects.
For better underwater results the WG-50 has been upgraded from earlier models with enhanced white-balance performance and a new flash bracketing mode for greater usability when submerged. Ricoh also added two new scene tones, "Vibrant" and "Slide Film," that will be familiar to users of Pentax DSLRs.
The new Ricoh WG-50 offers over 20 scene modes for those who want to point and shoot and let the camera automatically choose the best settings for the situation at hand, Other features include a nine-point AF system, an ISO range of 125-6,400, continuous shooting at 8 fps for up to 10 frames, and a shake-reduction system that works for both stills and videos.
The camera is available in black and orange for a price of $279.95. You can find complete details on the new WG-50 by visiting Ricoh's website, and be sure to look at our recent report on another new rugged compact camera, the Olympus Tough TG-5.

FEATURED VIDEO