Olympus Launches Tough TG-5 Compact Underwater Camera with Fast F/2 Lens and 4K Shooting
Olympus just announced the new Olympus Tough TG-5 compact underwater camera, which boasts a speedy f/2.0 lens for low light shooting. The rough and rugged new Olympus Tough TG-5 also features a new backlit 12-megapixel CMOS image sensor, Olympus' latest high-speed TruePic VIII image processor and a Field Sensor System that's designed to record movement and environmental data.
Here's a rundown of the other features of the new Olympus Tough TG-5 compact camera:
• Waterproof to 50 feet (15 meters), crushproof to 220 pounds of force (100 kilograms of force), shockproof from 7 feet (2.1 meters), freezeproof down to 14°F (-10°C) and dustproof
• New anti-fog lens cover glass
• 25–100mm focal length (35mm equivalent) lens with a maximum aperture of f/2 (at the widest setting)
• 4K movie shooting and 4K Time Lapse modes
• Full HD 120fps high speed movie mode for capturing slow motion video
• Built-in Field Sensor System, consisting of a GPS sensor, manometer, compass and temperature sensor, to record movement and environmental data independently or in conjunction with still images or videos. Data logs can be simultaneously displayed with images and videos using the Olympus Image Track app
• Four macro modes including a maximum shooting magnification of 7x for capturing microscopic subjects
And here's a list of fun, optional photo accessories for the Olympus Tough TG-5 compact camera:
1. Waterproof Converter Lenses (sold separately)
Attach the FCON-T01 Fisheye Converter lens to shoot with fisheye effects with an ultra-wide 130° angle field of view. Attach the TCON-T01 Teleconverter lens to shoot at a telephoto 170mm focal length (35mm equivalent). Both lenses are waterproof and may be attached and removed underwater. The CLA-T01 Adapter is required to use these lenses. Users can also attach the bundled LC-40.5 lens cap and the PRF-D40.5 PRO Protection Filter (sold separately) to the CLA-T01.
2. Macro Lighting Accessories (sold separately)
The LG-1 LED Light Guide uses the camera's built-in LED light to illuminate subjects up to the closest focusing distance of 1cm for macro shooting. The FD-1 Flash Diffuser diffuses the light of the camera's built-in flash. This is designed to help reduce subject blur and camera shake that tends to occur during macro shooting in low-light situations, and enables the use of lower ISO sensitivity. It also makes it possible to darken the background all subjects to better stand out in photos. Both lighting accessories enable users to easily obtain creative macro shots that rival those of an interchangeable lens camera.
3. Underwater Housing (new, sold separately)
The PT-058 Underwater Housing is waterproof down to 147 feet (45 meters), and features black coating on the front of the body to prevent unwanted reflections. This housing enables use of the Control Dial for exposure compensation while underwater. There is a range of accessories available, including the UFL-3 External Flash for dual-unit underwater flash photography. The external PTWC-01 Underwater Wide Converter Lens and PTMC-01 Underwater Macro Converter Lens may also be used with this underwater case.
4. Silicone Jacket, CSCH-126 (new, sold separately)
This customized silicone jacket is designed to protect the surface of the camera body from scratches and improve grip performance so that users can hold the camera more securely. The LG-1 LED Light Guide and FD-1 Flash Diffuser may be used with the silicone jacket attached to the camera.
5. Mesh Camera Case, CSCH-121 (sold separately)
This case is made of silicone rubber and features a mesh design that makes it easy for water to drain to keep the camera dry. Because this case contains no metal parts (including the carabineer), rust is not a factor.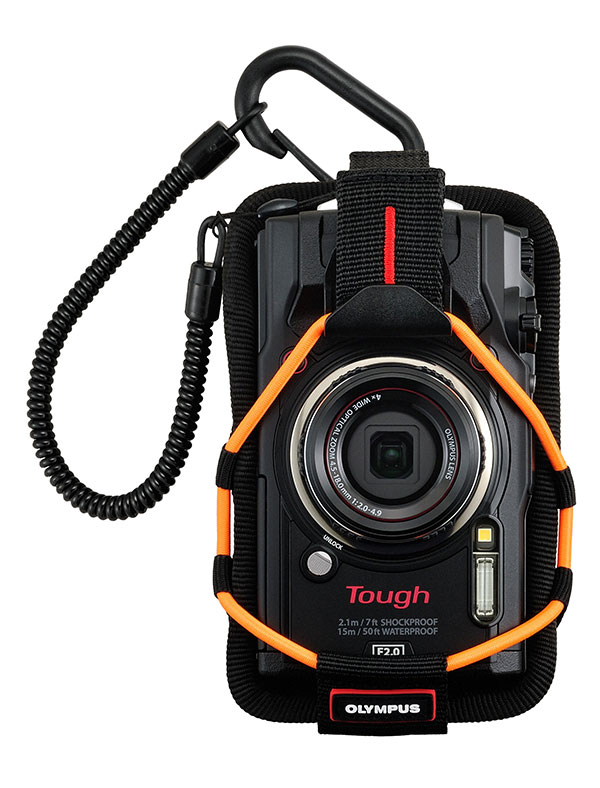 6. Sport Holder, CSCH-123 (sold separately)
This holder secures your camera to a backpack or belt horizontally or vertically and can be removed with a single hand. This accessory makes it possible to capture POV video and includes a carabineer and spiral cord to prevent the camera from falling.
The Olympus TG-5 will go on sale in June for $449.99. For a complete list of specifications, go to the Olympus website: getolympus.com/digitalcameras/tough/tg-5.html
If you're interested in tough, underwater cameras, check out our round-up from last year of our 7 favorites.