Review of Vanguard "Bag in Bag" Camera Packs – Great for Travel, Storage, Location Setups & More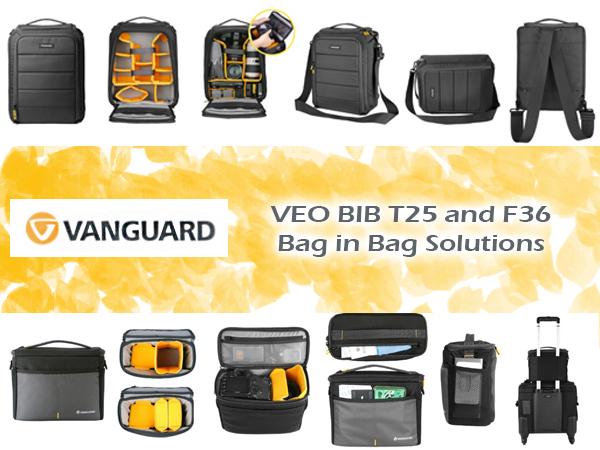 Looking for camera luggage to protect your photo gear when packing it in a suitcase or carry-on bag? Stop using old crew socks to protect lenses. The new Vanguard VEO BIB photo bags not only answer the call for bag-in-bag protection, they're primo useful to transport gear to location settings, for cabinet storage or even everyday shoulder carry.
The VEO BIB collection from Vanguard features thin-but-potent dividers, highly functional designs and outstanding construction quality. Both the VEO BIB F and VEO BIB T are available in a smart selection of sizes (seven in all) so you can buy the right dimensions for your needs. But I'm getting ahead of the story.
What's Exciting About the New Vanguard VEO BIB Series?
Jay Hathaway, marketing director for Vanguard USA who has been helping me navigate Vanguard products for a few years now, puts it this way:
"Vanguard BIB system products are a valuable addition to any photographer's kit conveyance lineup because they are both travel and storage solutions in one unit," Jay said. "So, you can pack your camera gear in the BIB and stow it in your luggage while traveling, and then take the bag out and use it as a shoulder bag when you're at your destination. Then, when you get home, you take it out of the suitcase or larger bag and store it neatly away."
He added, "They stack nicely, too, and are built tough."
We agree. The exterior shell is highly water resistant and the internal components are what one expects from a tier-one manufacturer. The dividers are thinner than most, but offer just as much protection—and are easier to reposition. The partitions are yellow-orange, and that makes it easier to find black lens caps and other small accessories, and are non-abrasive.
Jay explains it this way. "We've also updated our internal divider system to a smarter design that allows more flexibility because they're thinner—however, they're just as tough and protective to keep gear separate, neat and safe inside the bag."
Take a Tour: Vanguard VEO BIB T25
We reviewed the largest Vanguard VEO BIB F36 and VEO BIB T25 bags, but the smaller models are essentially the same except for size and (naturally) capacity.
The 5-liter Vanguard VEO BIB T25 reminds me very much of the top-opening prototype of a Sundog camera bag that for years I used every time I visited Gateway National Recreation Area in Sandy Hook, New Jersey, because both provide easy access to the contents while protecting everything from impact, blowing sand and worse.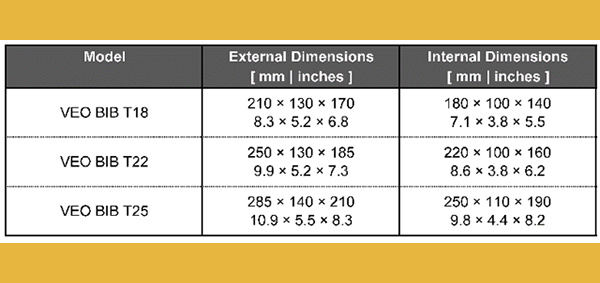 Weighing in at 1.2 pounds (520g) the T25 model measures 10.9 x 5.5 x 8.3 inches (285 x 140 x 210mm) externally. For comparison, the smallest bag in the T series, the 2.5-Liter T18, measures 8.3 x 5.2 x 6.8 inches (210 x 130 x 170mm) and tips the scales at 11.2 ounces (320g).
It's a bit deeper than most bags of this ilk, and that's great because you can stow a mirrorless or DSLR with a longish lens attached. In this configuration you can pack two or even three additional lenses, separated from the camera-lens combination and each other.
The living, breathing essence of simplicity, the Vanguard BIB T25 and the smaller models T22 and T18 can be snugly packed in carry-on or checked baggage, or carried on the shoulder via the included adjustable shoulder strap. There's no bottle holder, worthless organizer or place to hide your passport (as though you would do something that careless).
The Vanguard VEO BIB T25 has a luggage trolley sleeve on the front that can alternatively be zipped closed at the bottom and used to store quick-reach things like travel tickets or a very, very thin diet-cheese quesadilla. On the back we find a useful zippered pouch that can be expanded ever so slightly to stow lens caps, filters or media cards. On top, a grab handle. To this image envision metal D-rings on either side to attach the included adjustable shoulder strap. Straightforward, clean and functional.
Once again, this is a review of the largest BIB T (T25) and BIB F (F36) Vanguard VEO BIB bags, consequently the smaller versions may vary slightly.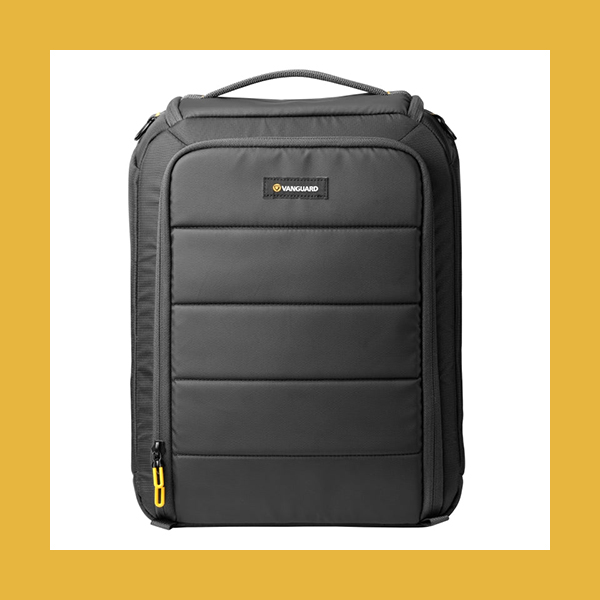 Tour the Vanguard VEO BIB F36
The exterior dimensions of the VEO BIB F36 are 12.6 x 7.7 x 16.1 inches (320 x 195 x 410mm) and she weighs 2.3 pounds empty. The smallest model in the F series, the 6.5-Liter F27, is 9.4 x 5.7 x 12.4 inches (240 x 145 x 315mm) and weighs 1.2 pounds.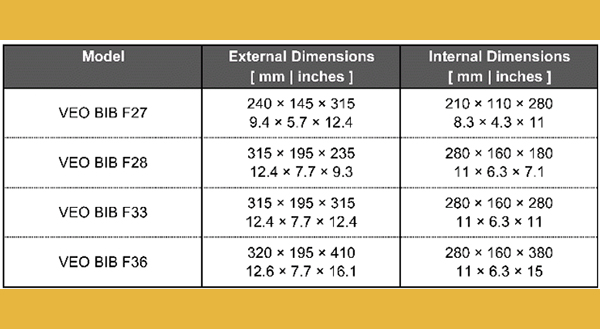 Reminding one of a photo backpack without permanently affixed straps, the Vanguard BIB F36 serves as a shoulder bag or as an adapted backpack, depending on how the strap is attached. The BIB F36 provides safe harbor for up to ten lenses plus mirrorless or DSLR with a 70-200 zoom attached. It has a 17-Liter capacity and accommodates a tablet up to 11 inches.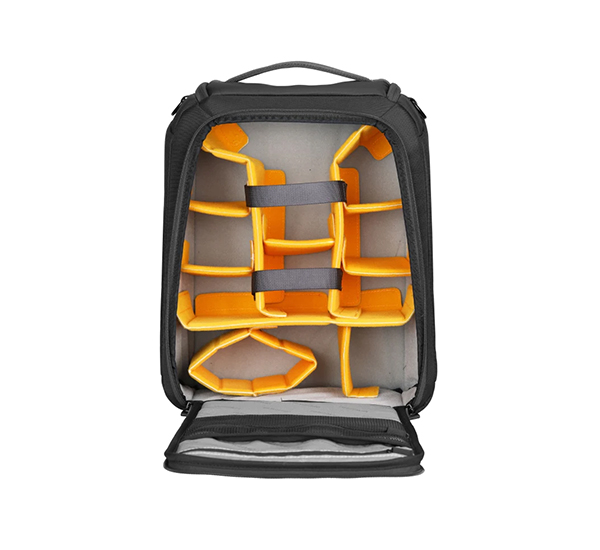 At the top are a pair of steel D-rings that accommodate the exceptionally sturdy snaps that attach the two-inch wide adjustable shoulder strap. The bag hangs from your shoulder vertically. There's also a nonintrusive haul handle on the bottom. As a backpack, the shoulder strap is threaded through a loop at the top and snapped to loops on opposite sides at the bottom. Although I'm confident that this method is fully reliable, I distrust fabric loops, so I tried this configuration only with the bag empty.
If you use the Vanguard VEO BIB F36 as a bag-within-a-bag solution, when you reach your destination you can be up and running in an instant by snapping the shoulder strap into place. For location and studio shooting, the BIB F36 opens fully to reveal the full contents, making it easy for you to select a lens, strobe or camera body.
It's amazing how much this relatively compact bag holds, certainly enough for most studio sessions, location setups or impromptu events. On the inside of the cover there are three zippered pockets, two fabric and one mesh, ideal storage compartments for batteries, cables, filters and media.
The copious supply of orange dividers are thinner than most—but provide more than enough protection. I'm not worried at all about lenses colliding against each other, even after long trips in the bag. And the orange color provides a sharply contrasted background for lens caps, filters and whatnot.
In the Field
For years I have kept a Vanguard tripod in the back of my Subaru at all times, not only because it's compact and durable; it possesses all of the physical attributes I look for in a mid-size travel tripod. My experiences with my Vanguard tripod, that has been subjected to rough use and careless storage, made me predisposed to favor the Vanguard BIB series.
My evaluation focused on the Vanguard VEO BIB bags in their shoulder-carry application. Both functioned as advertised. The VEO BIB T25 provided ready access to its contents and was easy to carry because of its streamlined shape. The backpack-style VEO BIB F36 handles well, but it must be set down to open. While both have sturdy shoulder straps, neither has a shoulder pad, so occasional slippage was unavoidable.
I also used both to hold photo gear inside a non-photo backpack. They are ideally suited for this purpose. If you have a backpack or shoulder bag that you really like but it does not contain any camera/lens organizers or dividers, these are just the ticket.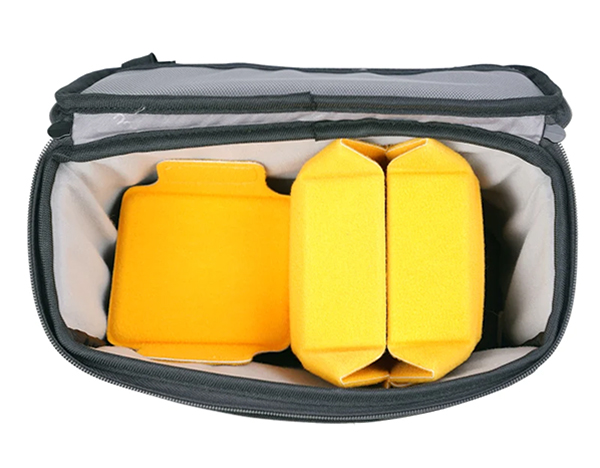 What's in a Name?
Where do the model names of camera bags, photo backpacks and their camera- schlepping kin come from? Leftover Scrabble tiles? I wonder. Although sometimes straightforward and informative (Peak Design Everyday Messenger for example) the labels often are obscure letter/number combinations (my longtime favorite walk-around bag, the Domke F-5XB for instance) or seemingly unrelated attention-grabbing names (like the Crumpler Comfort Zone).
The Vanguard VEO BIB F and VEO BIB T have quizzical names, but that is the only fault I can find in them. "BIB" is the abbreviation for "Bag in Bag" but who would guess that?
Who is Vanguard?
Founded more than 35 years ago in 1986, Vanguard is a woman-owned family business that conscientiously plans and controls every step in the life cycle of the products they sell. They create and supervise the concept, design, manufacturing, distribution, marketing and sales. Unlike some sales companies that opportunistically buy and resell products that suppliers randomly offer, Vanguard blueprints and manufactures everything they sell. There are no third-party factories, development or design firms, or other outsourcing of any kind in the process. This is unique, to say the least, and it gives them 100% control of results.
In addition to photo products like camera bags, photo backpacks and tripods, they also produce a popular and successful line of sporting optics, including some binoculars that are at the top of every value-for-price analysis.
Vanguard has more than 1,000 employees and zero "middlemen." This means that the price you pay is typically lower than market because there are no second-tier resellers or other intermediaries to collect a percentage and force up the retail price. In a very good way, they are a vertical monopoly in that they rely on internal resources at every step instead of paying a third party to participate. In addition to lower retail prices, this approach allows greater quality control and overall customer satisfaction.
Conclusion
This is good, high quality stuff. The Vanguard VEO BIB lineup is very good for long and short term transport, storage and many other activities. As mentioned above, they're also handy to convert a regular backpack into a photo backpack. And with seven sizes available, you should be able to match your needs.
The top-access Vanguard VEO BIB T-series prices range from $34 for the smallest VEO BIB T18 to $49 for the T25 model reviewed here. You can order directly from Vanguard.
Prices for the backpack-style Vanguard VEO BIB F lineup begin at $59 for the smallest F27 up to $99 for the F36 model we covered today. Order directly from Vanguard and while you're on their website, check out their binoculars and other products.
Not reviewed in this article, Vanguard offers the VEO BIB Divider S-series gear organizers that are designed for use as bag-in-bag but not practical for shoulder carry. The four models range in price from $119 to $199.
—Jon Sienkiewicz