Software Review: PortraitPro 12 (Studio Max Edition)
I've been using PortraitPro since the first edition and now the company behind this popular retouching software, Anthropics Technology, has released Version 12, which includes a variety of updates, both major and minor. PortraitPro 12 can operate as a stand-alone and a Photoshop/Lightroom/Aperture plug-in. To get started in PortraitPro 12 (PP12), you open an image with one or several people in it and the software automatically analyzes and outlines each face. The software then magically goes about retouching the faces one at a time.
You can make adjustments to face shaping, eye brightness, teeth whitening, and more. You can set as many defaults as you like, such as Female, Male, Boy, etc. If you'd like some background on the many aspects of the software, type its name into the search box at www.shutterbug.com and read my past reviews. In this review I'll focus on three main upgrade areas to PP12 (Studio Max Edition): batch processing, gender/age detection, and face relighting.
Batch Processing
The biggest change, in the Studio Max Edition only, is batch processing. Up until now I believe there was only one other generally available software program that offered batch retouching. Last year I had to retouch hundreds of portraits for a high school yearbook in a very short time so I can tell you that batch processing is a major feature for me.
Not wanting to wait for hundreds of faces to be transformed into blemish-free zones, I put five images from a recent high school senior photo shoot into a folder and loaded them up. PP12 then proceeded to run through a three-step process. First, it located and marked the key areas of the face, then it processed each file, saving them to a folder I designated.
The progress is monitored in real time via a progress window or by watching the dots that appear in the top right of each image. The blue dot means that the image has been located and mapped out; the yellow dot signifies processing is done; and then a little square that looks like a TV appears to indicate the image has been saved. The toolbar on the right will also show you status updates and let you know if any of the files failed. All of this is totally hands off. Before you exit the software you of course have the option of manually going in and making any changes you desire.
Next, I loaded up a few images of a couple for batch processing. The software correctly identified the couple as a male and female and then proceeded to go to work retouching them, again hands off.
Then I figured I'd really give PP12 a workout. I loaded a group photo of seven people into the software and it went to work, identifying each face, even the one that had a graduation tassel cutting half of a face off. In this case it is up to you to tell PP12 whether it is a boy/girl or man/woman and then it will retouch each face individually. When you have one face done to your satisfaction you hit "Next" to proceed to the others until you're done. Other than that one subject the rest were correctly identified.
Face Relighting
I make my living lighting people's faces, so face relighting was one new feature I was really anxious to try. I loaded up an image of model Chantal Marquis and let PP12 go through the default settings, including the face reshaping. Once I had the retouched image, I opened the Skin Lighting Controls under the Portrait Improving menu. There you will find sliders for Contrast, Modeling, Fix Lighting, and other more specific areas like Cheekbones and Kick lights (right and left). I found Contrast to be the most useful slider, as it helps bump up your lighting ratio. Modeling was much more subtle and Fix Lighting claims it corrects defective lighting, whatever that is. Does it change the look? Yes. Does it improve the lighting? That's for you to decide.
One more thing you might want to look at before you start making adjustments is the lighting direction control. If you don't wish to change the direction of the light, leave it centered. If you want to make adjustments you can drag it around to a new spot. It will actually change the highlight/shadow direction or light from above or underneath. Add all of these controls together and you can significantly alter both someone's appearance and the direction of light. I think this could be very useful in trying to match the light when compositing a photo and adding someone who may have been taken at a different time and under different lighting conditions.
If you are considering either an upgrade or initial purchase I can tell you the changes in the new version are worth your consideration. The batch processing feature alone is a very big selling point that can really streamline your workflow. Just set your defaults to taste and upload images and most will be completely retouched to your standards with little or no involvement on your part. As someone who would much rather shoot, sell, and market my business than spend a lot of time retouching, that's a big plus.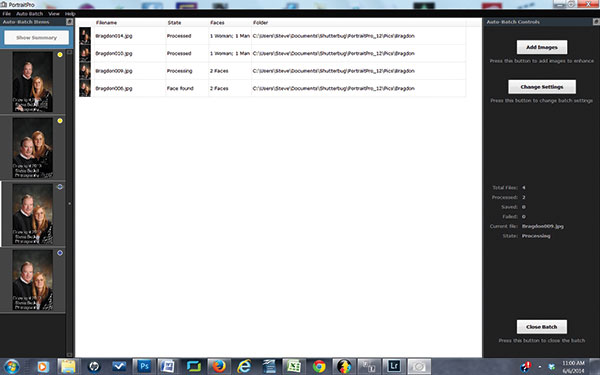 At the time of this writing, the PortraitPro 12 Studio Max Edition is priced at $149.95. For more information and a free trial download, please visit www.portraitprofessional.com.
Steve Bedell has been a professional portrait photographer for over 25 years. To subscribe to EPhoto, a free e-mail newsletter with tips for photographers, contact Bedell via e-mail at: smbedell@gmail.com. Be sure to also ask about his lighting DVDs.