PMA Show Report; Studio Lighting; Strobe, Hot Lights, And Digital
This year saw few major product launches in studio lighting, although we did manage to uncover some interesting lights and accessories nonetheless.

Dot Line Corp./RPS Studio introduced the Complete 7-in-1 Reflector. This folding reflector comes with a translucent panel, white, silver, sunlight (a mix of gold and silver), and gold reflectors, plus an 18 percent gray target for exposures and a black panel to pull back excessive bright spots on the subject. Available in 32" and 42" sizes. Also new is a motorized background system, which makes it easier to work with full or half-width seamless paper rolls or other backdrops when setting up for portrait or tabletop photo shoots (backdrops sold separately).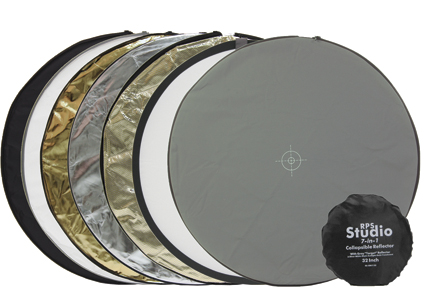 Dot Line Corp./RPS Studio Complete 7-in-1 Reflector
Interfit Photographic showcased the EZY Flo kit for the home studio. This two-head kit comes with two pop-up softboxes and specially designed 105w CFL lamps, plus stands and instructional DVD. Interfit also introduced larger beauty dishes in 21" and 27" and two models of 60" umbrellas.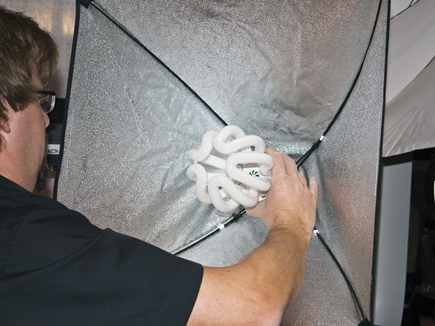 Interfit Photographic EZY Flo Kit
Multiblitz (RTS) redesigned the battery-driven, digitally controlled Profilux plus monolights to yield 3000 full-power pops when using a Propac-2 battery with the 200 ws light. Available in 200 ws, 400 ws, and 600 ws models, the new units are multi-voltage when operating off AC current. Recycle times are less than 1 second with 200 ws head and battery. All models have built-in photocell, IR slave, and radio receiver for remote use. These monolights can also be set to bypass the pre-flash from a shoe-mount or built-in flash for proper synchronization.
Multiblitz (RTS) Profilux plus monolight
Manufacturers/Distributors' website addresses can be found by visiting the Instant Links section of our website at: www.shutterbug.com/currentissuelinks/.

FEATURED VIDEO