PMA 08; Digital SLRs Page 2
Pentax K20D
In a bid to attract more serious enthusiasts and pros, Pentax has taken the successful K10D formula to a new level to create the K20D. First and foremost is a new Samsung-manufactured 14.6MP CMOS image sensor, the first of its kind for Pentax, and the first major tech input from Samsung whose D-SLRs have until now been based mostly on Pentax technology. Additional upgrades include a larger 2.7", high-res, wide-view LCD that gives a Live View of the subject and allows the user to monitor the effect of the camera's in body, sensor-based Shake Reduction system while shooting. There's a new Custom Image function that provides six modes--Natural, Bright, Portrait, Landscape, Vibrant, and B&W--and lets you fine-tune the tone, saturation, contrast, and sharpness parameters for each, and view the effects on the radar-type LCD panel using the digital preview option. Other new features: PRIME image processing; Enhanced Dynamic Range mode said to provide a one-stop expansion effect; Sensitivity-Priority (Sv) mode (it gives optimum settings at any user-set sensitivity); TAv mode with auto ISO shift; and a comprehensive dust-removal/prevention system with Dust Alert locator. Like the K10D, the K20D has advanced 16-segment metering and 11-point AF with nine cross-field sensors, but the new body now has 72 weather seals and, yes, a PC outlet in addition to the dedicated hot shoe. It's shown with the new standard Pentax DA 18-55mm f/3.5-5.6 AL II lens. Street price: $1299.95, body only.
Pentax K200D
The new compact, entry-level Pentax K200D incorporates a 10.2MP CCD (up from 6.1MP in the K100D) that could've been swiped from last year's top-of-the-line K10D, and there's more good stuff, like in body, sensor-based Shake Reduction; a 2.7" wide-view LCD; an improved PRIME image processor; six Custom Image modes with six preset options; Enhanced Dynamic Range mode said to expand the highlight-to-shadow capture range by one full stop; Dust Reduction and Dust Alert; Sv mode; advanced 16-segment metering; and 11-point AF with nine cross-field sensors, just like the K20D. It's all built into a weather- and dust-resistant body that the maker claims, with some justification, is "unique in this class of cameras," and unlike most D-SLRs, the K200D is powered by four long-life AA lithium or rechargeable Ni-MH batteries, making it easier to power-up when you're on the go. Street price: $799.95 with Pentax DA 18-55mm f/3.5-5.6 AL lens.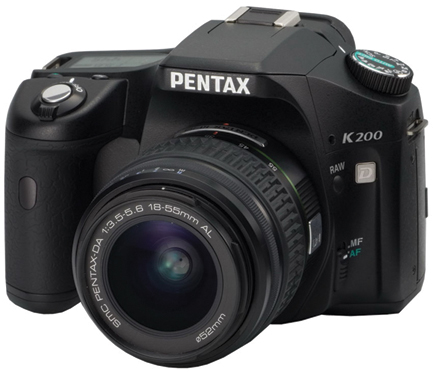 Samsung GX-20
Its body contours may be a bit edgier, but in terms of its feature set and general configuration, the Samsung GX-20 is nearly identical to the Pentax K20D. It's noteworthy that the new top-of-the-line 14.6MP CMOS image sensor in both cameras is made by Samsung, and it can capture 14-bit raw images, plus is said to provide outstanding noise performance even at its highest ISO setting of 6400. The GX-20 also incorporates improved sensor-based Shake Reduction as well as a double dust-removal system, and the full range of Samsung optics includes two Schneider D-XENON zooms, an 18-55mm f/3.5-5.6 and a 50-200mm, as well as five other Schneider lenses ranging from wide and normal zooms to a 100mm f/2.8 macro. All other features, including a solid glass penta-prism, 72 body seals for weatherproofing, Optical Picture Stabilization, a 2.7" Live View LCD, and six advanced adjustable Custom Image modes, are similar to those in the flagship Pentax K20D. Street price: $1299.95, body only.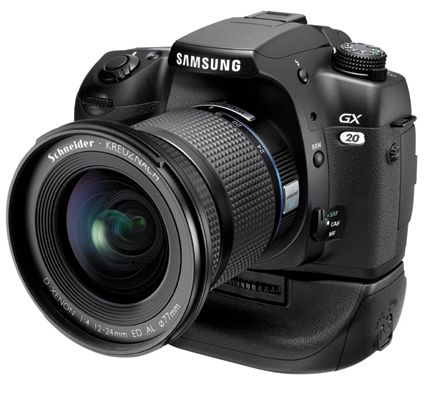 Sony Alpha A300 And Alpha A350
Hot on the heels of the announcement of its Alpha A200, Sony has unveiled a pair of "lighter, slimmer, mainstream" D-SLRs aimed at everyone from experienced enthusiasts to those stepping up from point-and-shoots. Both the 10.2MP A300 and the 14.4MP A350 include feature upgrades based on the step-up Sony A700, plus a unique iteration of Live View. Instead of using the big image-capture CCD to provide the Live View image on the two-way-tiltable 2.7" Clear Photo LCD, the main mirror stays in the down (direct eye-level viewing) position. When Quick Live View AF is activated, a small secondary mirror at the front of the penta-mirror viewfinder moves into position to reflect the viewing image back to a second, much smaller, image sensor near the top of the camera to provide the Live View. The primary advantages of Sony's "two-sensor" Live View system: It minimizes the "capture lag" when you press the shutter because the mirror and shutter are ready for instant picture taking, and it allows the use of faster, more accurate TTL phase-detection AF (single sensor Live View systems provide LCD focusing by using a secondary contrast-detector system). The small Live View CCD also takes less power than the big image-forming sensor, theoretically lowering battery consumption. The variable-angle LCD facilitates low- and high-angle shooting, and Sony claims you can even focus-track the subject and view live on the LCD during burst shooting at up to 3 fps with the A300 and 2.5 fps (raw+JPEG) with the A350.

LATEST VIDEO

SPONSORED VIDEO