PMA 08; Digital SLRs
What happens in Vegas is supposed to stay there--unless it happens to be one of the eight hot new D-SLRs that debuted at the annual PMA Show. Yes, 2008 is shaping up as a banner year for the expanding D-SLR sector and neither the pace of D-SLR sales nor the advancing technology that goes along with it is showing any sign of slowing down.

With eight new D-SLR entries from six major manufacturers--Canon, Nikon, Pentax, Olympus, Samsung, and Sony--a few trends emerged. For starters, this may well be The Year of Live View, with five of the new D-SLR entries featuring two different iterations of Live View LCDs that allow users to focus while viewing the LCD image (AF or manual). Face Detection continues apace and more D-SLRs are offering extended dynamic capture ranges, in camera postproduction modes, better user interfaces, and improved image processing for better performance at high ISOs.

Nikon and Canon are countering the sensor-based, in camera Image-Stabilization brigade (Pentax, Sony, and Samsung) by offering their new popular-priced models with VR (Nikon) or IS (Canon) normal zoom lenses. And yes, the inexorable trend toward more megapixels (MP) is still with us, and more manufacturers are opting for CMOS sensors in lieu of CCDs. Good examples of both trends are the 14.6MP Pentax K20D and Samsung GX-20, both incorporating a Samsung-made 14.6MP CMOS chip. To say that the latest D-SLR crop offers consumers more value for the money than ever is putting it mildly, and the fierce competition among manufacturers can only benefit serious enthusiasts like us.
Canon EOS Rebel XSi
If you liked the top-selling 10MP Canon EOS Digital Rebel XTi (which remains in the line at a $100 price reduction), then you'll love the XSi, which sports a new streamlined, comfortably contoured body that houses a host of performance upgrades and cool new features. The XSi incorporates an improved 12.2MP CMOS sensor, upgraded 14-bit A/D conversion, an enhanced Live View function that lets you focus via its 3" 230,000-pixel LCD using a contrast-detection AF system, and Canon's top-of-the-line DIGIC III image processor. Other improvements: faster 3.5 fps burst rate for up to 45 large/fine JPEGs or six raw images, Digital Photo Professional software with Delete Dust Data option that augments the built-in dust-cleaning system, a higher-capacity lithium ion battery, and file storage on SD/SDHC cards. The Rebel XSi is offered in kit form with Canon's new, upgraded EF-S 18-55mm f/3.5-5.6 IS lens or the new EF-S 55-250mm f/4-5.6 IS tele-zoom. Street price: $899.99 with 18-55mm IS lens.
Nikon D60
Claimed to be the smallest Nikon D-SLR ever, the sleekly sculpted, ergonomically-arrayed D60 builds on a nicely sculpted Nikon D40-size body, a 10.2MP DX-format CCD sensor like the one in the wildly popular D40X, and adds a host of features designed to make it even more attractive. These include a faster start-up time (0.18 seconds); improved AF; 3 fps burst rate; a 2.5" LCD with 170° viewing; active dust reduction with airflow control; lossless raw (NEF) format; and automatic exposure with eight Digital Vari-Program Scene modes. It also includes Nikon's latest 3D Color Matrix Metering II and EXPEED image processing said to deliver smoother tones and improved color, Active D-Lighting said to optimize highlight and shadow detail, and a sophisticated in camera Retouch Menu. The latter offers a range of new in camera editing capabilities such as adjustable cross-screen star effects, color-intensifying filters, redeye correction, Image Trim (cropping), and more. The D60's Stop-Motion Movie mode, a D-SLR first, allows users to create stop-animation movie clips from up to 100 JPEGs, and the camera supports Eye-Fi memory cards (enabling wireless transfer to a computer) as well as conventional SD and SDHC cards. It's packaged with Nikon's new AF-S DX Nikkor 18-55mm f/3.5-5.6G VR zoom. Street price: $749.95 with 18-55mm lens.
Olympus E-420
If Olympus fulfilled the promise of the Four Thirds format in the E-410, a truly compact, lightweight D-SLR, then the E-420, shown discreetly to select journalists at PMA, really puts this gorgeous little bonbon in the mainstream. The first thing you notice is the improved built-in handgrip that provides a much more secure grip--one-handed if need be. The second key feature is a Live View HyperCrystal II LCD that's been increased in size from 2.5 to 2.7" and lets you focus on the bigger screen (AF or manual) by means of a contrast-detection system. The new LCD is also claimed to provide twice as much contrast, a broader color gamut, and to be viewable at up to 176° off-center. Like its predecessor, the E-420 provides 10MP capture using an NMOS chip, a variant of CMOS said to deliver a broader dynamic range, but it adds Face Detection (first in an Olympus D-SLR); Perfect Shot Preview (it displays thumbnails of various exposure effects and lets you choose the one you like); Shadow Adjustment (an E-3 feature that lets you increase shadow detail without blowing out the highlights); improved AWB algorithms; and more custom functions. In keeping with the "less is more" motif, Olympus is releasing a tiny, ultra-thin Olympus 25mm f/2.8 Zuiko lens (50mm equivalent) to complement the compact 14-42mm f/3.5-5.6 Zuiko standard short zoom. Street price: $599.95 with 14-42mm lens.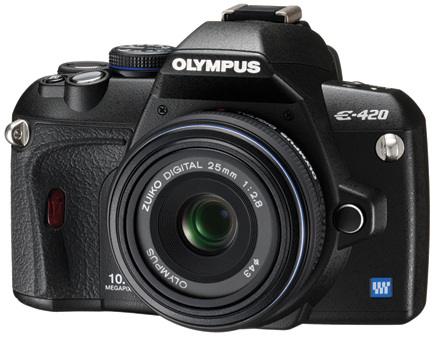 FEATURED VIDEO