Photokina's New Look

Photokina's New Look
by George Schaub
Professional and avid photographers looking to travel to Cologne, Germany will notice some changes when they prepare for their trip to photokina 2006, Sept. 26 -- Oct. 1, 2006 in Cologne, Germany. Photokina veterans should quickly forget about the previous hall number system. As a result of an altered fairground all hall numbers have changed. Halls are no longer defined by consumer or professional interest. The newly renovated and renumbered fairground has now the shape of a shopping mall. Connected by one Main Corridor "Messeboulevard" navigation is now easier than in the past. Forgot to see someone in Hall 6? Don't worry, cut through the main corridor and you will be there in no time. Traffic into the halls will be fed from four entrance points at the South, East, North and West of the fairground.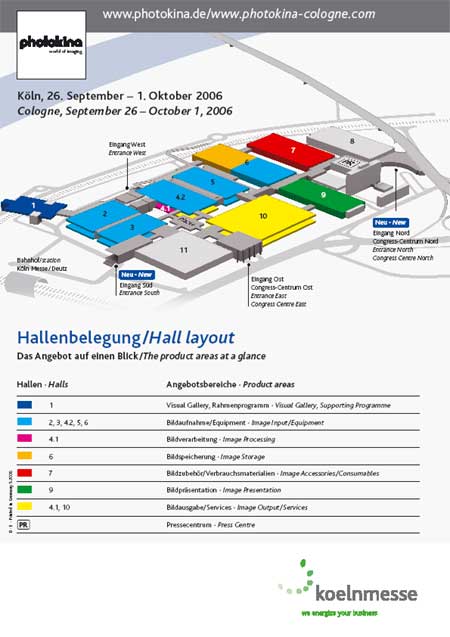 The show organizer has structured the halls reflecting the work flow of the imaging industry consisting of Imaging Input (Halls 2,3,4) -- Image Processing (Halls 4,5)-- Image Storage (6) -- Image Output (Halls 9,10) -- Image Transfer (Hall 10). In addition, Photo Studio Accessories and Consumables can be viewed at Hall 6 and 7.

Highlights at photokina will be the "Lifestyle Media Exhibit" in Hall 9 showing convergence of information, communication and entertainment technologies in a home setting. "Digital Printing Forum" with panel discussions including Antonio Perez, President & CEO of Kodak and Anne Mulcahy, Chairman of Xerox will be featured on September 27. An attraction to all photographers will be the "Visual Gallery" in Hall 1 showing works from star photographers like Martin Parr, Lorenzo Castore, Bryan Adams , Charles Fraser, Juergen Escher and works or young talent organized by Kodak and the German Association of Freelance Photo Designers.

For better preparation, photokina will offer "Online Business Matchmaking". Two weeks prior to the show, registered attendees will be able to communicate with photokina exhibitors in scheduling appointments via a search engine on the photokina website. Category or product searches will be forwarded to matching exhibitors who in turn can contact interested attendees. This sophisticated matching devise will substantially increase the chance for making targeted contacts and subsequently create productive business opportunities.
photokina 2006 expects 1,600 international suppliers from 50 countries. The largest exhibitor contingents outside Germany will come from the USA, China, UK, Italy and Japan. A listing of New Products at photokina can be viewed online starting on July 1, 2006.
The biennial photokina is organized and produced by Koelnmesse GmbH and the German Photo Industry Association. The organizer expects 160,000 attendees consisting of dealers, distributors, retailers, industry buyers as well as non-professional users of photographic, imaging and consumer electronics products.
More information regarding photokina 2006 can be obtained by contacting Ken Dickerson, U.S. Project Manager of photokina 2006, Phone: 773-326-9926 /Fax: 773-714-0063.
In addition, Shutterbug has arranged for a special package price for those interested in visiting this, the biggest photography and imaging show in the world. Please inquire via email to cbrodsky@ttitravel.net.
www.photokina-cologne.com
www.koelnmessenafta.com

FEATURED VIDEO