Olympus Intros Stylus Tough TG-870 Underwater Compact Camera with 5X Zoom & Tilting LCD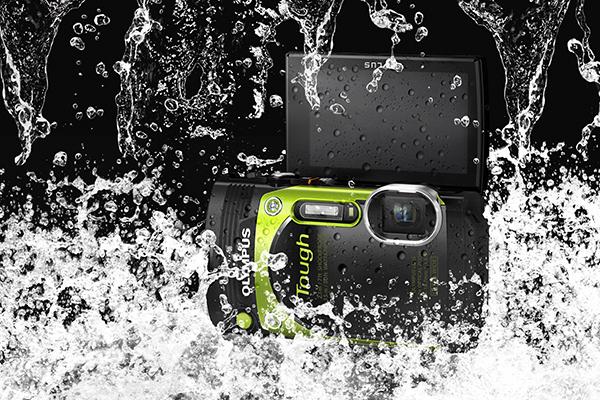 Olympus just introduced the new Stylus Tough TG-870, a premium rugged compact camera built to capture quality photos and video in challenging shooting situations. The Olympus Stylus Tough TG-870 is filled with features, including a class-leading ultra wide-angle 21mm (equivalent) lens with 5x optical zoom, allowing users the ability to frame everything from dramatic landscapes to group shots.
Together with its high-resolution 180-degree tilting LCD monitor, customizable front button, Sportcam Modes with full HD 1080/60p video, built-in Wi-Fi, next-generation GPS, and an ever-expanding wealth of expressive features, the Olympus Stylus Tough TG-870 is designed to capture stunning images in most environments.
In the tradition of the Olympus Tough series of rugged compact cameras, the Stylus Tough TG-870 is built to withstand extreme conditions: the camera is waterproof to depths of 50 feet (15 m), freezeproof to 14°F (-10°C), shockproof from 7 feet (2.1 m), crushproof to 220 pounds of force (100 kgf) and dustproof. The 21mm–105mm (35mm equivalent) f3.5–5.7 zoom lens is the widest lens in the rugged compact category, perfect for ultra-wide group selfie shots. The TruePic VII image processor, the same found in Olympus's award-winning OM-D series of interchangeable lens cameras, is paired with a 16.0 megapixel backlit CMOS sensor to capture crisp images even underwater.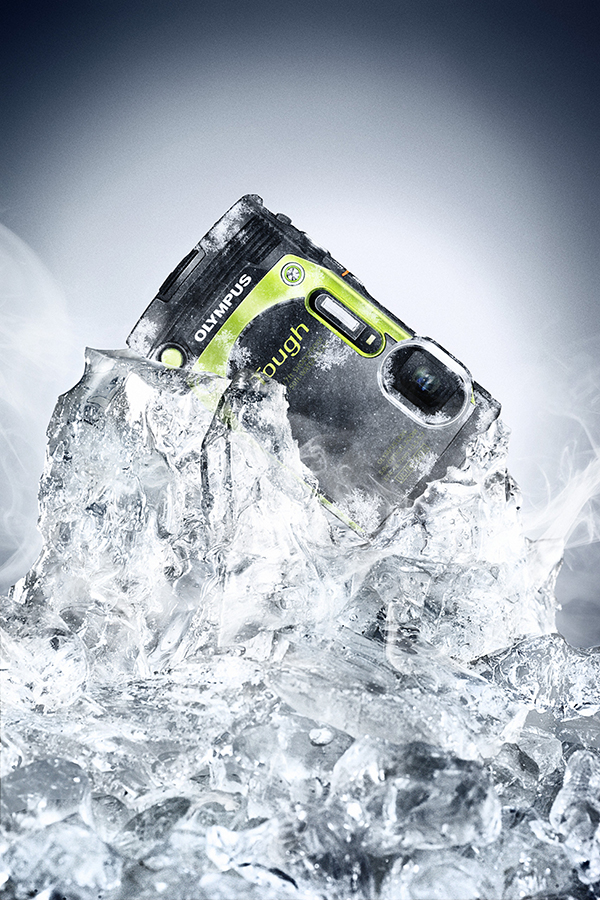 The Olympus Stylus Tough TG-870's 180-degree tilting 920,000-dot high-resolution LCD monitor has double the resolution and is 1.1x brighter than that of its predecessor, enabling the user to see more detail while shooting outdoors or underwater. The customizable button on the front of the camera can be programmed for several functions, including shutter release, video recording, monitor boost, LED assist and Super Macro Mode. The TG-870 also detects the orientation in which it's being held to assist the user in capturing the perfect selfie, point-of-view action video or over-under shot.
The free Olympus Image Share app synchronizes a user's iOS or Android mobile device with the Stylus Tough TG-870 via the camera's built-in Wi-Fi, enabling instant image and movie transfers and direct uploading to websites and social media. A live view of the camera's lens appears on the smart device display. Users can control the camera remotely by touching the smart device display as if it were the camera itself. The next-generation GPS boasts fast positioning in under 10 seconds via three satellite systems and helps users track precisely where they are in the world. The Olympus Image Track (OI.Track) smartphone app allows users to update the camera's GPS assist data and transfer GPS logs and images from the camera to a smartphone for simplified viewing and management.
A variety of shooting modes and 13 Art Filters, including 6 new filters (Vintage, Key Line, Watercolor, Light Tone, Cross Process and Gentle Sepia), help the user capture unique images. The Stylus Tough TG-870 is equipped with nighttime Live Composite Mode, which automatically combines the brightest areas of multiple images taken with interval shooting for dramatic photos of cityscapes, star trails and light painting. Sportcam Mode puts four video options right at the user's fingertips. With 60p Movie, the camera captures full HD 1080p video at 60 frames per second (fps), with 720/60p and 480/60p options also available. With High-Speed Movie, the Stylus Tough TG-870 can record slow-motion video at 120 fps at 854x480 (16:9) or 640x480 (4:3) resolution, or 240 fps at 640x360 (16:9) or 480x360 (4:3) resolution. Time Lapse Movie compresses hours of action into a short movie, and Sport Burst allows photographers to capture sequential images with a shutter interval of 0.05 to 60 seconds. For video capture after dark, camera settings are automatically optimized for low light with Nightscape Movie or Nightscape Mode.
The Stylus Tough TG-870's rugged construction can be further reinforced with the CSCH-124 Silicone Jacket, which shields the camera from surface damage. The CSCH-123 Tough Sport Holder supports hands-free photography and video recording, allowing users to attach the camera to backpack straps or a chest harness during intensive activities like rock climbing or snowboarding. The PT-057 Underwater Case or Housing lets users dive deeper, increasing the camera's underwater capability to 147 feet (45 m), and the elective UFL-3 Underwater Strobe Flash facilitates genuine underwater flash photography. A second tripod base plate on the camera offers the added benefit of vertical mounting, and the F-5AC compact high-capacity AC adapter reduces charging time, getting users back to the action faster.
The Olympus Stylus Tough TG-870 will go on sale in April 2016 in Gunmetal Metallic, Metallic Green and Pure White for $279.99 (US) and $329.99 (CANADA).

FEATURED VIDEO