Olympus' E-P1; The Return Of The Olympus Pen
"The object of photography is to express what is in your heart and mind."—Yoshihisa Maitani, designer of the Olympus Pen camera
The original Olympus Pen was introduced in 1959 and was the first Japanese half-frame 35mm camera produced. Its name? Designer Maitani's concept was that the camera would be as convenient to carry as a pen. Launched in 1963, the Pen F was the first half-frame SLR, and featured none other than W. Eugene Smith, cigarette dangling from his lips, in Olympus ads of the time. This latest and digital incarnation, the E-P1, is built using the Micro Four Thirds system that unlike the Pen F is not half-frame and uses the same chip size (17.3x13mm) as the standard Four Thirds system.
What is micro is a lens mount that's 6mm smaller than the Four Thirds standard, which means Micro format lenses won't fit standard Four Thirds cameras, but can when using Olympus' MMF-1 adapter ($179.99). Some current Four Thirds lenses are pretty hefty and won't feel well-balanced but EP-1 owners will be able to use them with the MMF-1. When using standard Olympus Four Thirds lenses all camera functions, including autofocus, are maintained by the adapter but a Sigma representative told me "autofocus is not an option" when used with their Four Thirds lenses. The Micro format's shallow lens mount also allows mounting some manual focus optics, including OM lenses, when used with Olympus' MF-2 ($169.99).

Leica M lens adapters ($179) are available from Voigtländer (www.cameraquest.com) and Novoflex (www.hpmarketingcorp.com) offers many different adapters for many different lens mounts. See the December 2009 Digital Innovations column or visit www.shutterbug.com for details. With the increased popularity of the Micro Four Thirds format I expect the market for lens adapters to explode in the future.
The main street of the charming Colorado mountain town of Frisco was lined with Corvettes when Mary and I visited to have a picnic. This was captured with the M.Zuiko Digital ED 14-42mm f/3.5-5.6 lens with the E-P1 held above my head in a Hail Mary shot. Exposure in Natural Color mode was 1⁄400 sec at f/8 and ISO 250 and because of the E-P1's in body Image Stabilization is sharp despite the less than steady pose.
All Photos © 2009, Joe Farace, All Rights Reserved
What's It Like?
Instead of slamming its 12.3-megapixel imaging chip into an SLR-like body à la Panasonic's G series, Olympus looked to its own past to produce an homage to the Pen F. It's really not an SLR since there's no prism to let you actually look through the lens but the big 3" LCD lets you view what the lens sees so maybe it falls under the "digital exemption." The E-P1 includes the ability to capture HD video, producing a combination of features and human engineering that are uniquely this millennium and well suited for the Twittering, Facebooking, and YouTubing crowd. That 12.3-megapixel sensor is the same size as found in the (less expensive) E-620 SLR but it's coupled with a new TruePic V image processor that produces clear and colorful images. The TruePic V image processor also lowers image noise in photos shot at higher ISO settings up to 6400.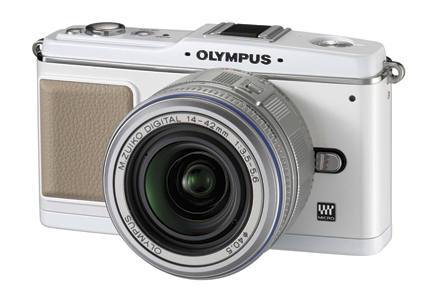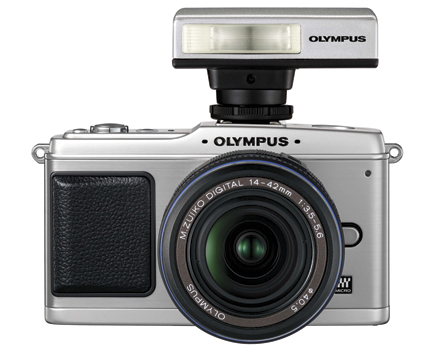 Some photographers, myself included, see the E-P1 as an affordable Leica M camera; otherwise, what's really the purpose of that oh-so-retro VF-1 optical viewfinder that comes with the 17mm f/2.8 pancake lens? In fact, based on my testing of a new M8.2 and some expensive Leitz lenses, the image quality of the Olympus E-P1 meets or exceeds those I made with the Leica.

Heresy? OK boys, get out the pitchforks and start warming up the stake but I'll stick by that statement. They are not newcomers to the optical party. Olympus has been making microscopes since 1919 and produced their first lens—the Zuiko 75mm f/4.5—in 1936. This same respect for tradition along with an impressive build quality makes the E-P1 an exciting entry into an all-new category.
Some subject matter just screams for the E-P1's Art modes such as using the Pop Art filter with this colorful hot rod. Lens was the phenomenally sharp M.Zuiko Digital 17mm f/2.8 that performed at good or better than many high-end D-SLRs. Exposure was 1⁄640 sec at f/10 and ISO 320.
The wonderful E-620 has many of the E-P1's features and costs $699.99 with a lens. On the other hand, the white paint option (just the paint!) for a Leica M8.2 costs much more than an E-P1 in white finish, both M.Zuiko Digital 14-42mm f/3.5-5.6 and 17mm f/2.8 lenses, the optional FL-14 flash unit, and a big stack of SDHC memory cards. Yes, boys and girls, the E-P1 uses SD cards, not the easy-to-lose xD-Picture Cards so beloved by Big Oly, Fuji, and nobody else. This is the first Olympus to use SD cards and I wonder if it's a trend for future camera models. One can only hope. For this test I used a SanDisk (www.sandisk.com) 16GB SDHC card to capture all of the images you see here.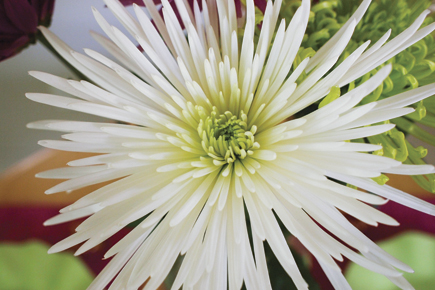 This was a challenge to the EP-1; with the M.Zuiko Digital 17mm f/2.8 lens at its minimum focusing distance, ISO kicked up to 500, and the Scene mode set to Macro, it produced sharp close-up results at f/3.5. With this low-contrast lighting, noise at ISO 500 was invisible.
But sometimes homage to the Pen F gets carried too far. The Pen F did not have a built-in flash, so the E-P1 doesn't have one either. The Pen F didn't have an LCD screen either but you can only copy the original so far, and while many camera companies have somehow managed to squeeze a built-in flash into the tiniest of point-and-shoot cameras, Olympus could not find space in the E-P1 for one. Olympus SLRs are typically jam-packed with electronics anyway and maybe that's the real reason for not having a flash, but that doesn't make me not want one. If you photograph people the optional ($199.99) FL-14—it does a great job—becomes a mandatory accessory; the stainless steel look makes an attempt to fit into the non-white finish E-P1's look.

The E-P1 is chockablock with many features it has graciously stolen from E-series SLRs, including in body Image Stabilization, a kick-butt dust reduction system, multiple exposure capability, and Olympus' now-famous Art Filters. Rather than discuss these capabilities any more than I have in the past, pick up a copy of the April 2009 issue of Shutterbug or read my E-30 review online to see examples of images made with each of the filters. But get this YouTubers: you can apply any of those Art Filters, including Pop Art, Soft Focus, Pale & Light Color, Light Tone, Grainy Film, or Pin Hole, to any video clip you capture.
This nostalgic scene literally screams for the E-P1's Monotone mode. Selecting the Sepia tone option from Olympus' wonderfully clear menu structure adds just the right touch to this image. Made with the M.Zuiko Digital 17mm f/2.8 pancake lens with an exposure of 1⁄125 sec at f/4.5 (and still has great depth of field) and ISO 200.

FEATURED VIDEO