Olympus' E-P1; The Return Of The Olympus Pen Page 2
But Wait There's More…
Featuring uncompressed 24-bit/96kHz Linear PCM recording capability, the E-P1 is able to record and play back in WAV, MP3, or WMA formats and can record with its built-in stereo microphone or by plugging in an external mic.

In Playback mode you can mix still images and video clips inside the camera to create a multimedia slide show and dub in one of five built-in background music options to provide a soundtrack for your cinematic creation. Then you can plug the E-P1 into any HD television with an HDMI jack and show your masterpieces to an audience.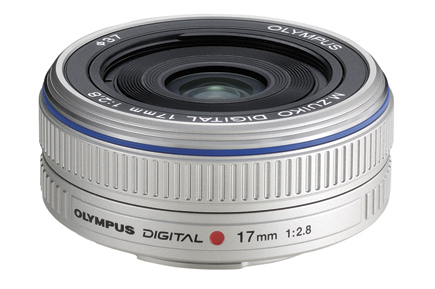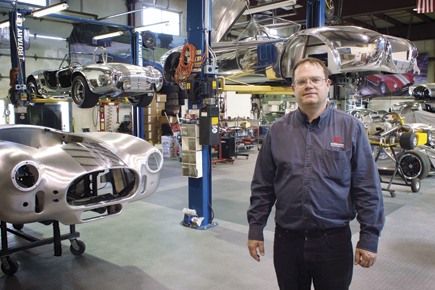 Mary made this photo of Tom Kirkham at his automobile factory in Provo, Utah, using the E-P1 and the M.Zuiko Digital 17mm f/2.8 lens. The camera's AWB setting did an amazing job of balancing skin tone and the aluminum car bodies with the kind of mixed lighting conditions you would expect in a factory. Exposure was 1⁄15 sec at f/6.3 at ISO 500 in Program mode and the built-in Image Stabilization did a great job of keeping it sharp.
Like any good modern point-and-shoot camera, the E-P1 is equipped with 19 automatic Scene modes. If you don't want to change camera settings every time you're shooting something different, then the E-P1's Intelligent Auto mode automatically identifies what you are shooting and adjusts settings to capture the best results. Newbies will love it. Standard Scene modes include Night-Scene, Portrait, and Landscape, but there's a new ePortrait mode that lets you smooth your subject's face in camera! Additional edits can be made post-capture using the ePortrait Fix mode found in Olympus' optional Studio software ($99.95). The E-P1's Face Detection reduces the chance of blurred subjects by recognizing up to eight people's faces and the background, tracking the faces within the image area, even if people are moving, and automatically focusing and optimizing exposure for sharp portraits. While not perfect in real-world use, it's the best face recognition system I've used so far.

My favorite feature of the E-P1 includes the internal Digital Level Sensor that detects the camera's pitch and roll and indicates it on the control panel. This Digital Leveler is useful when capturing landscapes and while others have tried to implement this feature, this is the easiest to use that I've tried. I also loved the Manual Focus Assist Function and Magnification Display that lets you zoom into the central part of the image for precise manual focusing.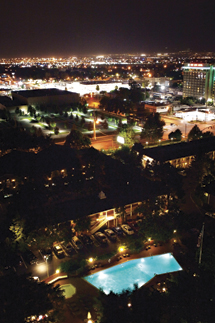 This view of the Salt Lake City skyline was shot at ISO 1600 with Noise Reduction (NR) On and the Standard NR filter selected. The default NR setting is Auto, which kicks in at slower shutter speeds. The handheld exposure was 1⁄10 sec at f/2.8.
In The Field
The E-P1's body is made of stainless steel, although my test camera had the no-cost white paint option. As John DeLorean found to his chagrin from his experience building stainless steel car bodies, the camera is heavier than it looks. The body weighs 11.8 oz and was not heavy enough to discourage me from carrying it but heavier than I would prefer in a material world filled with carbon fiber and other options. Even though I quibble about the weight, the E-P1's fit and finish rival much more, and I mean much more, expensive cameras. There's not a trace of cheapness or corner cutting to be found. And the ergonomics are spectacular with my US medium-sized paws or Mary's smaller, dainty hands; we both loved using it.

The E-P1 can use any Micro Four Thirds lenses, including the M.Zuiko Digital 17mm f/2.8 and M.Zuiko Digital ED 14-42mm f/3.5-5.6 I tested. Mary and I loved the 17mm lens because its small size suited the E-P1's character. I am hoping that Olympus decides to add more prime focal length—forget bulky zooms, Oly—lenses to their line-up. How about a 12mm?

Recently when testing some new Leica lenses I took a new M8.2 to an Italian car show. For my first field test of the E-P1 I took the camera to a hot rod show sponsored by Italians of America and it seemed that during the short time I had to test the E-P1 I was invited to a lot of car shows. When Mary went on a business trip to Utah, she asked to borrow the camera and while there she visited my friends at Kirkham Motorsports (www.kirkhammotorsports.com) and, you guessed it, made more car photographs.
Olympus provides a copy of Master software in the box along with a trial version of their optional Studio software ($99.95). Tip: You may have to update Studio to Version 2.3 (or later) to have it work with the E-P1.
I ran the E-P1 through low-light tests and saw that the noise levels produced were low for a camera with a relatively small (17.3x13mm) imaging chip. Based on the testing procedures described in my story "Noise Reduction Comes of Age" (see the March 2009 issue of Shutterbug), I shot the JPEG file tests with Noise Reduction (NR) On and used the Standard NR filter to maximize image sharpness while reducing noise levels. At ISO 6400 the image was noisy but, surprisingly, by 1600 noise was visible but not objectionable. I'm guessing that the TruePic V image processor is doing a pretty good job here. As always, one of the best ways to minimize noise is to use Raw capture to minimize JPEG artifacts and any noise that remains can then be eliminated or minimized using NR software mentioned in my March story, available online at: www.shutterbug.com.

As I write this, Adobe announced a public beta version of Adobe Camera Raw 5.5 that's compatible with the .ORF Raw files the E-P1 shoots and Olympus provides a copy of its Master software in the box along with a trial version of their Studio software. Since the E-P1 can shoot multiple aspect ratios other than the default 4:3, Studio displays the full frame and also an outline showing the 3:2, 16:9, or 6:6 image areas if they were selected. Olympus Studio 2 can be useful but I found its batch-processing feature to be confusing.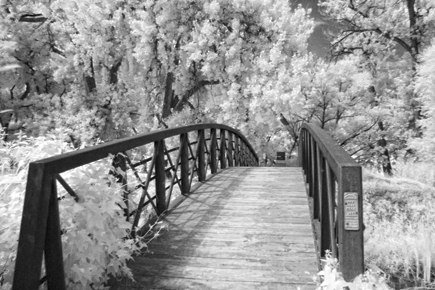 Exposure in Manual mode was 20 seconds at f/9 and ISO 800 and a Hoya R72 filter was held in front of the M.Zuiko Digital 17mm f/2.8 lens. It was captured using the E-P1's Monotone mode. I tried to keep a balance between high ISO and long exposures (to minimize noise) and was partially successful with this exposure. Tip: To reduce noise, I applied Nik Software's Dfine to a duplicate layer and reduced the opacity to 50 percent to maintain sharpness.
Olympus cameras have always been somewhat infrared sensitive when used with on-camera filters and all of the filtered images in my book Complete Guide to Digital Infrared Photography were made with Olympus SLRs. Recently I've noticed a somewhat diminished infrared sensitivity in their cameras but decided to give it a try with the E-P1 anyway. The filter size for the currently available lenses is 37mm for the 17mm "pancake" lens and 40.5mm for the zoom and there are a surprising amount of on-camera filters available in that latter size, including four different IR filters from B+W (www.schneideroptics.com). Since this is such a small filter, the price for these usually expensive filters is less than $60 each. For this test, I used a 58mm Hoya R72 filter (www.thkphoto.com) and held it in front of the M.Zuiko Digital 17mm f/2.8 lens. Awkward? Yes. If this was my personal camera, I'd invest in one of the B+W screw-on IR filters and leave my infrared worries behind. Tip: You're still gonna need a tripod.

In 1965 that original W. Eugene Smith-style Pen F with a 38mm f/1.8 lens cost $140; adjusted for today's dollars that translates into $945.82. Interestingly, the new Olympus E-P1 with the M.Zuiko Digital 17mm f/2.8 lens costs a little under $900, putting it in the same ballpark. The E-P1 is the perfect all-round camera for the SLR owner who doesn't always want to schlep a bigger, heavier camera. When combined with the phenomenally sharp M.Zuiko Digital 17mm f/2.8 pancake lens it's a wonderful travel camera, and if you're already shooting a Four Thirds camera, the interchangeability of lenses—with the adapter—makes it perfection indeed. The E-P1 is the first truly postmodern camera for the way that image-makers will capture and create images in this new millennium.
Firmware Update Sidebar
At press time Olympus announced firmware updates for the Olympus E-P1 and the M.Zuiko Digital ED 14-42mm f/3.5-5.6 and M.Zuiko Digital 17mm f/2.8 lenses to improve focusing performance. The firmware update 1.1 for the Olympus E-P1 will improve the camera's Continuous AF (C-AF) operation. Both lenses—the M.Zuiko Digital ED 14-42mm f/3.5-5.6 and the M.Zuiko Digital 17mm f/2.8 pancake—will benefit from the firmware update to Version 1.1 with enhanced autofocus performance.

To download and install this firmware update, simply open the Olympus Master software, connect the camera via USB to the computer and log onto the Internet. Choose the Update Camera function from the Online Service menu in the Olympus Master software and the update will commence immediately. The ability to update the firmware of E-System components—bodies, lenses, flash units—is one of the key advantages of a 100 percent digital design. Firmware updates are available through Olympus Master and Olympus Studio software applications.
Technical Specifications
Dimensions: 4.74x2.75x1.43"
Weight: 11.8 oz (body only)
Cost: $749.99 body only; $799.99 with M.Zuiko Digital ED 14-42mm f/3.5-5.6 lens

For more information, contact Olympus Imaging America Inc. at: www.olympusamerica.com.

FEATURED VIDEO