Nikon Z7 Mirrorless Camera Review
The Nikon Z7 is, perhaps, the most well-designed full frame mirrorless camera on the market right now. It took me a little while to realize this.
I shot with the 45.7MP Z7, Nikon's first mirrorless full framer, extensively soon after it launched during a press trip to Tokyo, Japan last summer, and then put it down for a month or so to test some other gear. Coming back to the Z7, there was a comforting familiarity to its simple design, which felt and, to some extent, performed like a shaved down Nikon D850, which is one of the best reviewed DSLRs of all time.
The D850 similarity is no coincidence because that's exactly how Nikon is marketing the Z7. And in many ways, it's an accurate starting point for this camera, which uses a 45.7MP full-frame BSI CMOS sensor that's similar to the one in its bigger brother D850.
But the Nikon Z7 differs from the D850 in several key regards, not all of which are positive. Read what I think about the Z7 ($3396, body only) which I called one of the biggest product announcements in Nikon's over 100-year history when it was unveiled last year alongside the 24.5MP Z6, in this mirrorless camera review.
(Editor's Note: You can see additional full resolution test images we shot with the Nikon Z7 here. You can read our review of the Nikon Z6 here.)
Camera Build, Layout & Handling
As mentioned in the introduction, my testing of the Nikon Z7 consisted of two phases: one when I initially tried out the camera in Tokyo in late August 2018, and then more recently over the last several months when I picked it up again after testing other gear. While I appreciated the Z7 when I first tried it out, when I started shooting with it again after testing some of its direct rivals, including the Canon EOS R (review here), I enjoyed it even more.
Like the slightly larger Canon EOS R (5.4 x 3.9 x 3.3 inches, 1.5 pounds), the Nikon Z7 (5.3 x 3.4 x 2.7 inches, 1.5 pounds), has a comfortable, DSLR-style handgrip. Both of these cameras blow a hole in the old idea that mirrorless models are somehow dramatically smaller than DSLRs. At least as far as the full frame category goes, when you add a decent lens (I used the Nikkor Z 24-70mm f/4 S lens, which sells kitted with the Z7 for $3996, total), to a mirrorless camera, it becomes a rather large and heavy device.
I personally don't think this is a bad thing because I appreciate a bigger camera with better balance. (And, let's face it, no mirrorless camera system is ever going to fit in your pocket unless you're wearing clown pants.) Plus, the Z7's generous, ergonomic handgrip made it easy to carry and shoot with. In contrast, I've struggled with Sony's A-series mirrorless cameras and their small, flat grips that constantly feel like they're about to slip out of my hand.
The Nikon Z7 boasts a similar but smaller build than the D850, including a sturdy weather-sealed, magnesium alloy body that feels solid in your hand. (In contrast, Sony's full frame mirrorless cameras feature only limited weather sealing.) The Z7's control layout is similar to the D850 and like that King of the DSLRs, it's extremely well thought out.
In particular, I like that the Z7 retains the small, textured rear joystick from D850, which is great for setting focus points. It took me no time to figure out where everything was on this camera and shooting with the Z7 was a seamless experience, unlike the often-befuddling Canon EOS R and the cramped Sony A-series mirrorless cameras.
The Nikon Z7 has a fold-out (but not side-swiveling) 3.2-inch, 2.1M dot LCD on back and a slightly smaller – when compared to the D850 – monochromatic top LCD panel, which is easy to read and provides basic settings data. And, of course, since this is a mirrorless camera, instead of an optical viewfinder, the Z7 has a 3.7M dot, 0.80-inch OLED electronic viewfinder, which I found to be as good as the competition but not a bar raiser.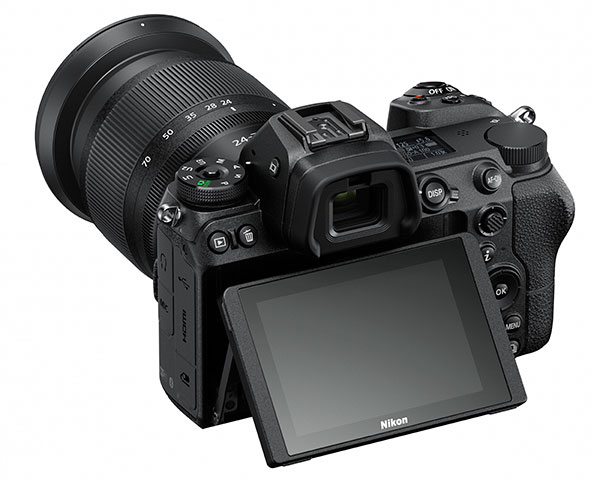 As those who have read my reviews before are aware, I'm still not in love with EVFs vs optical viewfinders, particularly when shooting in low light or scenes with high contrast, including bright skies (which can look blown out on an EVF), but I'm warming to them. On the plus side, EVFs give you a better idea of what your final image will look like and let you see real-time data about your images before capture, so you can make quick adjustments on the fly.
In short, the Nikon Z7 looks and feels as advertised: a lightweight, mirrorless version of the D850, which Nikon DSLR users, and even those trying Nikon for the first time, will slide into comfortably like a cashmere coat. As stated at the beginning of this review, design-wise, the Z7 is a winner.
Features & Performance
One of the Nikon Z7's most touted features is its larger (for mirrorless cameras) 55mm interior lens mount and 16mm flange distance, which is designed to double the amount of light that hits the Z7's 45.7MP full-frame sensor. This design, according to Nikon, gives the camera better edge-to-edge sharpness and less fall-off of light in the corners of images, for better overall image quality.
The Z-mount also serves as the basis for the new S-Line of Nikkor lenses for Nikon's Z series mirrorless cameras. The mount is, ostensibly, designed to allow Nikon to create smaller, faster lenses, which will perform well in a variety of challenging lighting situations.
In real world testing, I did not see a huge improvement in how the Nikon Z7 and Nikkor Z 24-70mm f/4 S lens performed when compared to the D850 and a similar DSLR lens. In fact, I felt the Z7 was not as effective in low light as the D850, which I'll discuss more in the Image Quality section below. The D850's images were also sharper, overall, than the Z7's which struggled when focusing in low or mixed light conditions.
Nikon's Nikkor S-Series lens lineup for its Z-System mirrorless cameras is still pretty small so far. At the time of this writing, Nikon had introduced five lenses for its Z-series mirrorless cameras: Nikkor Z 24-70mm f/4 S, Nikkor Z 35mm f/1.8 S, Nikkor Z 50mm f/1.8 S, Nikkor Z 14-30mm f/4 S, and Nikkor Z 24-70MM f/2.8 S lens. At least four more lenses in this line are due by the end of the year, with three more S-series lenses scheduled to come in 2020.
If you can't wait or don't want to spend money on these new S-Series lenses, Nikon has also introduced the Mount Adapter FTZ, which allows you to use the new Z7 with 360 existing Nikkor F lenses. So, there's flexibility for those Nikon DSLR users who might want to dip their toes into the Z-series. Dipping your toe in with Nikon's full frame mirrorless cameras isn't cheap though, and this is still a very young system with a few tradeoffs.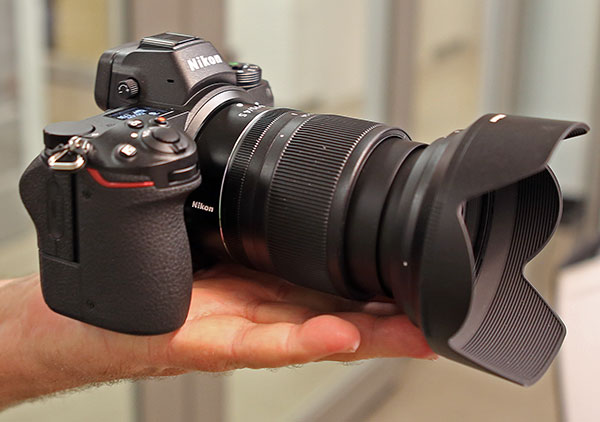 For one, both the Z7 and Z6 have only one card slot and it's for XQD cards, which have faster read and write speeds than SD cards, but are more expensive. Nikon said that new cameras will eventually add a firmware update to also allow the use of CFexpress cards, which have the same form factor as XQD but are even faster and consume less power.
Speaking of firmware updates, the Nikon Z7 and Z6 will also be getting Eye-Detection autofocus, Raw video output and, according to Nikon, the camera's AF/AE (Autofocus/Autoexposure) will be improved via new firmware. This could be the key to remedying some of the performance issues I had with the Z7's AF in low light. According to a Nikon press release on the new firmware, which was still in development at the time of this review, "low-light AF performance will be improved, enabling faster autofocusing in dark or dimly lit surroundings with both still-image shooting and movie recording." According to Nikon, the firmware will be released in May 2019 which, in my opinion, can't come soon enough.
The Z7 is the slightly slower and less versatile but the higher resolution model in Nikon's current two-camera, full frame mirrorless lineup. The Z7 can shoot continuous bursts of images at 9 frames per second (fps), while the Z6 can shoot at 12 fps. For a maximum continuous burst, the Nikon Z7 can shoot 25 JPEGs/18 Raws before the camera's buffer has to catch up. In testing, those speed numbers, largely, held up and I would have no issue using the Z7 for photographing even amateur or semi-professional sports, if the lighting is good.
Where the 45.7MP Z7 can shoot in a standard sensitivity range of ISO 64-25600, the 24.5MP Z6 has a wider sensitivity of ISO 200-51200. To maximize the amount of detail it can capture, the high-resolution Nikon Z7 does not have an optical low pass filter (OLPF), while the Nikon Z 6 does use an OLPF.
The Nikon Z7 (like the Z6) uses a hybrid AF system that combines phase and contrast detection. The Z7's AF has 493 focus points, which cover approximately 90% of the imaging area both horizontally and vertically. According to Nikon, this hybrid AF system uses an algorithm optimized for the FX-format sensor, that automatically switches between focal-plane phase-detection AF and contrast-detect AF when focusing to achieve focus.
In real world shooting scenarios, I found the Nikon's Z7's hybrid autofocus to be a step slow when compared to the Nikon D850's full Phase Detection-based AF, particular when capturing action in low light, such as my photographs of the samurai and my shots of the nighttime Sci-Fi Star Wars parade in New Orleans (see at the bottom of this review). I would not recommend using the Nikon Z7 to capture action or sports in challenging lighting conditions (such as night games with stadium lights or even daytime games with harsh shadows). If sports are your bag and you still want to try Nikon full frame mirrorless, go with Z6 instead.
The Z7 and Z6 are Nikon's first cameras equipped with in-camera vibration reduction (VR). The VR stabilizing tech in the cameras offers compensation for movement along five axes. The effects of vibration reduction are equivalent to a shutter speed of up to approximately 5 stops, according to Nikon. This function can also be used with Nikkor F lenses, including those not equipped with a VR function, when using the optional Mount Adapter FTZ.
While I've been carping about the Z7's low light performance as it relates to AF, the in-camera VR was a real boon in these cases. In particular, shots I captured at the teamLab digital art museum in Tokyo, where most of the light-based exhibits functioned in near total darkness, might not have been possible without the help of the stabilizing, in-camera VR.
The Nikon Z7's battery life, as expected in a mirrorless camera where you need to use Live View constantly, is rather lackluster. CIPA rates the Z7's EN-EL15 battery at around 400 shots per charge and while I got more than that, I'd advise keeping a spare battery with you to relieve mirrorless charge anxiety.
As with most high-end digital cameras these days, the Nikon Z7 is feature-packed. So rather go through everything the Z7 can do in this review, here are a couple more things that I liked: a very handy and effective silent shooting mode that eliminates shake and noise caused by the shutter release; crisp full-frame 4K UHD video; and the ability to shoot 8K time-laps movies via an in-camera interval timer.
Image Quality
Reviewing the Nikon Z7's image quality reminds me of how I judged the Canon EOS R's image quality. Since both mirrorless cameras use essentially the same full frame image sensors as their older DSLR big brothers – for the Z7 it's the D850's 45.7MP CMOS chip and for the EOS R it was the 5D Mark IV's 30.3MP sensor – you'd expect photo quality to be similar and it was.
In fact, if you put Raw images shot with Nikon Z7 vs the D850 side-by-side, you'd be hard pressed to tell the difference between them at all. So, in a word, image quality from the Nikon Z7 was excellent, which is the same as what we said about the D850, our favorite camera of 2017.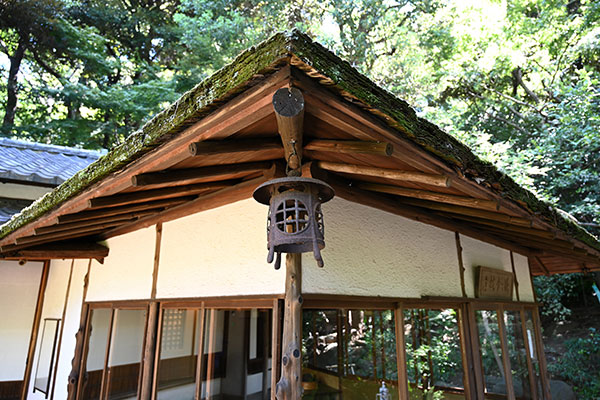 There was an incredible amount of detail in images I shot with the Z7, putting it at almost medium-format level for depth and quality. Outdoor and landscape photographers will love this camera for the same reasons they probably love the D850: excellent colors, particularly greens, yellow and reds, and the ability to pull out minute elements of a scene.
For portrait work, the Nikon Z7 is also a superb choice. I've always liked Nikon's clean somewhat cool skintones, which render lifelike but attractive portraits. And, of course, the 47.5MP full frame sensor will not leave you wanting for any detail in lips, hair and eyes, for instance, in beauty shots.
If there's an area where the Nikon Z7 stumbles, it's at higher ISOs in low light. This could also be said of the D850, which crams so many pixels onto a full frame chip that it each one is just over four microns in size, producing noticeable image noise at over ISO 6400.
But I'd say I was more disappointed in the Nikon Z7's image quality at higher ISOs than the D850, partially because Nikon has made such a big deal about the camera's large lens mount being able to funnel more light onto the sensor. To me, the Z7's results at ISO 6400 and above weren't any better than the D850, and at even higher ISOs such as 12800, the Z7 fared worse than the D850, with much distractingly crunchy image noise and pixel smearing.
Conclusion
As stated at the beginning of this review, the Nikon Z7 and its stablemate the Z6 are two of the best designed full frame mirrorless cameras on the market right now. If you're moving to mirrorless from a DSLR, the Z7/Z6 is the most comfortable camera to get started with, particularly if you're already a Nikon user. But jumping into the new Nikon Z mirrorless system is not a simple or inexpensive proposition. There's no doubt, the Z7 is a pricey camera and as of now it represents the top-of-the-line when it comes to Nikon mirrorless. But unfortunately, there are a few tradeoffs and some things that could even be perceived as bugs, such as the Z7's AF deficiencies in low light, which Nikon says will be corrected with an upcoming free firmware release. While that's disappointing, on the plus side, this is a nascent camera system that otherwise has emerged extremely well formed. The Z7 is comfortably built, easy to use, fast and responsive, and produces highly detailed, beautiful images that are on par to the much-heralded Nikon D850, with which it shares the same 45.7MP full frame sensor. The Z7 may not be perfect but it's a seriously impressive first effort from Nikon.
Scorecard
Pros
+ Extremely well designed for a new camera system
+ 45.7MP full frame sensor produces gorgeous, highly detailed images
+ Packed with helpful features including in-camera VR stabilization and 4K
+ Intuitive interface and controls including handy rear joystick
Cons
- Mediocre autofocus performance in low light
- Noisy images above ISO 6400
- So-so battery life
- Only one card slot
Pricing:
Buy the Nikon Z7 mirrorless camera (body only) on Amazon for $3396.95.
Buy the Nikon Z7 mirrorless camera with the Nikkor Z 24-70mm f/4 S lens on Amazon for $3996.95.