Nikon Unveils Z7 & Z6 Full Frame Mirrorless Cameras & Z-Mount Lenses (Hands-On Photos & Impressions)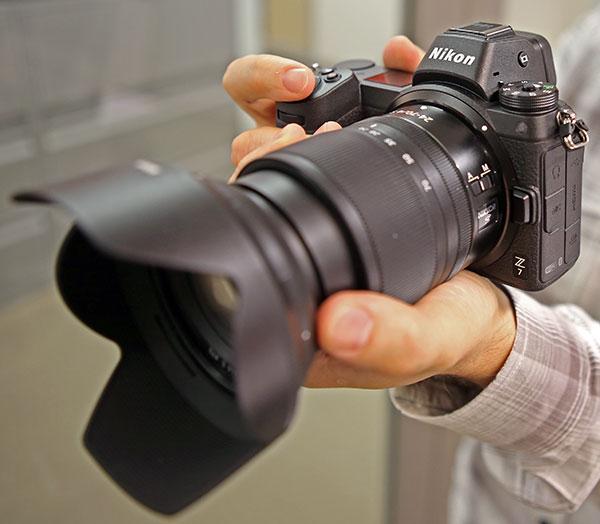 In one of the biggest digital imaging announcements in the history of the company, Nikon just unveiled the 45.7MP Z7 and 24.5MP Z6 full frame (Nikon FX-format) mirrorless cameras along with three new Nikkor Z lenses, which feature a new, larger-diameter mounting system. Nikon also introduced the Mount Adapter FTZ, which allows photographers to use the new Z7 and Z6 cameras with 360 existing Nikkor F lenses.
If that weren't enough of a splash, Nikon also said it's developing a Z 58mm f/0.95 S Noct lens for the new Z cameras, which will be able to shoot photos with an extremely shallow depth of field in extreme low light. And in other product news, Nikon also unveiled the AF-S Nikkor 500mm f/5.6E PF ED VR super telephoto lens, which is designed for its full frame (FX-format) DSLRs but can also be used with the new Z 7 and Z 6 mirrorless cameras.
Shutterbug is currently in Tokyo, Japan covering the official launch of all these intriguing new products by Nikon's top brass and we've included some exclusive, hands-on photos of the new Nikon Z 7 and the three new Nikkor Z lenses: the standard zoom Nikkor Z 24-70mm f/4 S, the wide-angle prime Nikkor Z 35mm f/1.8 S, and the standard prime Nikkor Z 50mm f/1.8 S. We've also included an image of the new Nikkor 500mm f/5.6E mounted on the Z 7 via the FTZ mount adapter which, we think you'll agree, is a pretty interesting combo.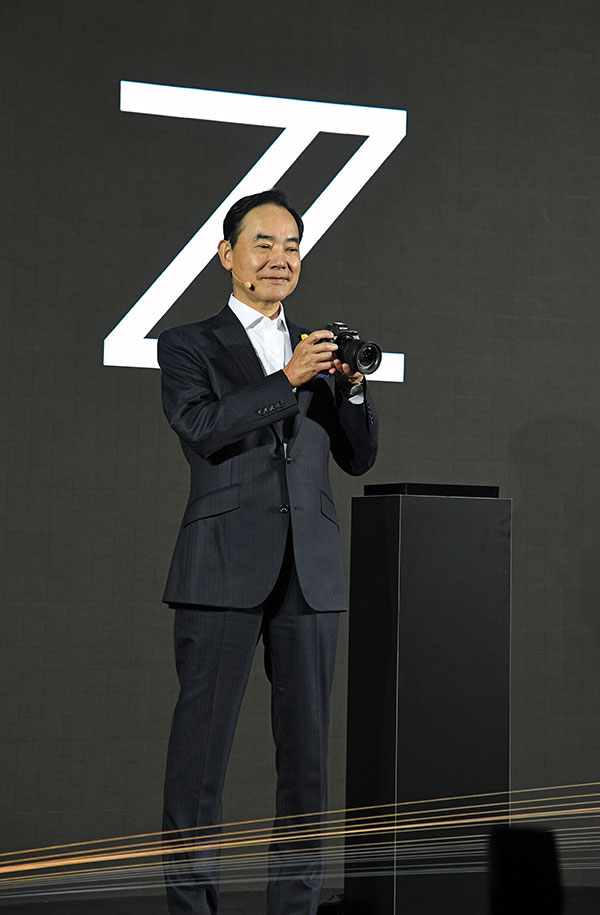 This is a developing story and we'll be adding more coverage to Shutterbug.com, including exclusive photos captured with these new products during some additional shooting time with the new Z cameras and lenses. But first off here's a rundown of what the new Nikon Z 7 and Z 6 cameras have to offer.
Read more about the new Nikkor Z lenses and the Mount Adapter FTZ here, and about the new Nikkor 500mm DSLR lens here. You can see 7 full resolution test shots we captured with a pre-production version of the Nikon Z 7 here.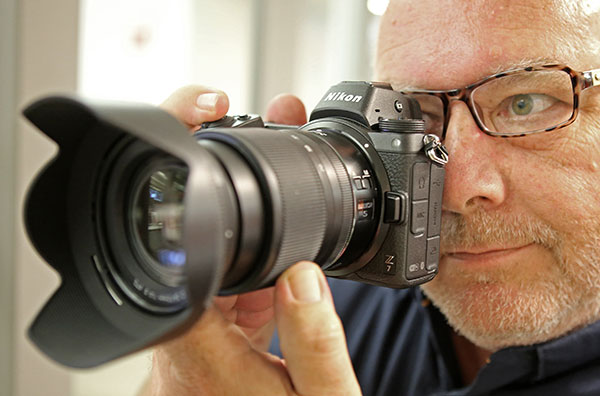 Nikon Z 7 and Z 6 Key Features & First Impressions
Nikon's new Z mount lens system, which features a larger (for mirrorless camera) 55mm interior mount and 16mm flange distance, is designed to double the amount of light that hits the full frame sensors in the Z 7 and Z 6. The result, according to Nikon, will be better edge-to-edge sharpness and less fall-off of light in the corners of images, for better overall image quality.
While they're mirrorless cameras, the Z 7 and the Z 6 are based on the D850, Nikon's well-reviewed, high-resolution DSLR that was launched last year.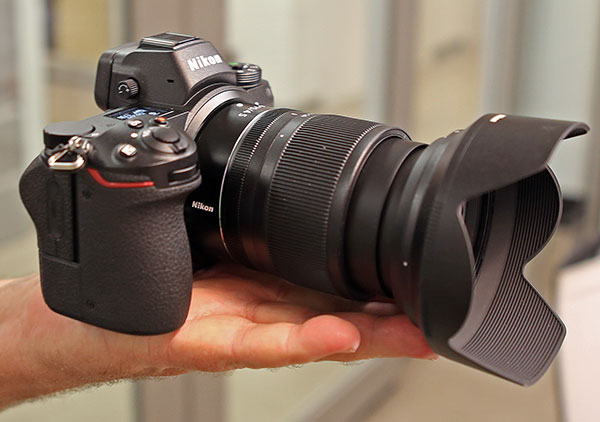 "They're built exactly like the D850," Nikon USA spokesperson Steve Heiner told us prior to today's Z camera system launch. "They have the same magnesium alloy body and weather sealing as the D850, and the same familiar interface, so Nikon users will be able to transition seamlessly and immediately feel comfortable with these new mirrorless cameras."
Camera Build & Layout
Heiner's comment about the weather sealing is telling. The new Nikon Z 7 and Z 6 are designed to compete with Sony's increasingly popular A-series full frame mirrorless cameras, which have been well reviewed but have come under scrutiny for having less than optimal weather sealing. According to Nikon, the new Z cameras are more robustly built with dust and drip resistance, and feature generous and comfortable DSLR-like camera grips while still maintaining the slim camera bodies associated with mirrorless cameras.
In contrast, Sony's A-series cameras, have smaller, more compact grips, which I've found to be slightly cramped and not very ergonomic (other photographers might feel differently). In my brief time, so far, using a pre-production version of the Nikon Z 7, it felt extremely comfortable in my hand though not significantly smaller than Nikon's DSLRs, which begs the question of whether there's still an argument to be made about full frame mirrorless cameras being "more portable," especially when a significant zoom lens is attached.
Other touches on the new Z mirrorless cameras that might be familiar to Nikon DSLR users, include a display panel on the camera's top plate for easy eye-balling of settings, and a variety of buttons including for AF-ON, ISO, and exposure compensation.
One thing that might not please some folks about the new Nikon Z 7 and Z 6 is the storage capability. The cameras have only one card slot for XQD cards, which have faster read and write speeds than SD cards, but are more expensive. Nikon said that new cameras will eventually add a firmware update that will also allow the use of CFexpress cards, which have the same form factor as XQD but are even faster and consume less power.
Image Sensors
The Nikon Z 7 and Z 6 are virtually identical cameras physically, but use slightly different backside illuminated full frame CMOS sensors and have different shooting speeds. Both sensors feature built-in focal-plane phase-detection AF pixels, and Nikon's latest image-processing engine, EXPEED 6 but the resolution of the two cameras is different. The Z 7 is the high-resolution model, and its sensor is 45.7MP and has a standard sensitivity range of ISO 64–25600.
The Nikon Z 6, on the other hand, is designed to be a more versatile, all-purpose camera, with a 24.5MP full frame sensor and a wider sensitivity of ISO 100–51200. Whether shooting still photos or 4K UHD video with full pixel readout (also available on the Z 7), the Z 6 is designed to shoot cleaner images and videos in dimly lit settings.
To maximize the amount of detail it can capture, the high-resolution Nikon Z 7 does not have an optical low pass filter (OLPF), while the Nikon Z 6 does use an OLPF.
Mirrorless Features
While they're modeled after Nikon's top DSLRs, the Z 7 and Z 6 are mirrorless cameras through and through, using 3690k-dot, OLED panel electronic viewfinders (EVFs), as opposed to the optical viewfinders of DSLRs. I'm still not totally in love with EVFs vs optical viewfinders, particularly when shooting in low light or scenes with high contrast, including bright skies (which can look blown out on an EVF), but I'm warming to them.
Plus, as the argument goes, EVFs give you a better idea of what your final image will look like and let you see real-time data about your images before capture so you can make quick adjustments on the fly.
More importantly to me is how clear and realistic an image on an EVF will look. Despite advancements in resolution, reduced latency and increased refresh rates, there's still a sense that you're looking at a miniature TV image of a photo, and not a photo itself.
That's still the case with these new Nikon EVFs but things have improved considerably. The Nikon Z 7's OLED panel looked large and sharp, in the brief amount of time I had a chance to shoot with it. According to Nikon, the EVF offers 100% frame coverage and 0.8x magnification along with an approximately 37-degree diagonal viewing angle.
The new Nikon Z 7 and Z 6 have other mirrorless attributes including fast high-speed continuous shooting: approximately 9 frames per second for the Z 7, and 12 fps for the Z 6, to help capture fast motion. And for anyone who's ever wished their clattering DSLRs were a little quieter when they're firing off those frame bursts at, for instance, a golf tournament or a wedding reception, the new Nikon mirrorless cameras feature virtually silent shooting modes.
The new Nikon cameras use hybrid autofocus (AF) systems that combine phase and contrast detection. The Z 7's AF has 493 focus points and the Z 6 has 273 focus points, which cover approximately 90% of the imaging area both horizontally and vertically. According to Nikon, this hybrid AF system uses an algorithm optimized for the FX-format sensor, that automatically switches between focal-plane phase-detection AF and contrast-detect AF when focusing to achieve focus.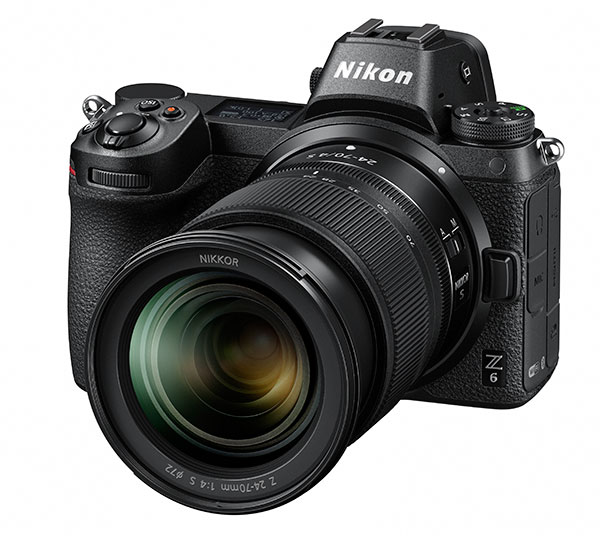 The Z 7 and Z 6 are Nikon's first cameras equipped with in-camera vibration reduction (VR). The VR stabilizing tech in the cameras offers compensation for movement along five axes. The effects of vibration reduction are equivalent to a shutter speed of up to approximately 5 stops, according to Nikon. This function can also be used with Nikkor F lenses, including those not equipped with a VR function, when using the Mount Adapter FTZ, which is sold separately.
Video Features
In terms of video, the Z 7 and Z 6 not only shoot full-frame 4K UHD (3840 × 2160)/30p movies using the FX-based video format, but also Full-HD/120p movies. According to Nikon, sharper 4K UHD movies are possible thanks to the sensor's full-pixel readout. Additionally, Active D-Lighting, electronic vibration reduction, and focus peaking can be used with 4K UHD and Full-HD movie recording.
Nikon's original N-Log color profile can also be used with 10-bit HDMI output. The N-Log setting offers extensive color depth and twelve-stop, 1,300% dynamic range to record wide tonal information from highlights and shadows for better color grading, Nikon said. Additionally, timecode support makes synchronizing video and sound from multiple devices easier, according to Nikon. Additionally, the control ring built into Nikkor Z lenses can be used to quietly and smoothly adjust settings such as aperture and exposure compensation.
Additional Features
Here a rundown of some other features of the new Nikon Z 7 and Z 6 mirrorless cameras, according to Nikon's press announcement:
• A 3.2-in., approximately 2100k-dot touch-sensitive LCD monitor, with a tilting mechanism
• Silent photography function designed to eliminate shake and noise caused by shutter release
• Peaking stack image function enables confirmation of the area in focus after shooting using focus shift, which is convenient for focus stacking
• Interval timer photography that makes 8K (Z 7) time-lapse movie creation possible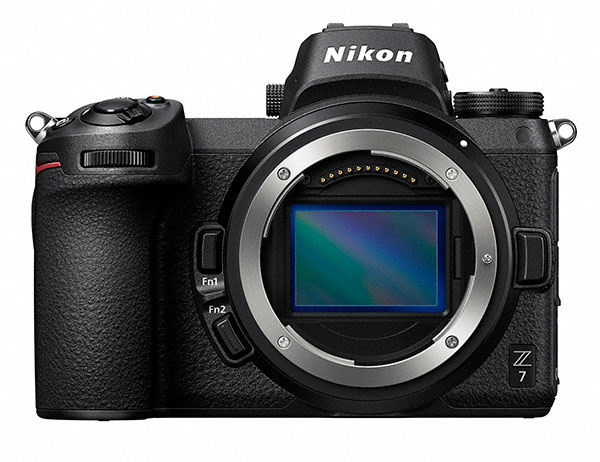 • An extended low-light metering range allows users to easily capture scenes such as the transition from sunset to starry night sky, using aperture-priority auto exposure
• Built-in Wi-Fi for direct connection to a smart device using SnapBridge
• Built-in Wi-Fi makes the transfer of images and movies to a computer possible
• Support for existing digital SLR camera accessories such as the EN-EL15/a/b batteries, WT-7/A/B/C Wireless Transmitter (available separately) for transferring images and movies at high speed over a wired or wireless LAN, and radio-controlled/optical controlled Advanced Wireless Lighting, which makes flexible multi-flash photography possible
• A new MB-N10 Multi-Power Battery Pack is in development, which will hold two EN-EL15b, effectively increasing the number of shots possible and/or movie recording time by approximately 1.8x.
Price and Availability
The Nikon Z 7 mirrorless camera is slated to go on sale on September 27, 2018 for $3399.95 (USD) for the body-only configuration, or for $3999.95 as a kit with the new Nikkor Z 24-70 f/4 S lens. The Nikon Z 6 will be available in late November for the $1995.95 for the body only configuration, or for $2599.95 with the Nikkor Z 24-70mm f/4 S lens kit.

FEATURED VIDEO