Nikon Launches AF-S Nikkor 500mm f/5.6E PF ED VR Super Telephoto Lens for Nikon's Full Frame DSLRs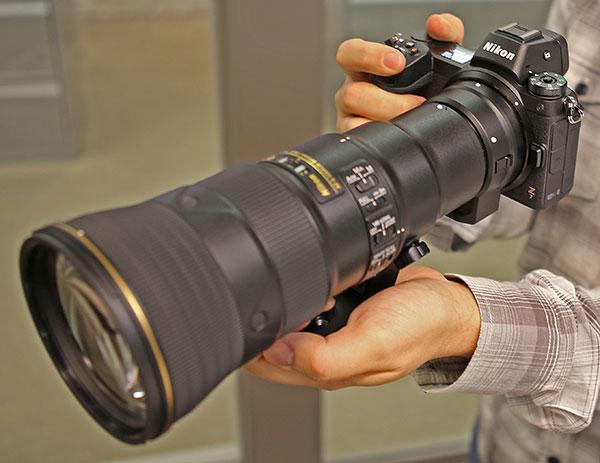 Nikon has launched the AF-S Nikkor 500mm f/5.6E PF ED VR, a fixed focal length super-telephoto lens compatible with Nikon FX-format (aka full frame) digital SLR cameras.
The AF-S Nikkor 500mm f/5.6E PF ED VR is a high-performance, FX-format, super-telephoto lens that offers 500mm focal length, Nikon said. The adoption of a Phase Fresnel (PF) lens element has significantly reduced the size and weight of the lens, making hand-held super-telephoto photography easier and more enjoyable, according to Nikon.
With a maximum diameter of 106mm and length of 237mm, the AF-S Nikkor 500mm f/5.6E PF ED VR, which weighs 52 ounces (roughly the same weight as the AF-S Nikkor 70-200mm f/2.8E FL ED VR) is significantly lighter than previous 500mm lenses, which can typically weigh more than twice that. The AF-S Nikkor 500mm f/5.6E PF ED VR is dust- and drip-resistant, which in addition to the fluorine coat applied to the front lens surface, allows greater durability when shooting.
The use of one PF lens element and three ED glass elements enables extremely sharp and detailed rendering that is compatible with high pixel-count digital cameras, Nikon said. In addition, the materials used in the new PF lens element have been developed effectively to reduce PF (diffraction) flare, allowing light sources to be reproduced in near-original colors. In combination with Nikon's coating technologies, such as the Nano Crystal Coat, effective in controlling ghost and flare, extremely clear images are achieved.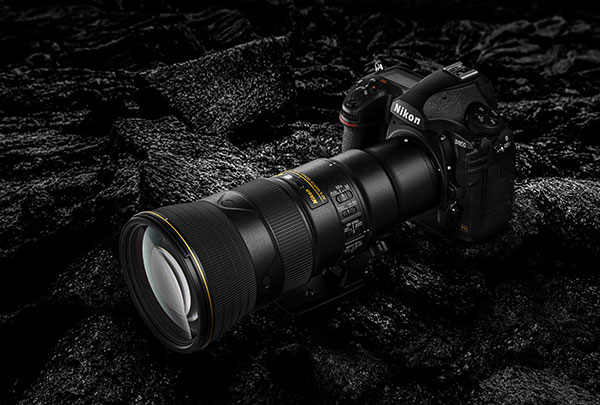 AF speed has been increased by making lens elements in the focusing group lighter. The AF-S Nikkor 500mm f/5.6E PF ED VR is equipped with a VR mechanism that offers camera shake compensation equivalent to a 4-stop increase in shutter speed. The SPORT VR mode that has been adopted is especially effective when photographing fast-moving and unpredictable subjects such as wild birds, or in scenes such as sporting events. The stabilization of the image displayed in the viewfinder is also an effective feature for recording movies.
Additionally, the use of the Mount Adapter FTZ will allow the lens to be used with the new Nikon Z 7 and Nikon Z 6 mirrorless cameras, also announced today. Nikon is also planning to release the Dot Sight DF-M1, an accessory that is effective with super-telephoto photography. With super-telephoto shooting, a narrow field of view in the viewfinder tends to be made visible – making it easy to lose track of the subject. The Dot Sight DF-M1 makes it easy to keep track of the intended subject within the frame, even if the subject exhibits sudden movement.
PF (Phase Fresnel) Lens Elements
The PF (Phase Fresnel) lens, developed by Nikon, effectively compensates chromatic aberration, utilizing the photo diffraction phenomenon. It provides superior chromatic aberration compensation performance when combined with a normal glass lens. Compared to many general camera lenses that employ an optical system using the photorefractive phenomenon, a remarkably compact and lightweight body can be attained with fewer lens elements.
Price and Availability
The AF-S Nikkor 500mm f/5.6E PF ED VR will be available September 13, 2018 for $3599.95. The Dot Sight DF-M1 will be available for $174.95.

FEATURED VIDEO