Nikon Intros Coolpix P900 Compact Camera with 83x (24-2000mm) Zoom Power (Hands-on Photos)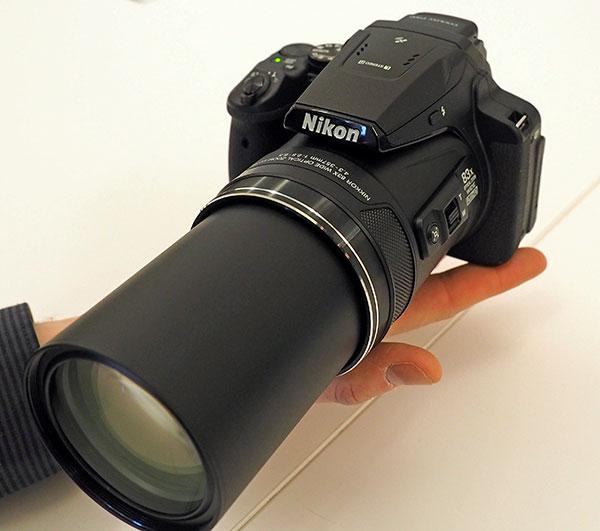 Nikon introduced an amazing superzoom camera tonight: the Coolpix P900, all-in-one compact that features a head-turning 83x built-in zoom lens. For those keeping score at home, that translates into an astronomical 24-2000mm (in 35mm equivalent) zoom lens in a camera not much bigger or heavier than a small, entry-level DSLR.
But that's not all. The 16-megapixel Coolpix P900 has a digital-based enhanced 166x Dynamic Fine Zoom that essentially doubles that zoom range, with some degradation since it's not an optical zoom mode. Nikon says this camera is designed for bird photographers and astrophototgraphers (among others) and it features a special Moon mode and a Bird Watching mode. The lens offers 5 stops of Vibration Reduction (VR) to help steady shaky shots when zooming to the stratosphere.
While the lens might be long, the 16MP image sensor in the Nikon P900 is not. It's the standard 1/2.3-inch chip size you'll find in most compact cameras.
We got some hands-on time with a prototype of the Nikon Coolpix P900 and have included some shots of the camera with this story.
The aperture range of the lens on the P900 is f/2.8 to f/6.5 and it features aspheric, extra-low dispersion (ED), and super extra-low dispersion (Super ED) elements. A Nikon spokesman said the only other lens with Super ED elements is the current Nikkor 200mm f/2.8 pro lens.
Other features of the Nikon Coolpix P900 include the following: 3-inch 921K-dot vari-angle LCD screen on back; 1080, 60p Full HD video mode; 7 frames per second shooting speed; Wi-Fi and NFC connectivity; built-in GPS.
But the star feature of the Nikon P900 is, obviously, the incredible superzoom lens, which, in some ways, feels like overkill to us. The good news is there's a new Zoom Back switch on the lens barrel that will quickly return the lens all the way back to the wide, 24mm angle if you find all the zoom power is making it hard to find your subject.
The Nikon Coolpix P900 comes in black and goes on sale in April 2015 for $599.

FEATURED VIDEO