New Photo Show: "The Curve" Explores Israeli Bomb Shelters, Turkish Secularism & American Slavery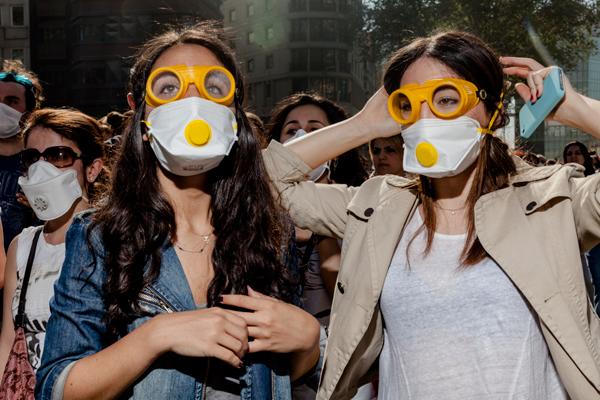 The Colorado Photographic Arts Center will be hosting the traveling show titled, The Curve: CENTER Grant & Award Winners. On view from September 4th to October 11th this event would more accurately be described as three exhibits sharing a single space, with each artist offering a different collection of well-crafted images that explore subjects of cultural significance.
Recipient of the 2014 Project Development Grant, Adam Reynolds' image collection in The Curve, is titled "Architecture of an Existential Threat." It offers viewers a glimpse of Israel that few outsiders have rarely seen. Israel was created in 1948 and from the start this isolated state has found itself under constant threat from various enemies, creating a culture that is built around the need to be ready for an attack at any time, Reynolds says. As a result, all Israelis are required to have access to a bomb shelter and specially sealed rooms. These bomb shelters and rooms are Reynolds' architecture of an existential threat and symbols of Israel's resiliency.
2014 Project Launch award winner, Guy Martin's photo exhibit in The Curve is titled "City of Dreams." Martin tells the story, in his images, of popular Turkish soap operas that are used to export a culture of secularism across Turkey and to neighboring countries. In May of 2013 (as these television dramas ended filming for the season) thousands of young secular Turks began to publically demonstrate against overzealous construction projects. The rallies quickly grew into wide scale protests against government supported polices that would curb civil liberties and promote Islamic conservatism. "City of Dreams" provides a fascinating look at these events in modern day Turkey.
Recipient of the 2014 Choice Award/Gallerists' Choice, Jeanine Michna-Bales photo display in The Curve is titled "Through Darkness to Light." Michna-Bales' focus is on a period of America history between 1830 and 1865 when escaped slaves fled the southern plantations under the cover of night to the northern states and Canada. These images allow the viewer to imagine seeing the long road to freedom through the eyes of those who made the journey.
The Curve: CENTER Grant & Award Winners is on display at the Colorado Photographic Arts Center, 1513 Boulder Street in Denver from September 4 to October 11, 2014
More info at CPAC's website.
(Caption for image at the top of this story: City of Dreams by Guy Martin)