Is Natural Light or Flash/Strobe Lighting Better for Portrait and Fitness Photography? (VIDEO)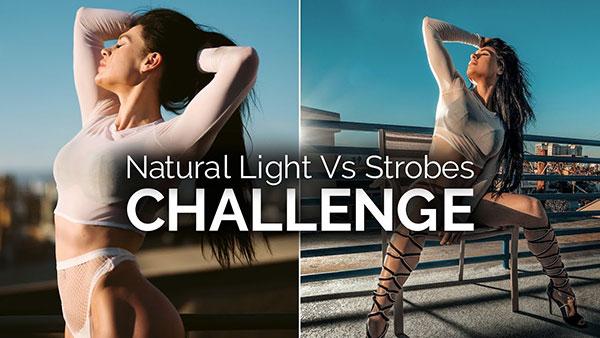 It's one of those debates photographers will probably have for eternity: is it better to shoot using only natural light or with strobe lighting? Of course, there's no right answer but it's always fun to put both types of lighting to the test.
In today's installment, we have Los Angeles-based boudoir photographer Michael Sasser going up against fitness photographer Brett Seeley in the "Strobes vs Natural Light – Photo Challenge."
"Had so much fun putting this together for you guys!" Sasser says about the below video. "I get asked ALL THE TIME if I ever shoot with strobes and I don't, so I decided to meet up with my friend and fitness photographer Brett Seeley to put together a challenge video for you. We had a blast shooting and filming and I hope you enjoy it!"
In the challenge, the two photographers play a game of lighting "Horse," which, as Sasser puts it, is "like when you were a kid and you played it in basketball and you lost. Maybe that's a unique experience for me."
Everyone remembers the basketball game of Horse, right? Even if you don't, you'll figure it out pretty quickly as each photographer takes a shot – with Seeley using all strobes and Sasser going only with natural light – to capture photos of model Ashley Kaltwasser.
Which images came out looking better? As usual, we won't give away any spoliers so watch the video at the bottom of this post and judge for yourself. Then check out these three other stories about shooting with natural light vs strobe/flash lighting:
Portrait Photography Tips: The Pros and Cons of Using Window Light vs Flash (VIDEO)
7 Reasons Why Flash Is Better Than Natural Light for Portraits (VIDEO)
Should You Shoot with Flash or No Flash? Two Pros Go Head-to-Head to Find Out (VIDEO)