Should You Shoot with Flash or No Flash? Two Pros Go Head-to-Head to Find Out (VIDEO)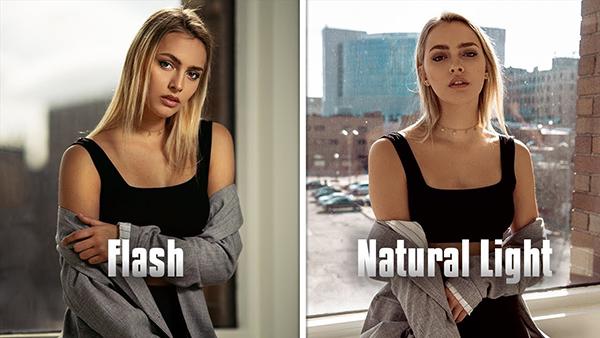 It's one of the eternal debates in photography: which is better, shooting with a flash or with just natural light? Two professional photographers who we have featured on Shutterbug many times recently tried to find out in a "Natural Light vs Off Camera Flash Challenge." The results might surprise you.
Manny Ortiz teamed up with Jessica Kobeissi for the challenge, with Kobeissi using just the available light in a studio to photograph a model, and Ortiz using an off-camera flash as his main light to photograph the same model.
In the video, which we have embedded below, Kobeissi goes first, using her Canon 5D Mark III and 24-70mm f/2.8L lens to capture model Sophia Huitema in window light in the studio. Ortiz then jumps in with his Sony A7R III and 85mm f/1.4 lens and his Flashpoint flash system to photograph the model.
After the first round of natural light vs flash shooting, they compare their images and then go again for round two with the same model in a different outfit. They then complete the third and final round with the model in a third outfit, and the lighting changed slightly again.
"One of the benefits of shooting with natural light is to be free with your composition and your posing. That's exactly why I've been shooting a lot of natural light lately and Jessica makes great use of it," Ortiz says in the video's narration. "You're going to notice how she has the model walking back and forth. She's getting really dynamic poses and different looks, things I couldn't do with the flash because I would need the model to be in one spot."
On the flipside, Kobeissi notes that she has far less control of the natural lighting vs. the studio lighting that Ortiz uses. "The sun was changing so often; the sun would come out and the sun would go away so I would have to constantly fix the f-stop and my ISO and everything to kind of compensate for that." With Ortiz using his Flashpoint lighting system, he's able to nail exposure every time.
The video's worth it alone to see the creative looks the photographers come up with while using natural and studio lighting. In the end, both photographers seem to agree that a mixture flash and natural light is probably the best way to go.
You can see more of Ortiz's videos on his YouTube channel, and Kobeissi's videos on her YouTube channel. You should also check out this video where another photographer compares two studio flash systems, including the Flashpoint setup that Ortiz uses in the lighting challenge.

FEATURED VIDEO