Master Class
From Russia With Love... Part 3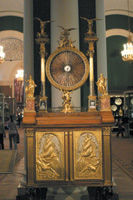 Photos © 2003, Monte Zucker, All Rights Reserved
When we last left Monte he was making his way through the Kremlin's incredible interior...
One of the highlights of my visit to the Kremlin was undoubtedly seeing some of Russia's greatest treasures that are housed there. We entered by an incredible staircase into a wondrous collection of some of the finest artifacts that I'm sure I'll ever see during my lifetime. Fortunately, I was allowed to photograph some of these great treasures. I used my new 24-70mm Canon lens wide-open at f/2.8 with the ISO set to 1600. I was amazed at the quality of the images I got at such a low-light level.
Being a clock collector, some of the first things that caught my eyes were the unbelievable gold clocks that were in abundance. This one in particular seemed to stand out for me because of its setting. The fact that everything was just sitting out there in the open--the gold table, the clock, the candlesticks, the statues--was amazing to me.
Have you ever seen real Faberge eggs? They defy description. They are intricately designed with gold, jewels, and sometimes intricate statuary built into them. They unquestionably live up to their reputation. Many of the eggs were on display in locations around the world, so only a few were on display. Those that were, however, were displayed together with other magnificent artifacts once used by some of Russia's most famous rulers.
One entire section of the museum was a display of crowns. No figment of your imagination could ever come close to the actual crowns. I photographed this one individually, because Nadir told me that this is one of the most famous. All of these pictures were made by photographing directly through special glass windows. I shot them all by available light.
Window after window contained the actual gowns that were worn by Russian royalty. Each was displayed with the actual accessories that were worn with each of the dresses. Unbelievably gorgeous tapestries were hung on the walls with each of the gowns. Each of these tapestries had originally hung in the palaces from which the gowns came. I photographed this particular gown from the back because its train was over 24 ft in length. Yes, that's real gold thread woven into the fabric.

The waistlines of all of these gowns were so tiny, I can't believe that the women who wore them could even breathe.

One room was filled with horse-drawn carriages; it staggers the imagination to think about the people who rode in them and where they were going. A single afternoon didn't give us the opportunity to see even half of the contents of the museum. I was informed that the pieces that are on display are still used for very special occasions.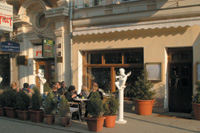 For my real final evening in Moscow I celebrated at Dolf's restaurant with both Roustam and Nadir. Here's what the front of the restaurant looked like as we entered for our farewell dinner. If you're ever in Moscow you can't consider the trip complete unless you've dined at Cafe des Artistes. It's the only restaurant with outdoor seating on the one street in Moscow that's closed from cars. It's right in the middle of the theater district.

My original family roots are from Russia. My father was born there. I definitely feel a pull to go back. Once again, I attribute both my invitation to speak in Russia and the success I felt upon my return home to the fact that the world will always love and buy classic portraiture. Digital cameras haven't changed that--they've simply made it easier and better to produce it.

I'm not sure what the future holds for all of us. The one thing that I am certain of is that as the Russian treasures have retained their value throughout the ages, even increased in value, so it is also possible for some of the photographic images we create in our own lifetime to become a great part of tomorrow's treasures.

LATEST VIDEO

SPONSORED VIDEO
Testing Tamron's SP 150-60mm G2 lens while capturing birds and alligators in Apalachicola, Florida.