Major Update Announced for DXO One 20.2MP Connected Camera Module for iPhone & iPad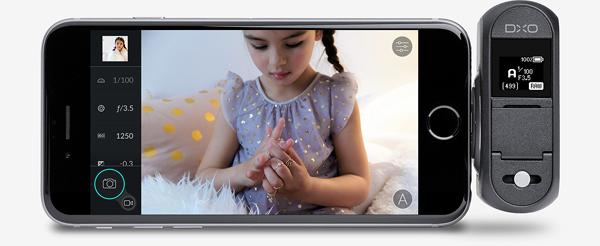 Ever since its introduction in mid-2015, the DXO One miniaturized camera for iPhone and iPad has enjoyed a small but loyal following for its compact form factor, sharp 32mm-equivalent lens, 1-inch/20.2-megapixel sensor, and impressive image quality. Today DXO announced what they call a "major update" for the device that's sure to expand its popularity.
The new version of the DXO One looks and functions pretty much like its predecessor, with the addition of robust WiFi remote control, a new software update, and a host of accessories.
The key to the streamlined WiFi capability compared to other "connected" cameras has to do with how the DXO One interfaces with its host iPhone or iPad. When attached to the Apple device via its Lightning Connector, WiFi authentication credentials are seamlessly passed from the Apple device to the DXO One camera.
After images are captured by the DXO One, they can then be viewed, edited, emailed, and shared to a variety of social media sites directly from the phone or tablet.
The most impressive new accessory is a "Waterproof Shell" designed to expand the use of the DXO One camera. The shell is available with two "Backdoors"— one that is splash proof and another that is submersible to a depth of 150 ft. The shell also protects the camera from dust and abuse.
The DXO One is now available for pre-order from DXO for $499 with delivery expected in the second half of next month. The "Waterproof Shell" ($60) and other accessories (a compact stand and an adapter for adding 30mm filters) are expected to follow shortly thereafter. Visit the DXO website and take a look at the video below for more details.

FEATURED VIDEO