Lou Manna: Photos Good Enough to Eat
All photos © Lou Manna
New York-based food photographer Lou Manna discusses shooting trends: "The old style of photographing food involved lots of props, edge-to-edge sharpness, dramatic, shadowy light and was shot from a high angle. On the other hand, today's food photography is about brighter, less-contrasty lighting, shallow depth of field, less food and fewer props." He's a great authority on this, as one who's photographed delectable dishes for over 28 years for publications like Bon Appetit, Gourmet, Wine Enthusiast, and The New York Times, as well as working with such renowned chefs as Michael Lomonaco, Pierre Franey, Emeril Lagasse, and Jacques Torres. His work also appears in over 30 cookbooks, including Dessert Circus, The Four Star Kitchen, and Grilling for Dummies.
Lou Manna used diffuse lighting from above and a few mirrors to create this delicious image of asparagus spears.
Engineering to Photojournalism
He recounts one of his fondest memories at the age of eight, "When I took pictures of a beautiful tree covered with snow with my Brownie camera." Manna grew up in Brooklyn, New York, where he took photography classes, became president of the photo club, and shot pictures for the yearbook at Xaverian Catholic High School. "I liked the whole process of taking pictures," he recalls. In addition to photography, he studied video, filmmaking, art history, and had a passion for languages.

After high school, Manna attended Stony Brook University, where he majored in electrical engineering and studied photography as a sideline. He became staff photographer and photo editor of Statesman, the school newspaper, as well as facilities manager for the school's darkroom. "I amassed quite a portfolio from my newspaper pictures," he says. During his first year of college, he started shooting for local papers like Smithtown News and Three Village Herald. "This is what changed my mind--and my major--to communications." Although he made "literally $5 per picture," he got paid for something he loved to do. In those days, he says, he hardly got any sleep as he worked in the darkroom at night, then delivered the resulting prints to various newspapers and took classes by day.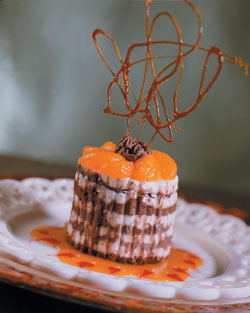 This delectable dessert was photographed as a promotional piece for the pastry chef who created it.
After graduating in 1976, Manna discovered that engineering jobs were difficult to come by, and "the idea of being behind a desk designing circuit boards didn't appeal to me. I love people." He took his portfolio around to various publications, and eventually showed his images to the photo editor of The New York Times. According to Manna, he was in the right place at the right time as this newspaper was changing from being a more-literary journal, and they loved his work. "I walked out of there with my first assignment--to photograph a 100-year-old man playing a bagpipe on the beach with his dog by his side." As time went on, he became what was known as a "personality photographer" at the paper.

One assignment involved taking pictures at a little girl's funeral. "I had tears in my eyes from grief as I was shooting the photos--I felt the moment," he recalls. One of these images appeared on the front page of The New York Times. Richard Avedon called the newspaper and commented that it was the best front page shot he had ever seen, and requested a signed print from Manna.
An image illustrating a recipe for new potatoes in a cookbook entitled, "A Taste of Opera."

FEATURED VIDEO