Lights On
Pack And Head Goes Monolight
This shot was made possible by a handful of monolights. I buried two Balcar Monobloc 2s under the conference table to punch up the background, and blasted a little Britek monolight from the far corner with an amber gel to create a little "sunlight" on the woman's hair.
Photos © Jay Abend, 1999
I have always considered myself a pack and head guy. You know what I mean--big powerful studio flash generators, long cables, and fan-cooled light heads. Growing up I always thought of a pro photographer as the guy with the view camera and the big Ascor power packs. When monolights first began to catch on in the '80s, the idea of an all-in-one flash generator, flash tube, and modeling lamp was still being defined by the likes of Bowens, Balcar, and Photogenic. Early units rarely exceeded several hundred watt seconds, usually had no fan cooling, and offered rather dim modeling lamps. Being a studio shooter who traveled quite a bit, I always checked out the monolights but never caught the bug. Today it's a different story.
A few years ago I hit the Photo Plus show in New York to see what the new gear looked like. Since my exposure to new equipment was largely through my yearly Calumet catalog, I figured that I needed a refresher course. I'm a lighting junkie, so I always check out the slickest and usually most expensive lighting gear. Focusing fresnels and flicker free HMI lighting aside, the coolest stuff seemed to be the new generation of monolights. I was amazed to see 1200 and 1600 ws monolights that looked like normal flash heads. Even neater were fan-cooled, fully adjustable monolights with plugs for external heads. Now I could use a monolight as a flash generator and drive two flash tubes--one in the monolight and another in an external head. When I stumbled upon the Sun Star Strobo 400 ws monolight that weighed a mere 31/2 lbs, it was nearly time to break out the credit card.
When I returned from the show with a briefcase full of color literature I took a good hard look at my equipment needs. In the studio I have a rather robust array of Balcar packs and heads with a handful of Speedo and Norman gear sprinkled in. I'm comfortable with this equipment and think I'll wait a few years before upgrading. For location, I had been dragging my Balcars on the road, having sold off my location-savvy Dyna-Lite gear when my location shooting slowed down in the early '90s. For location lighting I really had two choices--go with a tiny pack and head setup like the venerable Dyna-Lite gear or the teeny-tiny featherweight Comet or Sun Star Strobo gear, or go for a setup of monolights. First I examined the monolight method.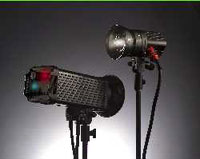 The Sun Star Strobo Big Monostar 600 offers a very efficient 600 ws power supply and the ability to drive a standard flash head for a nifty two head setup.
For years I thought that monolights were the lighting of choice for portrait studios and photography students. When the whole world went wild for those surprisingly powerful White Lightning flash units, I turned up my nose. When I finally got a chance to see Paul Buff's entire product line at a trade show I was quite surprised. Their UltraZAP and X3200 monolights are nicely made, reasonably priced powerhouses with real honest to goodness halogen modeling lamps. Simple networking of the monolights through a standard phone cord make the whole system remotely controllable--nice. In addition, Calumet has been putting together excellent packages with their Traveler monolights which include lighting units, stands, umbrellas, and a carrying case. Even Norman, Speedotron, and Dyna-Lite have gotten into the act with very reasonable high power monolights. The Dyna-Lite Uni 400 Jr. can even be driven by a Dyna-Lite or Lumedyne battery pack for cordless shooting outdoors. Speedo's killer Force 10 Monolight packs 1000 ws of good old Speedotron power into an 8 lb package with very brisk 1.5 sec recycle time. Other nice units from Novatron, Profoto, Elinchrom, Visatec, SP systems, Photogenic, Britek, and many others can really complicate the decision making process.
Given my use of Balcar studio flash equipment already, I found a couple of clean used Balcar Monobloc 2 Mono-lights for an attractive price and bought them. Since these are 10-year-old units, they don't offer some of the really beautiful modern features like digital controls, remote access, or ultralight weight. However, they do offer the two features that I find extremely useful--an outlet to use a standard flash head as an external light source, and a powerful cooling fan. These Monobloc 2s are very large, about the size of two light heads strapped together. Since they offer a punchy 1600 ws output and fast 1 sec recycling, their size is actually quite amazing. I find that I am now leaving my power packs at home and bringing two Monoblocs with two flash heads and a couple of extension cords. That's 3200 ws of power through four heads with 1 sec recycling. Not bad for a single case worth of gear. Do I need any more firepower? Very rarely.
Here are the types of photographers who have found monolights to really give the pack and head configuration a run for its money:
Portrait Photographers. If your lighting sits in one place for a long time, there is little need for the flexibility of a power pack and several heads. Portrait photographers have favored moderately powered monolights for decades since they don't clutter up the floor, put the right amount of light where it is needed, and don't cost a fortune to purchase. Portrait photographers who set up on location have found that a case full of monolights is lightweight and easy to travel with, and some monolights that use household style modeling lamps keep cost of ownership low.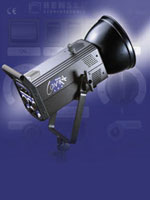 The Hensel Contra line of monolights is typical of modern monolight construction. Heavy-duty, bright halogen modeling lamps, fast recycling, built-in slaves, and reasonable price.
Serious Amateurs. For guys who shoot a lot, but only occasionally for money, the new breed of inexpensive monolights makes a lot of sense. Mini studio lights like monolights work great in basement and garage studios. Mixed with some reasonably fast film they produce plenty of power, and their modeling lamps and quick recycling make them infinitely more "pro" than battery powered units. Most units have built-in slaves and use very little wall current, so they can be run on standard 10amp household lines. Having studio lighting like this really established a photographer as a serious practitioner, and there is no cheaper way to get started in studio flash than with monolights.
Location Pros. For the shooters who must travel often, monolights are starting to compete with the travel-oriented pack and head configurations. Small and powerful units like those from Speedotron, Norman, Hensel, Profoto, Dyna-Lite, Comet, Sun Star Strobo, and others deliver 400 to 1600 ws with quick recycling and bright quartz modeling lamps. For large interiors at least a few monolights are crucial. It makes little sense to bury a pack and a head behind a column in a large hallway when a self-contained unit only needs an AC outlet. The built-in slaves on all the monolights make them a cinch to set up--just plug in, set your power, and shoot. With decent modeling lamps you can use any monolight with a softbox or umbrella and still get a bright enough preview of your image. Fan cooled units add the ability to leave the modeling lamp on all day with a softbox or other heat-restricting light modifier. In fact, rental houses are reporting that more and more photographers are asking for monolights for location work.
Studio Pros. I'm running into studio guys more often who are using only monolights. A friend of mine just bought a few beefy Profoto units and says he loves them. An investment in a heavy-duty Matthews stand and a Red Wing boom arm gives him the ability to hang the unit with a softbox mounted over a set. I know a few other shooters who rely on nothing but monolights that offer remote controlled operation. By adjusting a small handheld control they can continuously vary the light output of any light source, all from behind the camera. Units can be placed anywhere in the studio by using a simple extension cord, and can be moved at will without worrying about knocking over a charged flash generator.
First Timers. For the new photographer or pro just starting out, you can't argue with the value of some of the monolights on the market. Adorama's Flashpoint units start at under $300 each, and Paul Buff still sells units that start at under $200. Bargain packages from Calumet, Visatec, Britek, SP Systems, and Photogenic make it easier than ever for a newbie to get a hold of some decent flash lighting. While lots of students and beginners still opt for inexpensive light sources like photofloods, on-camera flash, and the sun, many find that a couple of usable monolights cost less than a good camera. With the consistent color temperature, daylight balance, action stopping flash duration and efficient use of available watt seconds, it's hard to argue with their value.
If you consider yourself a really serious photographer, whether your client is a major ad agency or you just shoot for enjoyment, good lighting is always important. If you find yourself looking to create your own light, rather than relying on existing lighting, then flash is usually the way to go. While power packs and heads have long been the accepted standard for pro photographers, monolights are coming on strong. For super high power, ultra rapid recycling, or ultimate digital controllability the power pack rules, but for value, efficiency, and ease of use it's hard to beat today's monolights.
Manufacturers/Distributors

Adorama Inc.
42 W 18th St.
New York, NY 10011
(800) 223-2500
(212) 675-6789
fax: (212) 463-7223
www.adoramacamera.com
Bogen Photo Corp. (Elinchrom)
565 E Crescent Ave.
Ramsey, NJ 07446
(201) 818-9500
fax: (201) 818-9177
www.bogenphoto.com
Brandess-Kalt-Aetna Group Inc. (Red Wing)
701 Corporate Woods Pkwy.
Vernon Hills, IL 60061
(800) 621-5488
(847) 821-0450
fax: (800) 762-4711
fax: (847) 821-5410
www.bkaphoto.com
Britek Photo Inc.
12704 Marquardt Ave.
Santa Fe Springs, CA 90670
(800) 925-6258
(562) 404-0593
fax: (562) 404-0852
Calumet Photographic Products (Balcar)
890 Supreme Dr.
Bensenville, IL 60106
(800) 225-8638
(630) 860-7447
fax: (800) 577-3686
www.calumetphoto.com
Dyna-Lite Flash Equipment (Comet)
1050 Commerce Ave.
Union, NJ 07083
(800) 722-6638
(908) 687-8800
fax: (908) 686-6682
www.dynalite.com
Hasselblad U.S.A., Inc. (Visatec)
10 Madison Rd.
Fairfield, NJ 07004
(973) 227-7320
fax: (973) 227-3249
Norman Enterprises, Inc.
4800 Quebec Ave. N
Minneapolis, MN 55428
(800) 787-8078
(612) 537-3601
fax: (612) 537-2852
www.normanflash.com
Novatron, Inc.
8230 Moberly Ln.
Dallas, TX 75227
(800) 527-1595
(214) 388-4857
fax: (214) 381-5317
Paul C. Buff, Inc.
2725 Bransford Ave.
Nashville, TN 37204
(800) 443-5542
www.white-lightning.com
Performing Light (Hensel)
169 8th Ave., #5F
New York, NY 10011
(212) 727-3067
fax: (212) 727-8596
www.hensel.de
Photogenic Professional Lighting
525 McClurg Rd.
Youngstown, OH 44512
(800) 682-7668
(330) 758-6658
fax: (330) 758-3667
www.photogenicpro.com
ProFoto
189 Colt Ln.
Thousand Oaks, CA 91361
(805) 778-1182
fax: (805) 778-1162
Speedotron
310 S Racine Ave.
Chicago, IL 60607
(312) 421-4050
SP Systems
2600 Stayton St.
Pittsburgh, PA 15212
(412) 321-4200
Sun Star Strobo U.S.A., Inc.
PO Box 311
Englishtown, NJ 07726
(888) 999-4598
(732) 536-1237
fax: (732) 536-6906
www.sunstarstrobo.com


FEATURED VIDEO