Leica M10-P (The Quietest Leica Ever) Review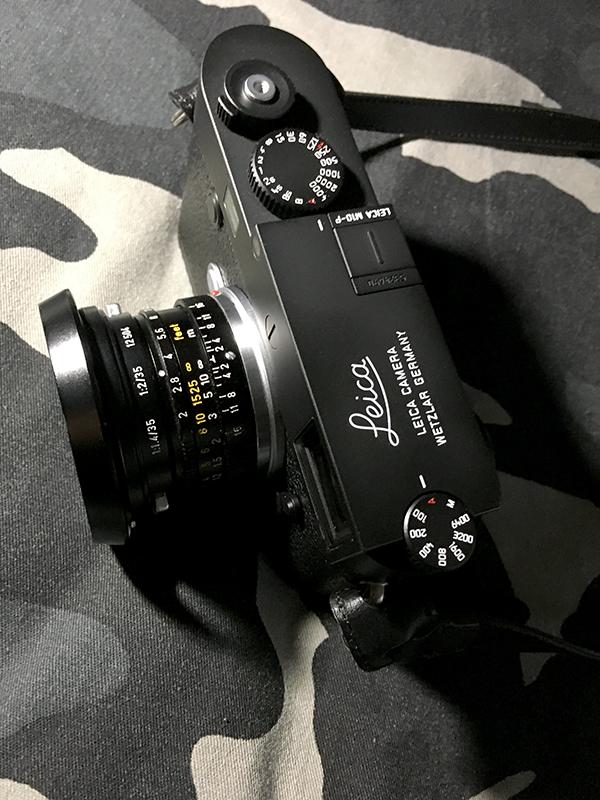 For more than 100 years, Leica cameras have been heralded as the most covert, inconspicuous image capturing instruments known to the world of photojournalism. Now Leica has introduced the Leica M10-P digital rangefinder, an ultra-stealth version of the M10 that ratchets up the very definition of candid photography.
The Leica M10-P is a Vulcan mind meld of modern technology and fundamental, classic camera design. The M10-P builds upon the M10 model, which was introduced early in 2017, and adds four distinctive differences. They are as follows:
1. Nearly Silent Shutter
The Leica M10-P is the quietest of all digital and analog Leica M-series cameras ever made. Compared to my Leica IIIa (Model G) which was manufactured around 1935, the newest Leica whispers rather than clicks. Compared to my beloved full-frame DSLR Sony Alpha 900, the M10-P is mute.
The advantages of nearly silent operation are many fold. Even when the subject knows you are in the process of taking their picture because you have the camera pointed directly at them, they are less likely to perceive the actual moment of exposure because they cannot hear the shutter trip.
When shooting portraits—and even small groups come to think of it—I am often releasing the shutter when the subject(s) thinks I'm focusing or fiddling with something else. I do this quite intentionally to capture their most relaxed moment. The Leica M10-P makes this monumentally easier.
2. No Logo on Front
Gone is the legendary red dot logo, further enhancing the stealth nature of the M10-P. Instead of the telltale Leica mark, the Leica name is written in familiar script on the very top of the camera body.
Some photographers use black electrical tape to cover and hide all camera trademarks. The downside of that approach is that would-be thieves know that if the logo is covered, the camera must be very valuable.
In the spot where the logo usually resides there is instead what appears to be a large flathead screw. At first glance one might even guess that a part is missing from the top cover.
3. Touchscreen LCD Monitor
For the first time in an M-series camera, the Leica M10-P has a touch-function LCD monitor. Protected by Corning Gorilla Glass, the LCD affords three essential touch operations. First, in Live View, double tapping the screen enlarges the image so you can verify critical focus. This function is further aided by Focus Peaking. Second, in Playback mode, a similar manipulation allows you to check focus of a captured image. And finally, with operations akin to those found on most cell phones, the touchscreen permits common gestures like swiping and pinch-to-zoom during Playback.
Another new addition, the LCD also has a built-in Level Gauge.
4. Metal Hot Shoe Cover
The hot shoe cover is made of metal in the color that matches the camera body, i.e., black or silver. It's a small thing, to be sure, but it will likely make you more vigilant against losing it.
User Report
All other features and functions of the Leica M10-P are identical to those of the Leica M10. George Schaub performed an in-depth review of the Leica M10 already for Shutterbug, and it would be redundant for me to repeat his thorough analysis. Instead I've provided a summary of the major features and a recap of my experiences using the M10-P for a few days before it was announced.
You'll find George's superlative photography and in-depth review of the Leica M10 here.
You may also be interested in viewing the image gallery of my firsthand look and unboxing of the Leica M10 Zagato Edition at Leica's headquarters.
Incidentally, in a monumental goof, I failed to mention that every image in my coverage of the Leica M10 Zagato Edition was shot with a Leica C-Lux which we also reviewed (link here). Mea culpa.
Leica M10 / M10-P Major Features
• Compact manual focus rangefinder-style digital camera
• 24-megapixel full-frame CMOS sensor
• Aperture Priority Automatic or fully Manual
• Leica Maestro II image signal processor
• Optical Viewfinder (0.73 magnification)
• 3-inch, 1-million dot LCD protected by Gorilla Glass
• ISO 100-50000
• Shutter to 1/4000 second
• High speed shooting up to 5-fps
• Built-in Wi-Fi
• Black chrome or silver-colored chrome finish
Hands-On with the Leica M10-P
In many respects, the look, feel and operation of the M10-P strongly resemble my Leica M4. I was able to use my original 35mm and 90mm Leica M-mount lenses, of course, and I was pleased by the performance of both the new camera and old lenses.
Although I am quite accustomed to using a rangefinder camera, I found the focus-assist operation of the M10-P to be extremely useful. Simply double tap a specific area of your subject on the LCD when in Live View mode and that portion of the image is enlarged. Focus Peaking makes it simple and easy to identify what is—and is not—in focus.
When they told me the Leica M10-P is "quiet" they weren't exaggerating one iota. Had I not been warned that the camera is practically silent I would have suspected that the sample had a defective shutter that wasn't functioning. Yes, it's that quiet.
The ISO range is 100 to 50000. Increased grain, color smudging and mild banding occurred at ISO 50000 as one might expect, but at ISO 25000 I was able to achieve remarkable results. At the more realistic ISO levels (6400 and below) performance was flawless.
Conclusion
The Leica M10-P has emerged as the embodiment of all of the stealth technology Leica has gathered over many years of producing inconspicuous, unobtrusive cameras. It's quiet, that's for sure, and it's easier to use than traditional rangefinder Leicas because of the focus assist functions.
Photojournalists, street photographers and others who are currently using Leica M cameras—digital or film—will find the new M10-P the perfect partner for their M-series lenses. For current Leica M10 owners, the decision whether or not to upgrade may well be a tough one, however.
Price and Availability
The Leica M10-P is available today from Leica stores, Leica boutiques and authorized Leica dealers. Body only price in either finish is $7995. The M10-P is offered collaterally with the current Leica M10 ($7295) which stays in the lineup. For more information about Leica visit www.leicacamerausa.com or follow the brand on Facebook, Instagram and/or Twitter.
—Jon Sienkiewicz

FEATURED VIDEO