Leica Intros Upgraded Leica S (Type 007) Medium Format Camera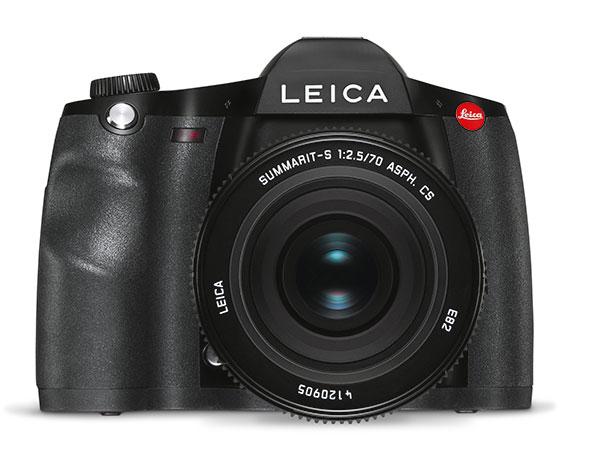 Leica introduced an upgraded S-series medium format camera at photokina this morning: the new Leica S (Type 007) model, which features a Leica CMOS sensor and the Leica Maestro II image processor.
Because of the new sensor and processor, the Leica S (Type 007) now has the "highest burst rate in medium format cameras," said Dr. Andreas Kauffman, Leica's chairman, during a press conference at photokina to unveil Leica's new products.
The Leica S can shoot up to 3.5 frames per second. "The size and speed are comparable to a compact, 35mm camera," Kauffman noted. "It's robust, resilient, reliable, and versatile."
Kauffman did not announce the resolution of the upgraded Leica S' medium format (30 × 45 mm) CMOS sensor and it's not mentioned in the press release. The previous version of the Leica S used a 37.5-megapixel, Kodak-built CCD imaging chip.
The Leica S (Type 007) can shoot full-HD video in full-frame medium-format sensor size, along with 4K video. It has a Live View mode and offers 2GB of buffer memory for sustained burst shooting. Even with the faster 3.5fps burst rate and bigger buffer depth, the new focal plan shutter in the revamped Leica S is rated to last at least 150,000 cycles.
On back the Leica S has a 3-inch LCD screen with 921,600 pixels. It includes integrated GPS for location tagging of images and there's built-in wireless, allowing the new Leica S to work with tablet computers, smart phones, or desktop computers without cords or cables.
"This is our technology flagship," Kauffman said.
The Leica S (Type 007) will go on sale in Spring 2015. The price has not been announced yet. The previous camera model will now be offered at a discounted price under the Leica S-E (Type 006) name.

FEATURED VIDEO