Independent Travel: Going It Alone, Or On A Photo Tour
There are two ways to travel. You can go with a group or you can travel independently where you plan the itinerary and make the arrangements. One isn't necessarily less expensive than the other because it depends on so many factors, but the main issue to consider is this: what will you gain by being part of a group versus traveling alone or with a friend or spouse?
If you are serious about photography, do not under any circumstances travel with a tour group of non-photographers. You will be very unhappy. The other tour members will be frustrated with you lagging behind at every stop trying to squeeze in as many shots as you can before the bus has to leave. Breakfast and dinner will be served during the best times of day when lighting is the most beautiful, which means most of your images will be taken in dreadful midday sunlight. A large group of 30 or 40 people means that the cost of the trip will be very attractive, but in this case you really get what you pay for. Non-photographers can enjoy this type of trip, but people with a passion for photography will feel it is primarily a waste of time and money.
Traveling with a photography tour is very different. The goal is to get great pictures, and that means the itinerary is (or should be) planned to take advantage of the best light, to give you enough time at each important destination to get your shots, and in many cases tour participants are asked to push themselves beyond what they would normally do to get pictures that other groups never get to take.
For example, on a photo tour to Turkey last year I wanted to include dawn and sunrise photography at a famous historic site from the first century BC on Mt. Nemrut, but the only way to do that was inconvenient to say the least. We left our hotel at 3am and drove two hours to a parking area near the summit of the mountain. Then we walked with flashlights about 20 minutes on a rocky trail up to the site, and when we arrived it was still dark. Admittedly, this type of extra effort is unusual on one of my trips, but the images we were able to get thrilled everyone (#1, #2, and #3). Nobody minded what we had to do because they loved the adventurous nature of the excursion and they were excited with the experience and the fantastic picture opportunities. There are no tour organizations that guide non-photographers that would ever do something like this, and consequently those people never get these kinds of amazing images. Lighting is everything, and that's why people who share a passion for photography will go the extra mile to get the best possible photos.
Another characteristic of a photo tour is that the tour leader usually makes himself or herself available for questions, photo guidance, discussions about Photoshop, etc. On the photo tours that I lead, instruction is a big part of the experience.
Traveling On Your Own
If you prefer to travel independently of a group, then you need to become an expert in research. Today it's very easy to get all the information you need online for any place in the world. On Google, simply do a search for the destination you have in mind, and be as specific as possible. You may not want to narrow your search initially, though. When I traveled by myself to Malaysian Borneo for the first time, I had no idea where I needed to go to get great images. I searched Google for "photos Borneo" and found a number of websites that included beautiful pictures of the cultures, the exotic indigenous wildlife, and the unique landscapes that Borneo is famous for. I then pulled up a map of Sarawak and Sabah, the two states in the Malaysian portion of Borneo, and circled the locations of these places. That was the beginning of the itinerary.
If you travel with a photo tour, all the arrangements are made for you. If you travel independently, you must arrange the hotels, car rental or guide, models, entrance fees, and everything else. Many travelers like the security in knowing all the details are taken care of before they leave home, and with the ability to communicate by e-mail everywhere in the world, it's easy to set these things up. Most hotels can arrange for a driver to meet you at the airport, and they can set up sightseeing excursions for you to get your bearings of the new destination. They can arrange a car and driver and direct you to a good travel agency that can help you with internal flights within the country if you need that. Hiring services through a hotel is usually a little more expensive, but it's also more trustworthy. I feel it's well worth the small extra expense. The driver is employed by the hotel, or at least has a business relationship with them, and therefore there is a presumption that he has a history of satisfactory service in serving as a driver/interpreter/guide. This is what I do everywhere in the world. I need transportation, and I usually need an interpreter. Therefore I arrange this through my hotel (or sometimes with a local travel agency), and if I am not happy with the person I'm given, I simply call the company and request a replacement. I've never had a problem doing this.
A photographer can't rely on public transportation to travel throughout a country and expect to get great images along the journey. Backpackers can use this kind of inexpensive transportation, and young people who are traveling on a shoestring budget and who are not serious photographers can also do it. Buses and trains don't stop wherever you want, and therefore you'll miss a lot of pictures. If you are shooting in a large city like Paris or Taipei, the subway system is great. It's cheap, there are no parking issues, and the trains run all the time. Once you learn how to interpret the map of the subway system, it's an efficient and inexpensive way to get to the places you want to shoot. However, if you are visiting an entire country or perhaps several countries, such as I did in Eastern Europe last summer, and you want to visit a place off the beaten track, you'll never be able to do it using public transportation. For example, the powerful Holocaust memorial in Kaunas, Lithuania (#4), was erected at a place where the Nazis murdered 80,000 people, mostly Jews. It was hard to find this place even with a GPS, and the only way I was able to photograph it was because I had rented a car and I had the freedom to go wherever I wanted. In South Africa, I drove a car and shared expenses with a friend for a month, and this enabled us to visit many places that tour groups never see. One such place was the remarkable gannet colony at Lambert's Bay (#5).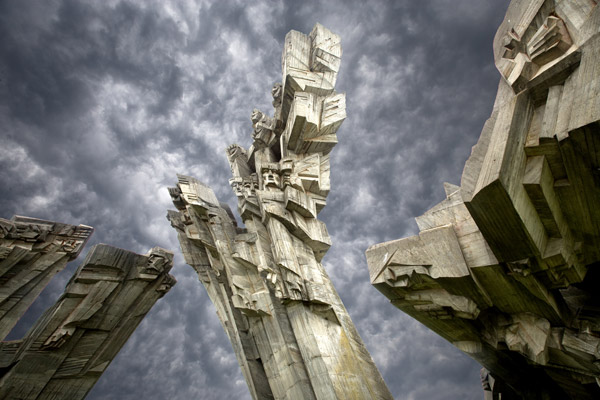 Using The Internet
If I am traveling on my own or with my wife, I usually don't make hotel reservations for the whole trip. I might reserve the first night or two so I have a guaranteed room upon arrival, but from there it's very hard to know how much time I will want in any given location. I may find that a particular place requires more time because the photographic material is so good, and if I have made reservations for the rest of the trip, I won't have the flexibility to stay for another day or two. If the weather turns bad and I feel it's time to leave, with no reservations I'm not tied to a particular location for longer than necessary.
Therefore, when I know I am ready to leave, I go online with my laptop computer the night before departure and make a reservation at the next destination. If I am traveling light and didn't bring my laptop, I use the hotel's computer to gain access to the Internet. I always choose hotels that have Internet access unless there is simply no choice and I have to settle for one that doesn't offer this service. Most places in the world now have Internet access because it's simply good business to do so. If the hotel doesn't have Internet, many times there is an Internet café nearby. You can judge any hotel online by looking at the photos of rooms, its list of amenities, pricing, and a map showing its location in relation to highways or famous landmarks in the area. A website that I often use to book lodging anywhere in the world is www.hotels.com. Once the booking is reserved and/or paid for on the Internet, I write down the address so I can enter it in my GPS. If I have a driver, I let him find it for me.
Using this procedure all throughout the trip, I can control my expenditures, save a huge amount of time looking for a place to stay, and choose the geography of the hotel in relation to the areas I want to photograph.
Sometimes the WiFi signal in a hotel is weak and it's hard to stay connected to the Internet. Some hotels provide an Ethernet cable that will plug directly into a laptop, and other times I've stayed in places with just the Ethernet socket in the wall but no cable. Therefore, I now carry with me an Ethernet cable for that kind of situation.
Communications While On The Road
If you have ever used the phone in a hotel to call home, you know how expensive it is. One of the many advantages to carrying a laptop with you is that you can use Skype, a very cheap—or free—way to make telephone calls anywhere in the world using an Internet connection. You can sign up for a free account at www.skype.com, and if you call another person who also has a Skype account it's free, anywhere, any time. You are in essence calling from your computer to theirs. If you call a cell phone or land line, it's very inexpensive—just a few pennies a minute. I use Skype not only to call home from anywhere in the world where I have an Internet connection, but I will also call ahead and make various arrangements or inquire about permission to gain special photographic access to museums, events, festivals, etc. without running up cell phone bills or hotel costs. It's also great to have this in case of an emergency. Last summer, my home was struck by lightning when my family and I were in Europe, and I made many calls to the insurance company, my contractor, and other people involved, and I probably talked for a total of two hours. My phone bill was less than five dollars using Skype.
One good example of where Skype came in extremely handy was in Lucerne, Switzerland. I was there to conduct a photo workshop, and I needed to make contact with the person who had organized the event. I wasn't sure what prefix numbers I should use in a public telephone, but I knew that the entire center of the city was set up for WiFi. I opened up my laptop while sitting on the sidewalk outside the train station and called the person I was supposed to meet upon arrival. Skype put me through directly to his cell phone, and I was able to tell him I had just arrived. You just speak into the built-in microphone in the laptop and you can hear the person on the other end through the computer's internal speakers. Lucerne is a wonderful place to visit, and the twilight photography there is especially beautiful (#6 and #7).

FEATURED VIDEO