Holiday Festivities In Santa Fe, New Mexico
Historical Santa Fe is a magical year-round photo destination. Painters and photographers have long been attracted to the town because of its charming architecture and undiffused light. In December, the combination of Western, Hispanic and Native American traditions blend to create unique holiday celebrations in this nearly 400-year-old New Mexico capital.


You'll find many buildings decked out with farolitos--small bags filled with sand and lit from within by votive candles--New Mexico's version of traditional Christmas lights. Another festive tradition in the city are Luminarias, small bonfires that were supposed to have lit the way for the Three Wise Men to Mary and the baby Jesus.
What To Photograph
In addition to the beautiful lights, natural wreaths and other decorations that adorn much of the city's adobe buildings, here are a few of Santa Fe's holiday events that are very picture worthy.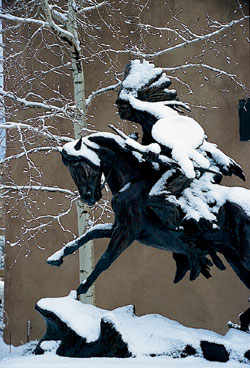 · Santa Fe Plaza on Christmas Eve: The historic plaza is decorated with 1000 farolitos, which create striking evening photos (bring your tripod). You can also join people in drinking cider, singing carols and walking to the nearby Cross of the Martyrs, which is also outlined in farolitos. For more photo ops, take a walk through the Capital and Canyon Road neighborhoods, where homes, streets, trees, walls and businesses are outlined in lights.

· Las Posadas: This traditional Spanish outdoor play is a re-enactment of Mary and Joseph's search for a room on Christmas Eve. It begins at the Palace of the Governors, winds around the Plaza and is open to everyone who is interested. This event will be held on December 9 & 11, 2005. For more information, call The Palace of the Governors at 505/476-5100; www.palaceofthegovernors.org.

· Winter Spanish Market: This annual event yields great photo opportunities. The embroidery, paintings, wood carvings, furniture and silver jewelry all reflects Santa Fe's roots in Spanish Colonial art. It will be held at Sweeney Convention Center, December 3--4, 2005. For more information, call the Spanish Colonial Arts Society at 505/982-2226; www.spanishcolonial.org.

· Christmas at the Palace: A celebration of Hispanic, Anglo and Native American Christmas traditions, which features caroling, story-telling, Santa and his elves, music, and Indian dancers. This event will be held December 9--11, 2005, from 5:30--9pm at the Palace of the Governors, 505/476-5100.
Getting There
Santa Fe is about 65 miles north of Albuquerque, New Mexico, and approximately 50 miles south of Taos. Many visitors fly to Albuquerque International Sunport Airport, and rent a car to drive to Santa Fe on I-285. Cerrillos Road (Hwy. 510) will take you into the heart of the historical downtown area.

FEATURED VIDEO