Hasselblad's H3DII Medium Format D-SLR; Medium Format Digital Has Truly Evolved
The latest member of the H-series Hasselblad cameras is the H3DII, which takes digital photography and the H-series to new levels. With one version boasting an astounding 39 megapixels, this camera captures unrivaled detail. If you don't need that many pixels, the camera is also available with either a 22- or 31-megapixel sensor. I should also add that although we're looking at and working with this camera as a D-SLR in this test, the H3DII is equally capable of shooting film with an optional film magazine. Moreover, this digital (or film) back can be used on a view camera with the appropriate adapter.

How did the H3DII do? I won't keep you in suspense. While we largely expected these results, we still marveled at the amazing pictures we got and the camera's admirable performance, with one or two caveats.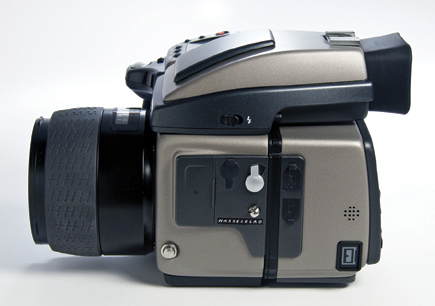 The "quiet" side of the camera houses the X-sync and dedicated flash terminals, as well as the FireWire port.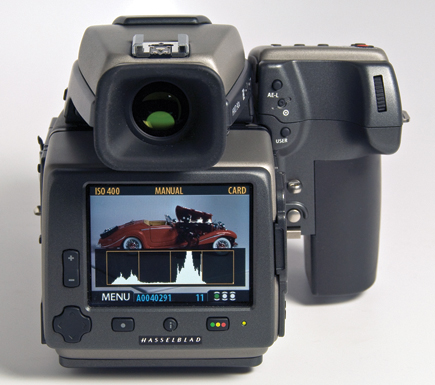 In case you were wondering how to tell the H3DII apart from the H3D, even though the new camera bears the same logo on the outside, just look at the back. The H3DII sports a larger 3" color LCD display (that is visible even outdoors under bright light) and a new interface, including a new rocker switch. Besides that, the new camera uses a heat sink (to help it run cooler), thereby doing away with the vents found on the older model.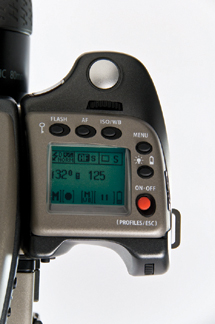 This camera keeps you on top of the situation from practically any angle. The top panel provides a full-information display, while the viewfinder display is notably information-rich in its own right without overwhelming you. The primary function buttons are on the top, with auxiliary buttons on the back. The EV (AE) compensation and Exposure/Metering mode buttons can be found alongside the finder.
Well Suited To The Task
The H3DII does not have the boxy look or feel of a traditional Hasselblad. In fact, it was designed more as a 645 than a 6x6cm capture device, considering that the CCD sensor more closely matches the 6x4.5cm format. And, like a 645, the camera is equipped with a comfortable handgrip and sleek styling, plus some really neat surprises. The camera comes with the 90° HVD 90x viewfinder for convenient eye-level viewing.

I had both the 39- and 31-megapixel versions at my disposal, but I especially wanted to see how the 39-megapixel H3DII would perform in the hands of two of the nation's top child and pet photographers, as well as in my own hands. Toward that end I worked closely with Linda Bohm and Gerard Marrazzo (Bohm-Marrazzo Photography, Montclair, New Jersey--www.bohm-marrazzo.com). After a brief introduction to the camera, we were well on our way. We put the camera to the test with a family of seven children, their mom, and Bohm's dog Whoopee--all during a long day of shooting both in the studio and at a nearby park. Bohm and Marrazzo also photographed one of the studio's resident cats the next day. And I made some tests with the 31-megapixel camera that I took back home with me, focusing on tabletop subjects. The camera was up to the task at every turn, falling short only occasionally, as you'll see.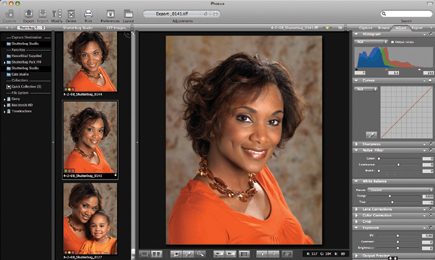 Hasselblad uses a proprietary 3FR raw format, which can be opened in select applications, among them Hasselblad's own Phocus (Mac OS X Leopard and Windows XP/Vista--64-bit compliant), as shown here. Gerard Marrazzo remarked that he liked the new software's intuitive look and feel. Apple's Aperture (on OS X Leopard) is said to support 3FR files, whereas support in Adobe's Camera Raw was not yet announced.
For this shot, Linda Bohm used a dome-shaped strobe head as a soft, flattering key light on the right, augmented by a hairlight and another light (used intermittently) on a boom for the backdrop. A large foamcore reflector added fill from the left. (Manual mode, ISO 100, f/12, 1/125 sec; 150mm.)
Photos © 2008, Bohm-Marrazzo, All Rights Reserved
Under The Hood
First, the sensor. The Hasselblad H-series digital cameras use sensors made by Kodak. You would think that it would take forever for a camera with a sensor this size to process an image. Wrong. Images appeared on screen almost instantaneously. That was especially important when shooting with the 39-megapixel camera tethered to a computer in the studio, where we needed to judge lighting, composition, and facial expressions often right after the moment of exposure on a large monitor.

File sizes for the 39-megapixel sensor ranged from over 45MB to over 60MB (depending on subject) at 16-bit raw color capture (and this is not interpolated from 14 bits), judging from our studio and park exposures. These raw files are compressed, so they're smaller than might be expected. That translates into Adobe RGB 8-bit TIFF file sizes of 111.7MB (based on actual data). The H3DII sensor measures 36.7x49mm in the 22- and 39-megapixel models, although a bit smaller in the 31-megapixel camera, at 33.1x44.2mm. While pixel size is largest on the 22-megapixel sensor (pixel size on the other two are the same, but smaller than in the 22-megapixel model), we couldn't find anything to complain about in the 39-megapixel captures.

Specifically, images held up well at the highest ISO settings (ISO 400 and 800, respectively) on both the 39- and 31-megapixel cameras. We noted smooth tonal gradation and acceptable levels of highlight and shadow detail in properly exposed frames. There was practically no noise to speak of even at ISO 800 (except for almost imperceptible color noise at this setting). Color was rich and luxuriant. (Note: Hasselblad expects to increase ISO +1 EV via a firmware upgrade within months of this writing; thus, in effect, offer an ISO 1600 setting.)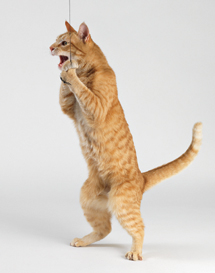 The 39-megapixel Hasselblad H3DII is great at capturing the moment, as this studio portrait of Linda Bohm's cat clearly shows (Above). And when it comes to intimate detail, this camera is no slouch, judging by a very tight crop of another photo below from this series. (Manual mode, ISO 100, f/16, 1/125 sec; 100mm.)
Photos © 2008, Bohm-Marrazzo, All Rights Reserved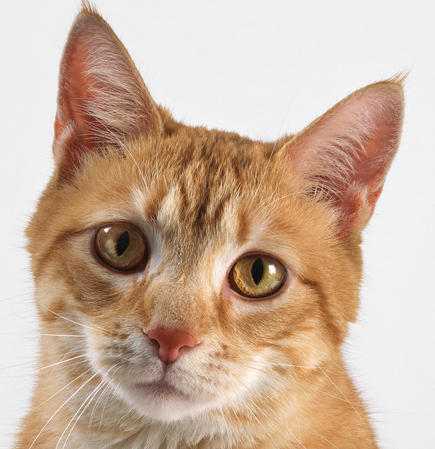 Also worth noting, Hasselblad introduced a new digitally optimized 28mm HCD (digital-only) lens for the H-series (28mm full frame on the 22- and 39-megapixel models; 31mm on the 31-megapixel camera). No word yet on other lenses in development. Current HC lenses can be used on all H-series bodies, with film or digital back. Other Hasselblad lenses may be used with limited features.


FEATURED VIDEO