Giant Camera Spotted in the Wild: Using a Graflex Big Bertha to Shoot Lacrosse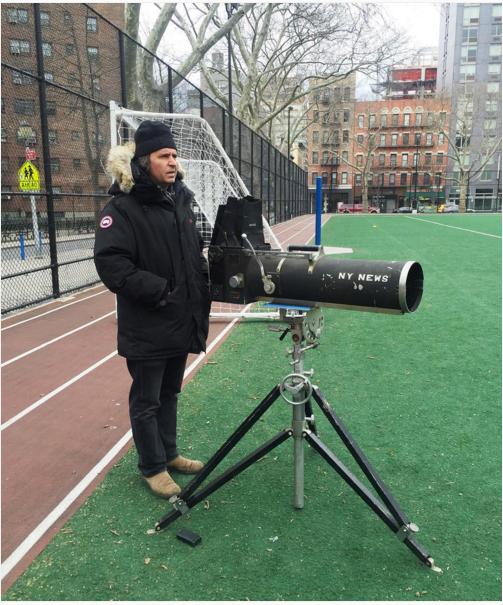 We were getting ready to post our review of Nikon's new AF-S Nikkor 200-500mm f/5.6E ED VR telephoto zoom when we came across an image of an even bigger camera/lens combo spotted in use in the wild.
The image, shown above and below in Geoffrey Berliner's Instagram feed is a "Graflex Big Bertha," which is a pretty impressive piece of photo tech from another era.
Here's what Berliner had to say about using this massive old camera rig on his Instagram page.
"Took the Graflex Big Bertha out today. @therealandrewmoore generously helped out and lent his expertise. We took the camera to a playing field near my apartment where there was a league #lacrosse game going on. These old Graflexes have limited shutter speeds because the tension springs are tired with age. I was able to shoot at 650/sec at f8. The lens has a focal length of 1000mm. It was surprisingly easy to use with the big reflex viewing screen and the tripod was very easy to use. It's a Saltzman tripod that has a triple movement head. It's very sturdy and stable, perfect for this camera. I used some Graflex 5x7 holders as well as a bag mag that holds 12 sheets of film, which performed nicely. I'll have the film developed tomorrow. I really enjoyed setting up and shooting this beast. I'm glad it's making pictures again"
(Via The Photo Brigade)

FEATURED VIDEO