Easy Photo Tip: Travel Safely With Pacsafe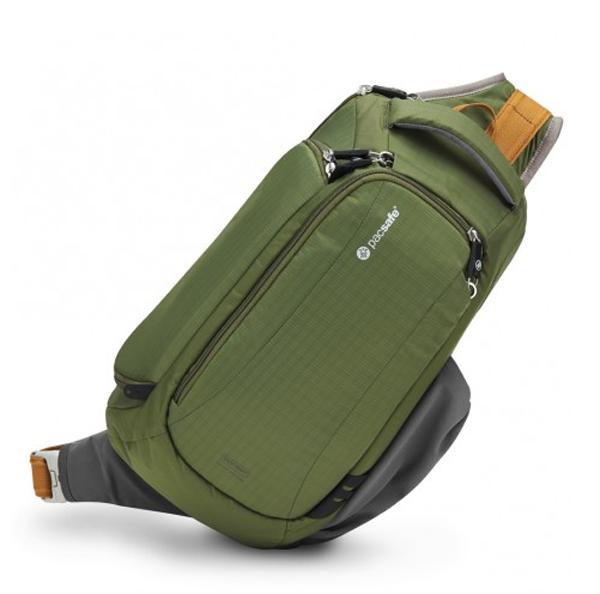 She's beautiful on the outside, but it's what you can't see on the inside that makes this number so special.
One of the best things about October on the East Coast is the PhotoPlus Expo show. All the big guys are there—Canon, Nikon, Sony and the rest—but some of the coolest stuff can be found at the smaller booths. This year I discovered a bag ideally suited for urban travel.
Here's what I like about the Camsafe V9 ($150) anti-theft camera sling pack from Pacsafe. It's comfortable to carry. It holds an adequate amount of gear. And it protects the equipment—not just from impact and the elements—from villains and vandals, too.
The rather normal looking strap conceals a cut-resistant stainless steel wire that literally blunts the attack of a would-be slash-and-grab bandit. Pacsafe calls it Carrysafe Slashguard.
That no-knives-allowed concept extends to the body fabric of the bag, too. A flexible chicken wire-like net (called eXomesh Slashguard) is woven into the material. Somehow they managed to do this without sacrificing the flexibility or comfort of the structure.
Small details, like the Dual Release Security Buckles and Smart Zipper hooks, make it very difficult for a pickpocket to secretly open your bag. Each component is cleverly designed and very durable.
But the big, big, ginormous cool feature is the RFIDSafe pocket inside the organizer compartment. As you may know, it's popular for identity thieves to sniff out and steal your confidential information by remotely reading the magnetic data written on your credit cards or passport. The safety pocket protects your identity by blocking radio transmission between 10 MHz through 3 GHz, effectively closing the door on ID sniffers.
In addition to providing added security, the V9 features a hideaway raincover, padded sleeve for a tablet or 11" MacBook Air, cell phone pouch and a mesh pocket for a beverage bottle. You can find the Camsafe V9 and a very large selection of other anti-theft bags on Pacsafe's website. The bags are all very well made and should endure many tough trips around the world.
—Jon Sienkiewicz

FEATURED VIDEO