Canon's PowerShot G9; It Takes More Than Megapixels To Make A "Serious" Point-And-Shoot Camera Page 2
While neither the footage nor inch scale is densely calibrated (e.g., the footage scale has numbers for 2, 5, 10 ft and infinity), the position of the top of the bar indicator will give you a reasonable idea of your set focusing distance. You can also focus with greater precision by zooming out to a telephoto setting, focusing visually on the details in the rectangle, then zooming back to compose and take the shot--the camera will hold your manual focus setting. Our verdict on the G9's manual focusing system: It's convenient, useful, and unique, but no match for a D-SLR when it comes to focusing manually.
My Modes, My Colors
There's a lot more for serious shooters to like about the G9, so let's touch on some of the highlights: There are two mode settings--C1 and C2--that let you store and change special combinations of settings you often use (with some restrictions on ISO settings); the 16 Special Scene modes include the usual suspects, but also cool choices like ISO 3200, Color Accent, and Color Swap; My Colors covers 12 additional options, including Sepia, Black & White, and Positive Film; the Shortcut button lets you send all or selected images directly to a computer or a PictBridge-enabled printer, and it's programmable to provide quick access to a range of settings, including light metering, ND filter, white balance, and AF lock. The Image Inspection tool is linked to Advanced Face Detection Technology, which automatically detects and enlarges the main subject when reviewing images so you don't need to zoom and scroll manually.

Of course, this is only the icing on a very substantial cake. Operationally the real strength of this camera lies in its excellent user interface that lets you get to all the settings you want very easily and displays each one with commendable logic and clarity on a very large, bright, high-res LCD.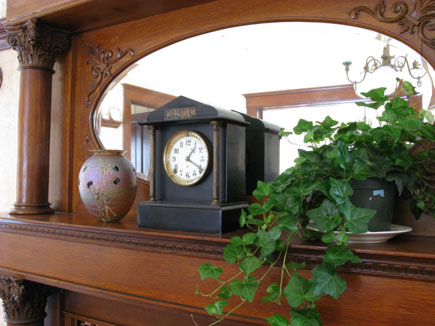 This still life of a clock atop a Victorian mantelpiece was the basis of a comparative performance test of different ISOs, from 80 to 3200. All images were shot in Manual Exposure mode at f/8, no flash, with a tripod-mounted G9. This shot was made at ISO 80. My verdict: Excellent results from ISO 80-400, OK at ISO 800, so-so at ISO 1600, and not very good at ISO 3200.
In terms of overall picture-taking performance the Canon PowerShot G9 is outstanding. The Optical Image Stabilizer (OIS) system certainly did a fine job in minimizing the effects of shake in images we shot at maximum telephoto position (ISO 1600, 1/30 sec to 160 seconds at 210mm equivalent) in relatively low light. Details are rendered with the outstanding clarity and contrast one would expect from a high-end D-SLR, and colors, while on the saturated side typical of Canon cameras, looked very natural. We were personally very pleased with skin tones shot under natural light and with the built-in flash, but lowering the saturation a tad would be a simple matter of going into the Custom area of My Colors where there are tools for adjusting saturation, sharpness, and contrast. The raw and Large Fine JPEG files turned out by the G9 are extraordinarily clean and free of noise--even those shot at ISO 800. Only at the ISO 1600 and 3200 settings was there any obvious lowering of image quality--and even at ISO 1600 it was surprisingly moderate. Evidently Canon's latest Digic III image processor is one of the key factors in enhancing the camera's imaging performance as well as providing commendably quick AF and shutter response times.

Of course no camera is perfect, and the G9 is no exception. We would have wished for a faster burst rate than 1.5 frames per second (fps) without AF and 0.7 fps with AF from a camera of this caliber. It also would have been nice if the lens got down to a true wide angle setting of 28mm equivalent, and if the lens focused to closer than about 6 ft at the 210mm-equivalent setting. There is at least a cure for those who want wider and longer reach--Canon offers a Conversion Lens Adapter for the G9 that replaces the front lens ring and lets you mount either a 0.75x (about 26mm equivalent) Wide Converter or a 2x (420mm equivalent) Tele-Converter. Finally the G9 is a tad too large and heavy to make it an ideal pocket point-and-shoot.

Despite these foibles--some would call them endearing character traits--the Canon PowerShot G9 is an amazing machine, and it's probably just the kind of super point-and-shoot that will appeal to serious photographers who may want to stop and think before they press the shutter release.

For more information, contact Canon U.S.A., Inc., One Canon Plaza, Lake Success, NY 11042; (800) 652-2666; www.canonusa.com.
Technical Specifications
Type: Compact digital still camera with 6x optical (35-210mm equivalent f/2.8-4.8), 4x digital zoom lens, Optical Image Stabilizer system
Effective Pixels: 12.1 megapixels
Viewfinder: Real image optical zoom viewfinder
LCD: 3" low-temperature polycrystalline silicon TFT with wide viewing angle
Shutter Speeds: 15 seconds to 1/2500 sec; ISO: 80-1600, 3200 in Custom mode
Other Features: Raw and JPEG Capture modes; Advanced Face Detection, Image Inspection, 23 Shooting modes, 12 My Colors modes
Street Price: $495.00

LATEST VIDEO