Sony RX100 VII Compact Camera Review: A Pocket Rocket with Some Serious Zoom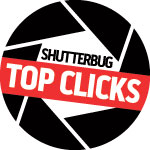 Sony's Cyber-shot DSC-RX100 VII ($1298), to give it its full name, is the latest in the company's series of pocketable premium fixed lens cameras. The Sony RX100 VII is the follow-up to what has become a long line of Sony RX100 cameras, preceded by the RX100 VI, the RX100 V, the RX100 IV and so on.
To be honest, it's been quite a while since I tested a Sony compact camera. In digging through my archives and searching my hard drives I couldn't find anything recent. But if memory serves, I think I reviewed one of Sony's point-and-shoot cameras in 2005, back in its Memory Stick days.
Sony's RX100 series is a far cry from that era in its overall imaging capabilities, especially video. Read what I think about Sony's latest premium pocket model in this RX100 VII review.
What's New
This seventh-generation camera in the RX100 series is the second that uses the 9-72mm aka 24-200mm (equivalent) Zeiss Vario-Sonnar T* lens that covers wide-angle to telephoto focal lengths. The Sony RX100 VII has a 20.1MP one-inch Exmor RS CMOS sensor that physically measures 13.2 x 8.8mm and doesn't sound all that big when viewed in more traditional measurements. The camera includes an updated BIONZ X image processor offering ISO sensitivities from 100 to 12,800 along with UHD 4K video recording.
The Sony RX100 VII has an on-sensor AF system with 357 phase-detection points that cover approximately 68% of the frame along with a 425-area contrast-detection system that produced relatively accurate focusing when shooting still images. It's fast too and locks on in 0.02 seconds and uses Sony's Real-time Tracking for moving subjects.
The Sony RX100 VII's Single Burst Shooting function permits recording up to seven frames, in Raw or JPEG at 90 fps, 60 fps, or 30 fps. The camera's tiny, tiny pop-up flash works well indoors with a corresponding bump in the ISO setting or outdoors as fill for portraits.
The Sony RX100 VII's body shares a similar form factor with the original RX100 but the VII is 6.9mm thicker and weighs 2.18 ounces more. Its pop-up 2.36m-dot OLED electronic viewfinder while tiny is surprisingly useful as well as brilliant and sharp.
On back of the Sony RX100 VII, there's a not-so-tiny three-inch 921.6k-dot LCD touchscreen. This not-quite flippy screen features a tilting design that lets you shoot high and low angles and has touch capability for focus and touch shutter functions. It sort of does what touchscreens can do with digital cameras but not completely as I later discovered. As you might expect, the RX100 VII offers Bluetooth and Wi-Fi connectivity for sharing images/video to a linked mobile device or smartphone.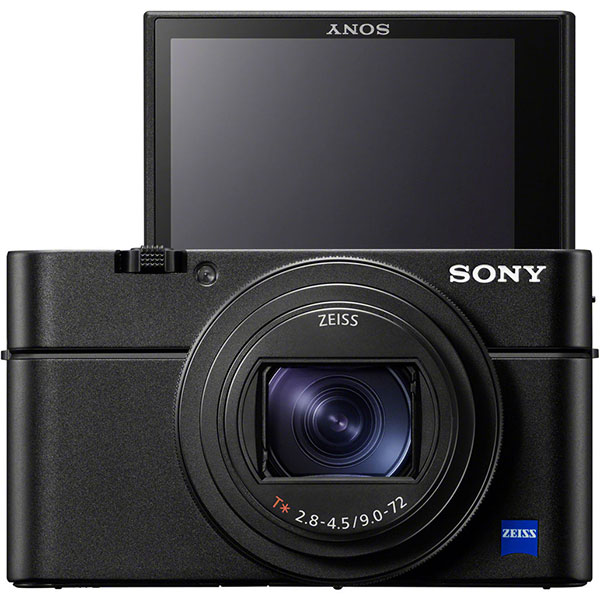 The Sony RX100 VII features in-body charging (ugh) taking approximately 230 minutes to fully charge using the supplied AC Adaptor, depending on the battery's remaining capacity or charging conditions. Additional Sony NP-BX1 batteries cost about thirty bucks. I've seen a third-party external charger for sale that includes two replacement batteries for twenty bucks, which would my choice.
For those shooters who like to play with creative effects modes, the camera offers Standard, Vivid, Neutral, Clear, Deep, Light, Portrait, Landscape, Sunset, Night Scene, Autumn Leaves, Black & White, Sepia, and Style Box effects. But wait, as they say on TV, there's more. The camera's Picture Effect modes include Toy Camera, Pop Color, Posterization, Retro Photo, Soft High-Key, Partial Color, High Contrast Mono, Soft Focus, HDR Painting, Richtone Monochrome, Miniature, Watercolor, and Illustration.
Video Features
The Sony RX100 VII can shoot UHD 4K video at 30/24 fps. The camera collects about 1.7x the information needed for its 4K output and this oversampling increases clarity while reducing moiré and jaggies.
To reduce camera shake, the Sony RX100 VII has an Active SteadyShot mode prioritizing smoothness. Fast Hybrid AF is available while shooting video for what Sony claims is "accurate, fast tracking" using phase-detection AF points although I didn't always find that to be the case, as I will explain (and show) later.
What did impress me was the Sony RX100 VII's face detection ability while vlogging by steadfastly keeping me in focus no matter what kind of gymnastics I did in front of the camera. The RX100 VII uses Sony's advanced XAVC S format for recording at high bit rates up to 100 Mb/s. In addition to high-resolution internal recording, 4K with 4:2:2 sampling uncompressed HDMI output is available through an external video recorder.
Serious video shooters will be happy to know that the Sony RX100 VII offers Picture Profile parameters options such as Black Level, Gamma (Movie, Still, Cine1-2, ITU709, ITU709 [800%], S-Log2, S-Log3, HLG, HLG1, HLG2, HLG3), Black Gamma, Knee, Color Mode, Saturation, Color Depth, Color Phase, Detail, Copy and Reset. S-Log3 that's found on Sony's high-end Cinema cameras can capture up to 1300% more dynamic range. The HLG (Hybrid Log-Gamma) settings offer an effective 14-stop dynamic range with increased grading control in the shadow to mid-tone regions of the footage. In Full HD, shooters there's a 120 fps setting for slow motion and the camera offers a dedicated HFR mode that boosts the camera's frame rate to up to 960 fps.
The Sony RX100 VII is NTSC/PAL switchable and Instagrammers and people who do not see the world beyond their smartphone can record vertical videos with embedded metadata to correct for that orientation during playback. The RX100 VII's built-in Photo Capture function lets you to save an 8.29MP still image from UHD 4K video. In Full HD mode you pull a 2MP still from captured video. Sony likes to call them "movies" but there's a big difference between shooting a YouTube video of Mr. Fluffy the Cat playing the piano and a real movie like The Godfather.
The camera lacks a hot (or cold) shoe but there's a built-in 3.5mm jack for an external mic. This means there's no place to mount said mic on the Sony RX100 VII. Even the tiny Rode Wireless GO Compact Digital Wireless Microphone System ($199) won't work or can it? Duct tape?
Inelegant as it sounds, it might just work. I read somewhere that Sony has promised a shooting grip kit "for filmmakers" real soon now that includes a place to mount a mic.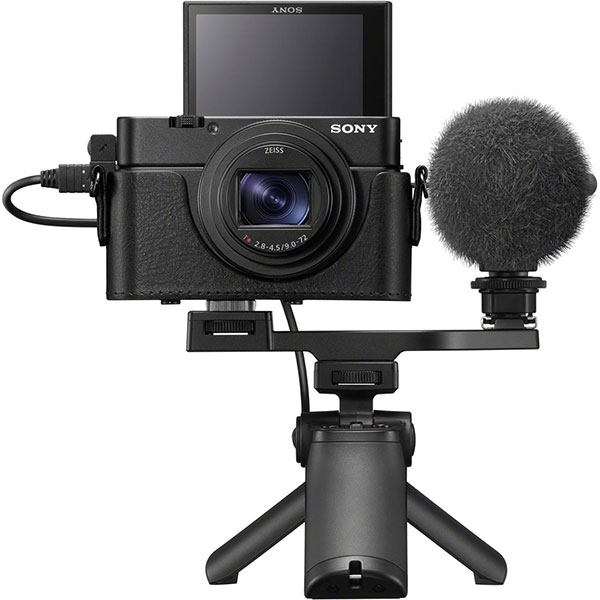 Built-in Lens
It's been a while since I tested a camera with a built-in lens but clearly the Zeiss Vario-Sonnar T* f/2.8-4.5 lens has to be good. It says ZEISS right there on its little collapsible face. (Yes, I'm being a little bit cheeky.)
The optical design of the Sony RX100 VII's built-in lens incorporates eight aspherical elements, including four advanced aspherical (AA) elements, to reduce aberrations and distortions. There's Zeiss T* anti-reflective coating to suppress reflections and glare for improved contrast and color fidelity. The lens focuses incredibly close at 3.15-inches at 24mm and 3.28-inches at 200mm. The RX100 VII includes a four stop-effective Optical SteadyShot image stabilization to minimize camera shake.
There's a manual control ring around the Sony RX100 VII's lens with a click-less design for quick, quiet setting changes. The ring can change zoom and aperture and by rotating the control ring, you can also jump between common focal lengths (24, 28, 35, 50, or 70mm). Caveat: One of my friends who used to work in a camera store pointed out that these collapsible lenses with integral lens cover/caps are vulnerable to damage. The flimsy protection of the built-in cap is no substitute for a sturdy traditional lens cap. So be careful out there.
On a sunny but chilly 27-degree day I set out to my wall of well-laid bricks to test the performance Zeiss Vario-Sonnar T* f/2.8-4.5 lens. Based on the less-than-stellar performance of some of the kit lenses I've tested recently, my brick wall shots captured with the Sony RX100 VII were a revelation.
At 24mm (equivalent) and f/2.8, the image was sharp from the center to the right half of the frame but softer on the left-hand side. By f/5.6 sharpness on the left was noticeably improved and by f/6.3 it was sharp corner-to-corner. At 200mm (equivalent) and wide open at f/4.5 the image was sharp corner-to-corner.
Performance In the Field
I must confess that when I unpacked the matryoshka of a soft case inside a pseudo Pelican case that was inside a shipping box to reveal the Sony RX100 VII, I was not initially impressed. The camera seemed tiny and with it closing in on $1300, the little Sony seemed a bit overpriced.
When I asked an experienced photographer to guess the cost of the last camera I reviewed, he mentioned a price $300 too high. When I asked him to guess the price of the RX100 VII he guessed a price $300 lower. I think he's right; $995 seems an appropriate price point. As I got to know and use the camera, my opinion somewhat changed to a more positive direction, although I still think it's too expensive.
The Sony RX100 VII is tiny; the controls are tiny and many are what I call "fingernail controls." Lots of controls like the recessed on-off button, pop-up flash or the slider that opens and locks the battery/memory card door require you to use your fingernails. So be careful of your manicure.
The Sony RX100 VII's image files on the memory card are easy to find in a typical DCIM folder. But for some reason, perhaps mimicking that matryoshka effect, the RX100 VII's video files are hidden inside the "Private" folder, then inside an "M4Root" folder and finally within a "Clip" folder.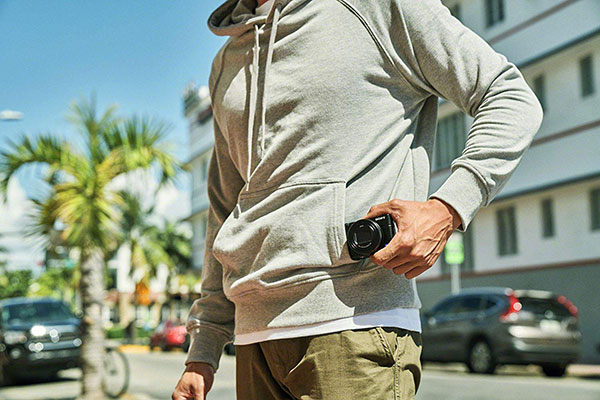 On the day the Sony RX100 VII arrived on Daisy Hill sans User's Guide, it was 20 degrees and snowing. For my initial vlogging test I went into the garage, opened the door next to the space where Mary keeps her VW Beetle and set the RX100 VII on my trusty Manfrotto tripod.
Without looking at a manual (the Sony RX100 VII package I received didn't include one) and with all the settings at their defaults, I pushed the video button. I wanted to see my face but include some of the outdoors showing falling snow. My initial "rule of thirds" framing was off and too wide so I ran back-and-forth from camera position adjusting zoom and camera angle while the video was rolling, until I got what I liked.
When I looked at the footage on my 5K iMac I was completely in focus as I moved around the frame while changing focal length and framing close to the 3.28-inch limit of the lens. I would show that footage but it includes some unflattering video looking up my nostrils and you don't want to see that. Under these condition AF performance was impressive but…I did find some limitations in the camera starting with overall lens coverage.
In the first part of the featured vlog, the camera was about 12 feet from me and mounted on a tripod and I was able to use the zoom to give me some nice rule-of-thirds composition. When I shot the camera handheld at the Parker library's famous giant Jacks and Balls sculptures, it was obvious to me that 24mm is not wide enough for what I consider comfortable-looking head size for vlogging, although not everyone might not agree with me.
Take a look at the video below and make up your own mind. It was also obvious that physically holding the camera is difficult while vlogging.
The optional ($98) VCT-SGR1 Shooting Grip should not be considered optional. I requested one for this review but never received it, so for subsequent video shooting I used an old $9.98 tabletop tripod.
During my Sony RX100 VII video shoot, the AF locked onto my face and stayed there but when I panned and aimed the camera at the sculptures, nothing was in focus and never locked into focus. User error? Maybe.
When I shot the snow-covered scenes at the end of the vlog, everything was in sharp focus. Audio was excellent no matter which way the camera faced. In fact, the audio sounded not just good but better than when the camera was not facing me.
Image Quality
Mary and I had been feeling under the weather and on the first day that we felt half-human coincided with Cars and Coffee in Parker, Colorado. Mary wanted to shoot the RX100 VII.
In addition to a local contingent of Citroen owners, the Pikes Peak Corvair club showed up with all the variations of this unique automobile. Unlike myself who tends to make shots of an entire car, Mary instead likes to capture details of the cars. This is why the RX100 VII's impressive close up capabilities appealed to her.
When shooting one of the Corvairs, she ran into some mild flair and the collapsible zoom lens offers no ability to use a lens hood. Mary loved shooting the camera at Cars and Coffee and called it the ideal "grab and go" and "shoot and scoot camera." And I could see that on her face while she was shooting it. It made her happier than shooting pictures than her DSLR ever did.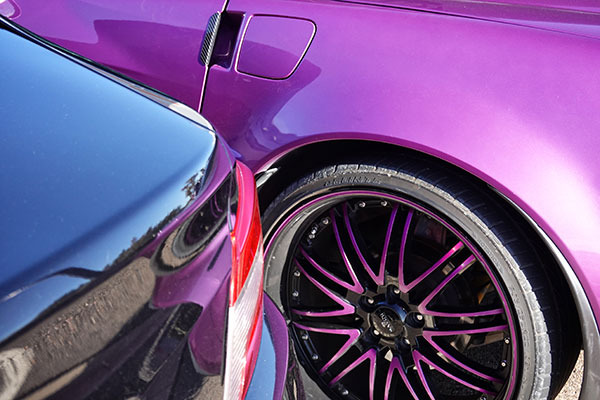 Speaking of cars, I made a short four-minute vlog for my car photography blog while driving my wife's VW Beetle. I propped the Sony RX100 VII onto a beanbag, placed it the dash and with a little help from the front-facing screen tweaked cropping and framing. The sound quality from the built-in mic was adequate, giving how noisy convertibles, even with the top up, are. If you poke around the blog you can find it along with further details of how I made the vlog.
To check out the camera's high ISO performance, I headed out to the O'Brien Park gazebo. Longtime Shutterbug reader, Todd Abbotts was disappointed I hadn't included any photos of it my last review.
Setting ISO speeds can be as simple as clicking the (use your fingernail) Fn button or as complicated as menu diving into the eighth (of 14) page of the first shooting menu. The gazebo is a difficult subject to photograph at night because there are dark areas surrounded by many extraneous light sources that confuse even the best light meter.
Shooting with the Sony RX100 VII at 12,800 the amplified noise is grey and scattered and quite noticeable. There is little or no accumulative noise since the shutter speed at ISO 12,800 was 1/80 sec.
The camera performed better, but not much, by the time I got to ISO 8000. It was still noisy but not as bad. The noise levels were what you might expect from a sensor this small and at that ISO setting but was livable for social media use.
If you make prints, you might want to crank it down to ISO 8000 and at the point the shutter speed was still a relatively high shutter speed of 1/50 sec. As always, picky shooters should make their own ISO tests.
Mary was with me when I was photographing the gazebo and borrowed the camera to shoot in her favorite nighttime area of Main Street that she calls "bike alley" because of, as you can see, there are bikes hanging on the wall as part of an art installation. To give it a more practical ISO test, she put the camera in Program mode and set the ISO to Auto and for the images that she made, the camera selected ISO setting from 4000 to 6400 for all of the well-exposed shots that she made.
Noise? At ISO 4000, no problem although you could start seeing some very fine-grained amplified noise poking its nose around the corner at ISO 6400.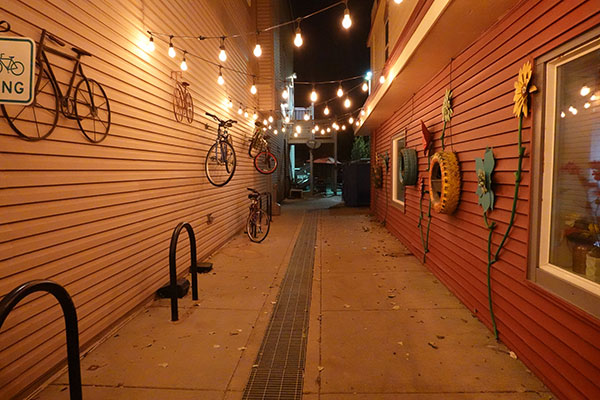 As my Sony RX100 VII camera loan was coming to an end, Mary took me to the Schweiger Ranch, which Brigadoon-like is only open to the public one day a month. While there we got to meet a small herd of friendly goats, a flock of chickens and in an only-in-nature incident a peacock that the chickens had raised from a peachick. But no pumpkins, sincere or otherwise.
Mary and I spent lots of time at the ranch, including visiting the family home that was built in the 1890's. I was going to shoot one of the images inside the house using the camera's effects menus but found it confusing, so I did it in postproduction. Otherwise, the little RX100 VII proved to be an ideal companion and I expect it would be excellent for travel photography.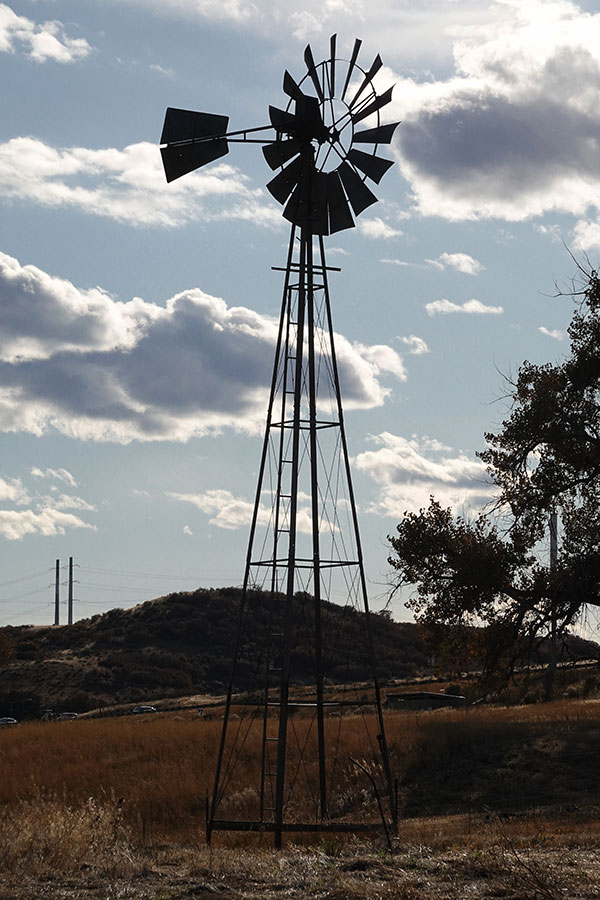 Conclusion
Not to be repetitive but this is the part of my reviews were I usually decry the lack of models who don't want to pose for studio portraits but nobody would ever, by any stretch of the imagination, consider the RX100 VII to be a portrait camera. But I found that it's the ideal camera, better than a smartphone, to make a casual portrait of Mary at Schweiger Ranch.
The Sony RX100 VII seems to have a split personality: on one hand the compact size makes the camera truly pocketable and seems ideal for the mom or dad who wants something that can capture images and video better than a smartphone can produce. On the other hand, in attempting to be everything for everyone, especially video shooters, the complexity of the RX100 VII's menus and options seem to work against that same audience. On the next hand, the camera seems ideal for vloggers producing especially attractive video footage.
But that other hand for the RX100 VII gives you a microphone jack for improved audio for your videos but no simple easy way to mount a mic. Yet through all these contradictions the Sony RX100 VII has the appeal of a golden retriever puppy wagging its tail and making you smile. In the end, it's a fun compact camera that produces better-than-expected image and video quality. And who doesn't like puppies?
Pricing:
Buy the Sony RX100 VII digital camera on Amazon for $1298.
Joe is the author of more than 30 books about photography and digital imaging, plus 3000 magazine articles and an untold number of blog posts. If you would like to see the specific equipment that's inside Joe's gear closet and includes a number of DSLR and mirrorless cameras and lenses, please visit www.joefarace.com or www.joefaraceshootscars.com.

FEATURED VIDEO